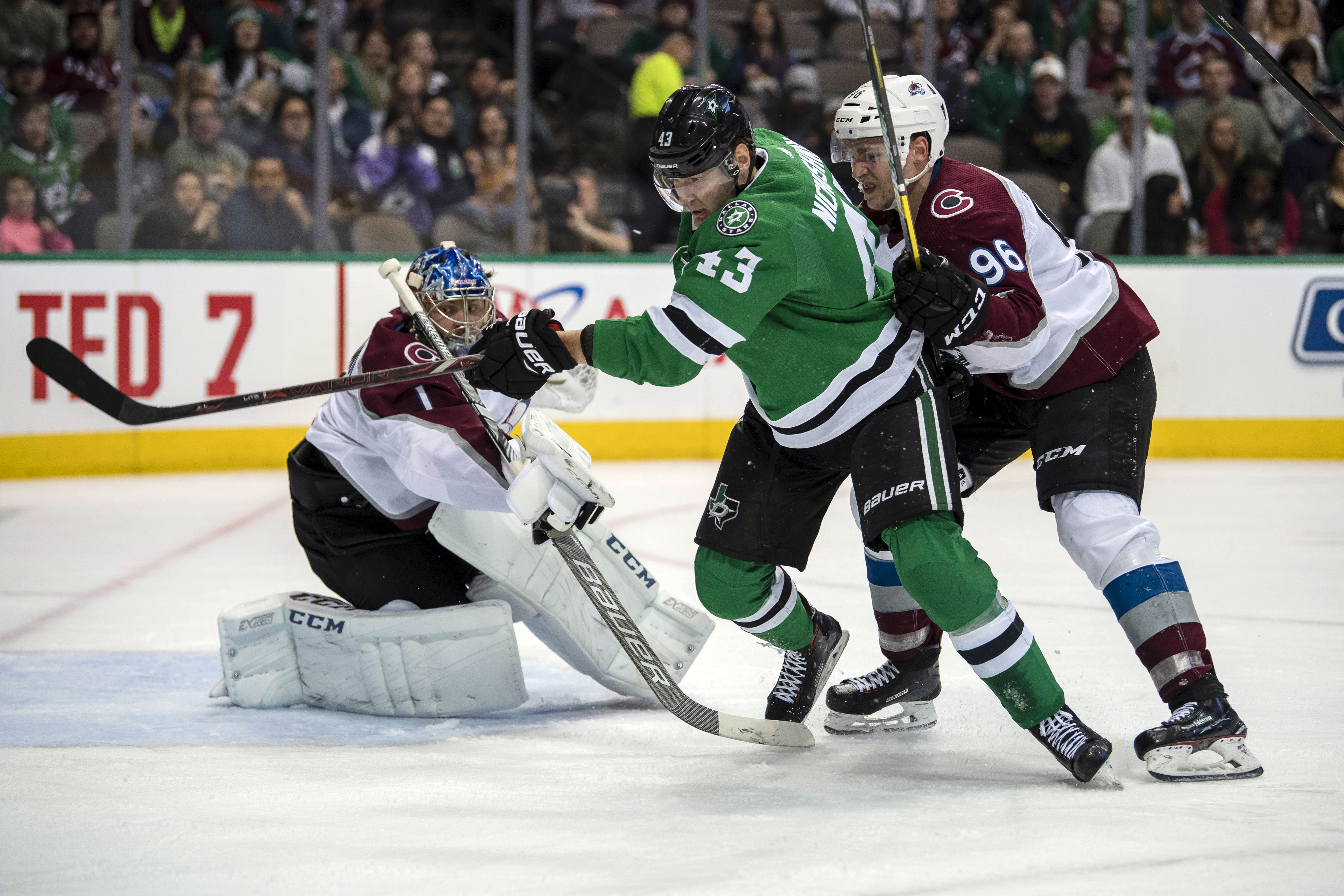 The Colorado Avalanche had an an opportunity to take some points away from the Dallas Stars on Thursday night in the fight for a playoff spot. But, the Avalanche were stifled all night, creating nothing offensively on their way to a 4-0 loss. The loss, coupled with the Minnesota Wild winning in Tampa, puts a serious dent in the Avs playoff hopes as they now sit four points out.
What did we learn from this game?
The Avs are in trouble without Nikita Zadorov. The team won only one game in his 11-game absence earlier this year and that absence was apparent when the Stars were taking runs at the Avs top line all night long. The Avs are a smaller team and had no answer for the physicality Dallas was using. Nathan MacKinnon was clearly frustrated with Jamie Benn and the Avs had no one to bring the hits in return. There is no timetable for Zadorov's return.
The Avs did not just lose the game, they may have potentially lost their captain in Gabriel Landeskog. Landeskog collided with Stars goaltender Ben Bishop in the third period while he was leaning forward with his right arm and went to the bench in serious discomfort. He did not return to the game. Losing Landeskog would be devastating for this team as he drives a lot of what they do and does a lot of the dirty work on the top line.
It seems that Ian Cole may have rushed back. Cole is playing with a face shield for the past week when he was initially expected to be out longer. The Avs must have been happy with his progress, but he appears to be making a lot of mistakes out there with the puck and positioning. His offensive zone turnover is what led to the Stars' opening goal. With Zadorov out, he will now be asked to play even more. We'll see how he responds.
The Avalanche were credited with 31 shots on the evening, but it didn't feel like it. Despite the hits, it never really felt like they were getting really close to breaking through. A lot of their chances came from the outside with the Stars were collapsing down low and not giving up any truly dangerous chances. Jim Montgomery has the Stars playing strong defensive hockey and the Avs just felt it first-hand.
Tyson Jost has fallen off. It appeared he was breaking through a few weeks back with Landeskog on his line, but he has since fallen off big time. He has just one point in his last eight games. He has not registered a shot on goal in any of the last three games. There are always ups and downs with a young player, but lately with Jost it has felt like one step forward, two steps back.
The Avs now head home for a Saturday afternoon affair with the Buffalo Sabres. The game starts at 1 p.m. MT.