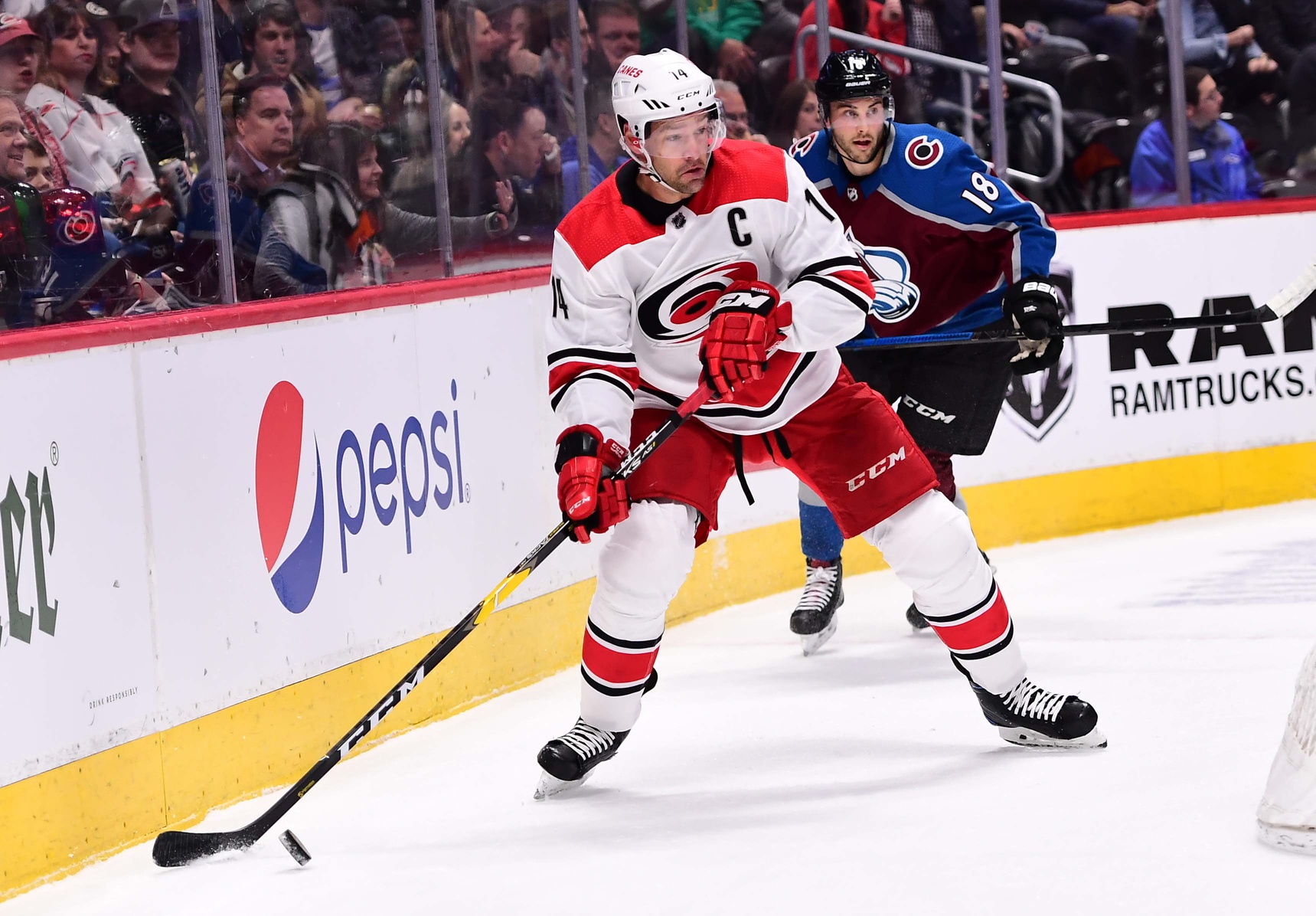 The Colorado Avalanche continued their four-game homestand against the Carolina Hurricanes Monday night, trying to keep pace in the Western Conference Wild Card race. The Avalanche faced a tough goaltender in Petr Mrazek, who saved all 38 shots he faced shutting the Avalanche out 3-0.
Carolina opened the scoring in the second period with a goal from Dougie Hamilton. Hamilton was found streaking through the middle, caught a pass from Justin Williams on a delayed penalty and roofed home the first goal past Philipp Grubauer.
Carolina scored one more on a beautiful pass play. Andrei Svechnikov was the recipient of a Teuvo Teravainen pass on an odd-man rush into the Colorado zone and had the easy backhand finish for the Hurricanes' second goal of the game.
Carolina added an empty-net goal from Svechnikov to finalize the score at 3-0.
What did we learn from this game?
1. Colorado looked sloppy in their defensive zone. The Avalanche finished the game with seven giveaways, four more than their opponent. Giveaways weren't their only issue. Colorado failed to get the puck out of their own zone on numerous occasions, giving Carolina more chances to score than they should have had. Teams Colorado is playing against are not only getting more chances, but it also exhausts the Avalanche faster, which shows in late stages of the games.
2. The Avalanche power play was shut down, despite having a decent success streak as of late. Colorado couldn't get set up on their extra man opportunities and only had one or two solid scoring chances during their three power plays. They had a total of eight shots in their man-up chances, which is not enough. Colorado reverted back to their old ways, making blind passes, not setting up the offense, and poorly entering the offensive zone.
3. Matt Calvert had one of his best games of the season. Calvert is always one of the hardest working players on the ice. Monday night was no different. In some cases he even stepped it up. He was shooting the puck whenever he got the chance, was a pest in the Carolina defense's side, and was part of shutting down the Hurricanes' power play.
4. Grubauer didn't play badly, but his defense let him down. The Colorado netminder had 33 saves on the night. He kept his team in this game. The two goals he let in weren't his fault. On the first, the shot was in perfect location and not many goalies in the NHL could have made that save. On the second goal, there was a defensive breakdown and Svechnikov was left wide open in front of the net. Overall, he made the saves he should have made, he just didn't get any scoring support.
Colorado continues their homestand Friday against the Anaheim Ducks. Puck drop is set for 7:00 P.M. at Pepsi Center.