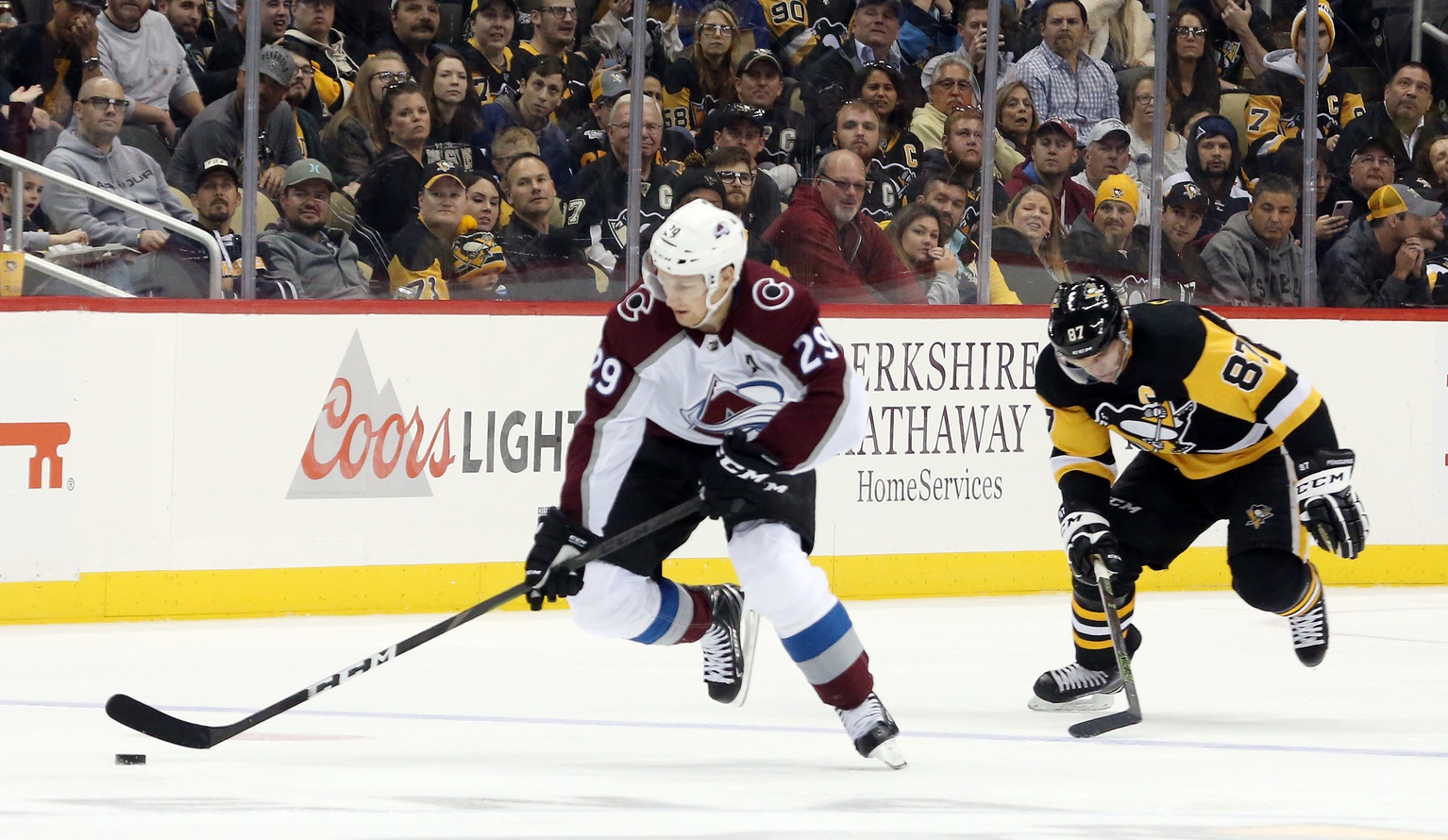 The 82-0 dream is over. The Avalanche, playing their second of a six-game road-trip dropped a 3-2 overtime loss to the Pittsburgh Penguins on Wednesday at PPG Paints Arena.
Colorado scored the first goal early, taking a 1-0 lead after Matt Calvert one-time a feed from Matt Nieto past goalie Matt Murray. After the Penguins scored the next two goals, a strong forecheck from winger Mikko Rantanen set up a 2-on-1 play with center Nathan MacKinnon, who finished the give-and-go to tie the game.
In overtime, Avs defenseman Cale Makar drew a penalty to put Colorado on the power play. The Avalanche looked out of sorts with the man-advantage, allowing the Penguins to have two rushes going the other way, and scoring the game-winner on the second chance while shorthanded.
The 5-0-1 Avalanche are still leading the Central Division. Here's what we learned from the contest on Wednesday.
The Avalanche are still unbeaten in regulation, but no longer undefeated. The 5-0-0 start by the Avs matches the Carolina Hurricanes and Edmonton Oilers for the best start of the 2019-20 season. Both teams lost in regulation to put an end to their hot starts. Colorado is the only team without a regulation loss through the first two weeks of the season.
The Avs looked tired and out of sorts on Wednesday. After a strong start and an early one-goal lead, Colorado seemed to lack the fire it had in the early-going. The Penguins controlled most of the second period, despite the Avs putting nine shots on goal. It is a good sign however that a team riding a three-game winning streak heading into Wednesday needed overtime to defeat the Avs on an off night.
Colorado's power play was finally stopped and it was hard to watch at times. The Avalanche entered the contest having scored a power-play goal in each of its first five games. On Wednesday, not only did the Penguins keep them off the boards on three opportunities, but they also scored a rare 3-on-4 shorthanded goal in overtime to end the game, while keeping the Avs from recording a shot on goal on the man-advantage.
MacKinnon and Rantanen continue to produce. The impressive third-period play that tied the game means both MacKinnon (3-6-9) and Rantanen (4-6-10) have recorded a point in each of the Avalanche's first six games of the season.
Colorado continues its road trip at 5 p.m. MT on Friday against the Florida Panthers at BB&T Arena.