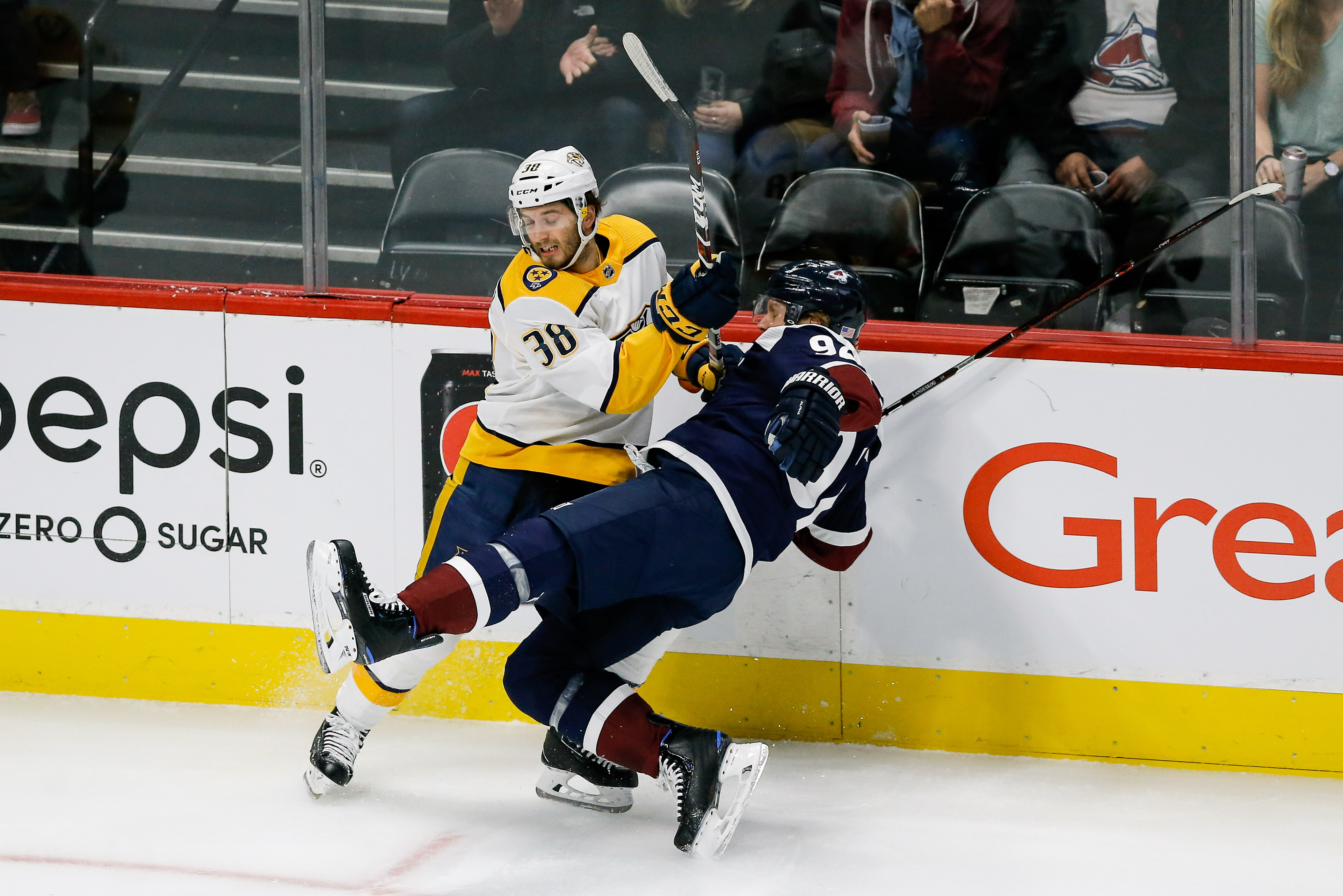 When it rains, it pours.
The Colorado Avalanche lost their fourth straight game and fifth in six games to the Western Conference leading Nashville Predators by a score of 4-1. Nashville came out hot and held onto the lead with their stout defensive play, not giving the Avs much room through the neutral zone to create anything.
What did we learn from tonight's game?
The Avs' top line created the best even strength scoring chances for the team, but also spent a ton of time in their own end. Through two periods, Nathan MacKinnon was on the ice for 27 shots towards the Avalanche net.
Erik Johnson is struggling right now, and if he's in the lineup playing this way, the Avs are likely to continue struggling, too. He's their horse on the blueline playing against the other team's best, and there have been quite a few defensive miscues on his part. He's obviously a very good player going through a rough patch, but the Avs are on a losing streak at the moment and need their blueline leader to step up.
Mikko Rantanen has taken the NHL by storm with his scoring this year, but he's having a lot of trouble staying out of the penalty box. They aren't aggressive penalties either, which is the concerning part. Through 15 games, he's already taken seven minor penalties. The Avs need their leading scorer on the ice as much as possible and can't have him taking as many penalties as he has.
In what you will not likely see again, the Avs had not one, but two goals nullified due to offsides challenges. The first one was a little bit more clear because the puck was on the ice and you could see the white, but the second one was in the air and a much tougher call. The Avs did not play a great game overall but having two goals disallowed by fractions of inches doesn't help the team.
The Avs have to find a way to turn this around. With the way their division is, just a tough week or two could set them back, as they are now fifth in the division and fighting for that final wild card spot. It might be early in the year, but the Avs can't depend on another 10-game win streak to prop them up and need to be more consistent as the year goes on.
The Avs stay in the division this week, as they head to Winnipeg on Friday night to take on the Jets. The game starts at 6 p.m. MST.