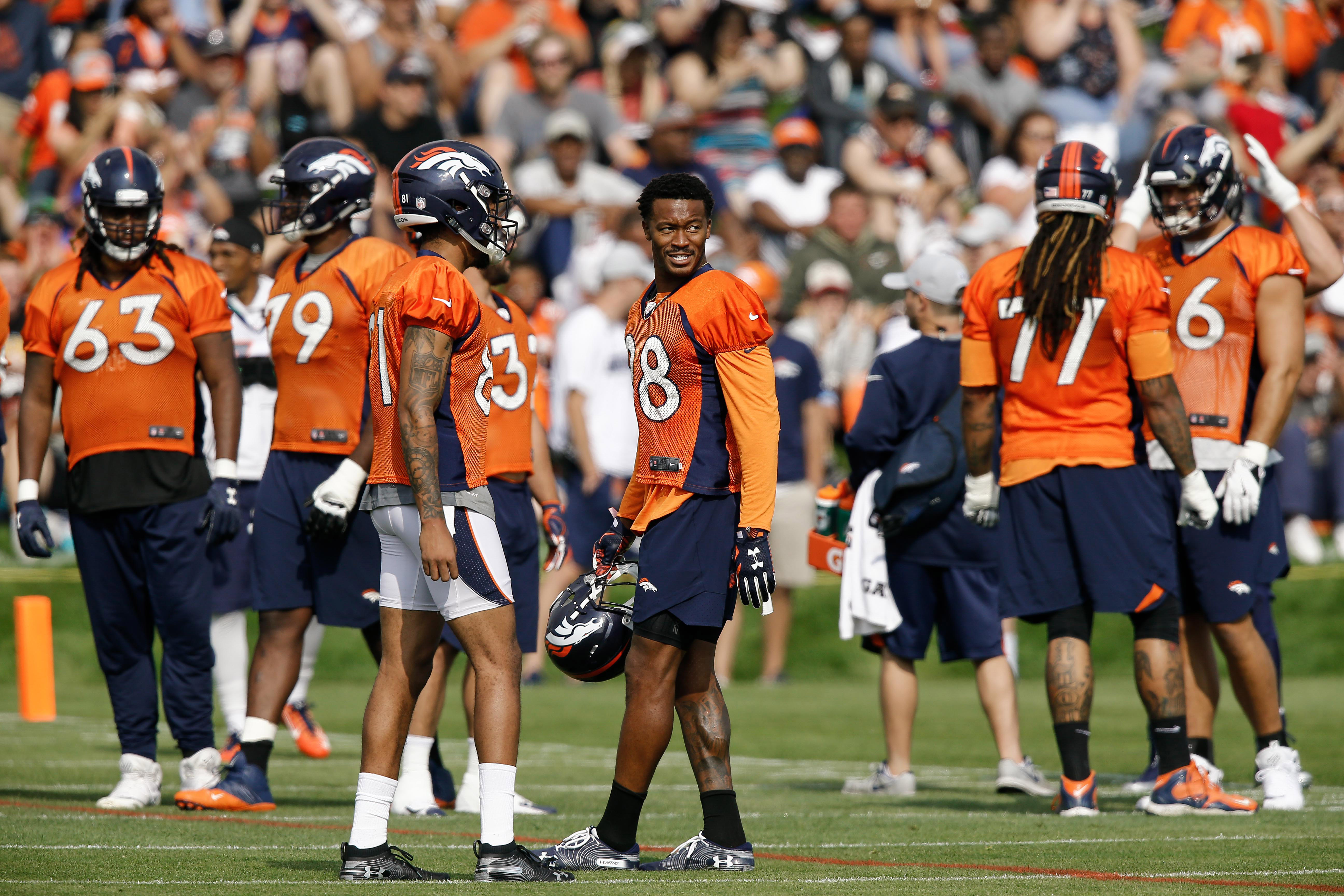 On Tuesday morning, the Denver Broncos released its first depth chart of the season ahead of the team's Saturday preseason debut against the Minnesota Vikings.
The starters are listed below, along with observations on every unit as they currently stand.
QUARTERBACK: Case Keenum, Paxton Lynch, Chad Kelly
Thoughts: Keenum is unchallenged, of course. Kelly has looked better in camp than Lynch, but the Broncos are fully invested in the former first-round pick, and appear intent on handing Lynch the backup role, regardless.
RUNNING BACK: Devontae Booker, Royce Freeman, DeAngelo Henderson, Phillip Lindsay, David Williams
Thoughts: Booker has much to prove this season after experiencing a bit of a sophomore slump in 2017 and the starting job has been his to lose since the departure of C.J. Anderson. Honestly, we have not seen a whole lot from this group due to the nature of training camp and the attempt to limit contact, so it will be interesting to see if anyone from the group can break out during the four preseason games.
WIDE RECEIVER: Demaryius Thomas | Emmanuel Sanders, DaeSean Hamilton | Courtland Sutton, River Cracraft | Tim Patrick
Thoughts: Easily the deepest position group on the offense. Sutton has been the star of training camp so far and has potential to be a dynamic receiving threat in his first professional season. Expect big things from the Broncos passing offense in 2018.
TIGHT END: Jeff Heuerman, Jake Butt, Austin Traylor
Thoughts: The Broncos have struggled to use tight ends consistently for the last five years, but they have a pair of athletic options in the passing game with Butt and Huerman. Keenum used his tight ends effectively with the Vikings in 2017 as Minnesota had one of the most efficient red zone scoring offenses in the league. Will he be able to do the same with his young tight ends in Denver?
OFFENSIVE LINE: Garrett Bolles | Jared Veldheer, Ronald Leary | Connor McGovern, Matt Paradis.
Thoughts: The offensive line is supposed to be much improved in 2018 and so far the group has looked good in training camp. Depth is going to be a big concern though. If one of these five starters goes down, the Broncos do not have much talent to back them up.
DEFENSIVE LINE: Derek Wolfe | Adam Gotsis, Domata Peko | Shelby Harris
Thoughts: Much like the offensive line, depth along the defensive line is a big concern for the Broncos. Gotsis started to come into his own at the end of last season but the Broncos are going to need much more production from the Australian defensive end and Wolfe's health consistently seems to be a concern. Of all the position groups on the defense, the line is definitely one of the bigger weaknesses.
LINEBACKER: Von Miller | Bradley Chubb, Todd Davis | Brandon Marshall
Thoughts: Considering Shane Ray and Shaq Barrett are the players that will be rotating in, the Broncos should feel confident about the depth they possess at linebacker. Barrett, Chubb, Miller and Ray are all players that are capable of recording double-digit sacks and will have to carry this Broncos defense. Marshall and Davis will patrol things in the middle and should be solid against the run. If there are any questions about this group it is how they will hold up in pass coverage situations.
CORNERBACK: Chris Harris Jr. | Bradley Roby, Isaac Yiadom | Tremaine Brock, Brendan Langley | C.J. Smith
Thoughts: The secondary has been the biggest strength for the Broncos in recent memory so it feels weird to be in a position where depth at cornerback is a question, but after shipping off Aqib Talib to Los Angeles, the Broncos are extremely young at the position. Harris and Roby will be solid, but whether the young guys step up or not is going to be crucial. Yiadom looks like a player that can make an impact this season. He is going to have to.
SAFETY: Justin Simmons | Darrian Stewart, Will Parks | Su'a Cravens
Thoughts: The Broncos are fairly raw at corner but they do have a lot of young talent at the safety position. Cravens and Parks give Denver a lot of options with pressure packages and Simmons will be expected to patrol the secondary.
KICKER | PUNTER: Brandon McMannus | Marquette King
Thoughts: In terms of pure leg strength, the Broncos have two of the better specialists in the NFL. There have been some debates over King's off-field antics but he has undoubtedly looked like a weapon at this altitude during training camp. McMannus will be looking to reestablish himself as one of the league's best kickers after a down year in 2017.
KICK RETURNER: Phillip Lindsay
Thoughts: The undrafted free agent running back from the University of Colorado has impressed with his versatility this summer and it has currently landed him at the top of the depth chart. If wide receiver Isaiah McKenzie was not already nervous about his roster spot, he should be now.
PUNT RETURNER: Isaiah McKenzie
Thoughts: McKenzie was a disaster for the Broncos in 2017 and with the emergence of Phillip Lindsay, it would not be surprising if McKenzie is not around by Sept. 1.