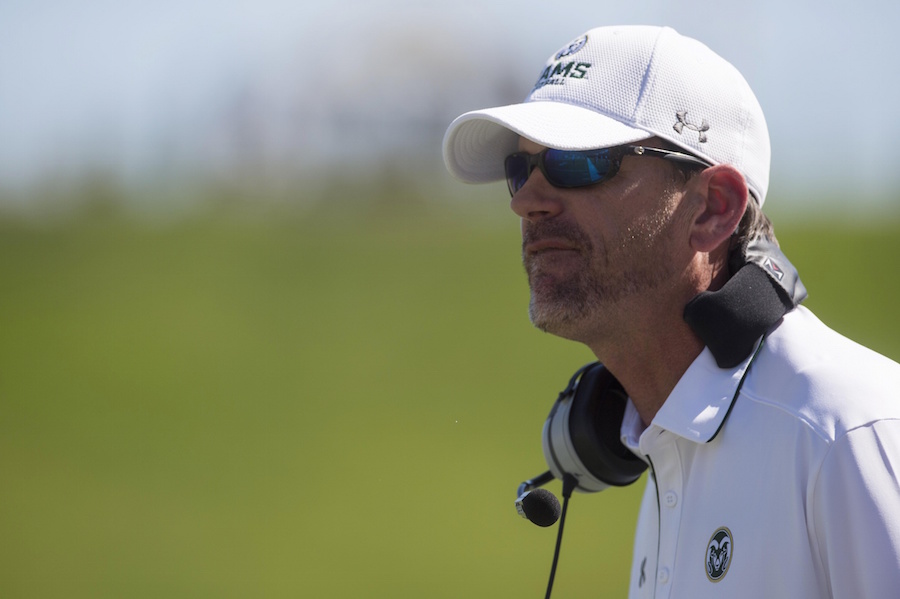 The Colorado State Rams are just two weeks away from their opener against Oregon State on Aug. 26, with their first team scrimmage scheduled for Saturday. Head Coach Mike Bobo enters the scrimmage knowing he still needs to add some pieces to his offensive line, but is optimistic that the young guys on his roster can step up.
"We're not at 10 [offensive linemen] yet," Bobo told Kent Erickson, Benny Bash and Joe Williams on Mile High Sports AM 1340 | FM 104.7 on Friday.
"We've had some injuries up front – Trae Moxley and Tyler Bjokrlund – two guys that have been out at least 10 days now, so that's kind of hurt our competition. I would say we're at seven right now – guys that we feel comfortable – and then [the scrimmage] tomorrow will be a big test for our young guys that we feel like they've got a chance to help us this year. Tomorrow's a big scrimmage for a lot of guys, especially the offensive line."
The clock is ticking on fall practices and scrimmages, and Bobo says the Rams' coaching staff has already built their game plans for both Oregon State and the Rocky Mountain Showdown with Colorado the following week. They'll begin to prepare their team for those games starting next Monday.
With such a packed schedule, Bobo admitted that he hasn't had much personal time now that football is in full swing. However, he did say that he was able this offseason to get out and enjoy some of the great fishing the Fort Collins area has to offer.
"I haven't been to the Big Thompson [River]. I've been to Horsetooth [Reservoir] and the Poudre [River]," Bobo said. "At Poudre, Joe Cox, my tight ends coach, we've got a couple spots in the Poudre where we've caught some big browns (trout), big rainbows (trout). I'm not going to tell you the exact spot. At Horsetooth, I've mainly caught small mouth bass out of therem. But the Poudre, we found a couple holes. Joe's the best fisherman. He always catches probably double, triple the amount I catch."
Coach Bobo won't have much time here in the fall to hit the water, but with a talented group of players at CSU, there's a good chance he'll be catching plenty of big wins this season.
Listen to the full interview with Bobo, including his outlook on his first opponent, in the podcast below.
Catch The Big Show featuring Irv & Joe every weekday from noon-2p on Mile High Sports AM 1340 | FM 104.7 or stream live any time for the best local coverage of Colorado sports from Denver's biggest sports talk lineup.