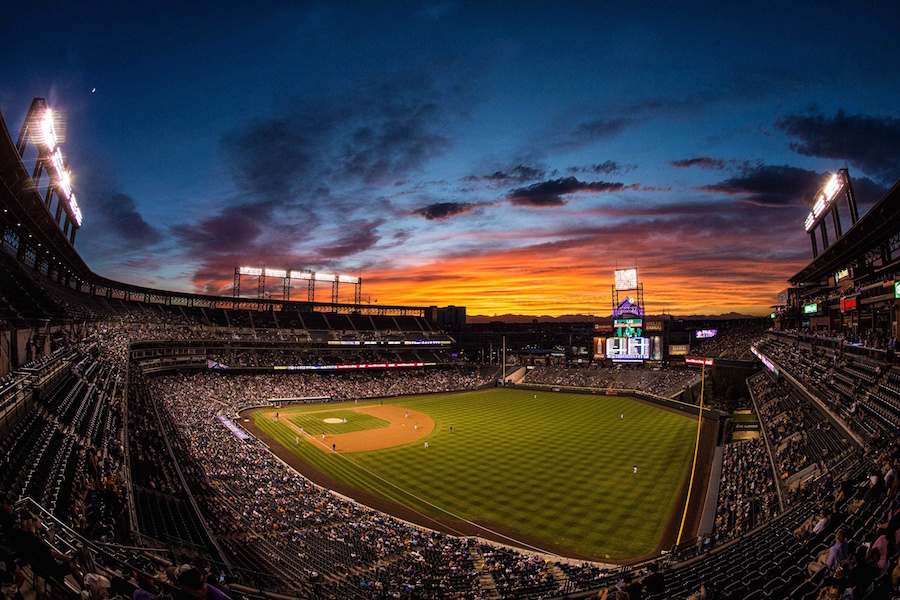 Throwback Thursday: Each week we crack open the content vault at Mile High Sports to bring you a story from yesteryear.
Like every Rockies fan, I was disappointed to wake up this morning knowing that Rocktober 2017 could be defined as "nine of the wildest innings we've ever seen" …but that's it. It's no longer Rocktober, and quite frankly, I'm bummed. I don't like the MLB Wild Card system, and I don't like the fact that this team – a scrappy, ahead of schedule bunch that thoroughly entertained us from April until last night – has to sit at home watching the postseason just like the rest of us. Simply put, this is not how I wanted "the playoffs" to go, and nor did they.
But just about the time my lip nearly touched the ground from moping around all morning, it dawned on me that – despite last night's tough loss – this season (in general) is how it should be. It's so much better than waking up sometime in late August or early September and realizing that we can go ahead and cancel Rocktober. As a reminder of what it "can" feel like, I pulled up this column from the final day of the 2011 season.
My how things have changed (for the better). Go Rox. – Doug Ottewill, Editor-in-Chief
***
Two Tickets to Paradise
Coors Field is where I'll be
by Doug Ottewill
Originally published Sept. 20, 2011
I've got two tickets for the Colorado Rockies game tonight.
It's a 6:40 p.m. first pitch; 20th and Blake. National League West cellar dwellers, the San Diego Padres (dead last in the division at 66-88), will be taking on your Col-or-aaaaa-do Rockieeees (just one rung on the ladder above the Pads, at a paltry 70-83). Section 136. Row 21. Seat 9. That's where I'll be.
Pack your bags and leave tonight, Eddie Money.
What in the H-E-double-toothpicks am I thinking? This is worse than NFL preseason game No. 4. This is as low as it gets. This is what happens when a season ticket holder group draws straws you pull out a yardstick. This is Rockies Baseball in late September.
So here's the scoop (this is in print and on the record – all true, mind you). My dad, arguably one of the most faithful Rockies fans to ever swap cash for brew with Bob the Beer Man, has had this exact pair of Rockies tickets since sometime last winter, when his season ticket holder group convened to hold the annual ticket draft. He's one of 10 (sometimes nine, sometimes eight) people who purchase a pair of season tickets and then divvy them equally. The group, organized by a friend of a friend of a friend, has been buying Rockies tickets since the very beginning. I believe my dad is just one of three (might be four) loyal individuals who can call themselves "originals" with regard to the group; the rest of them have been in and out, or they disappeared long ago.
My dad's stuck it out, through thick and thin, never once missing out on his share of the season tickets. Unless he's simply physically unable to attend, he doesn't miss games. And he – along with me – won't be missing tonight's thriller, either. He's been out of the country for nearly a month and he's going to see a baseball game. Forget the standings. Forget the fact that the Rockies, a team that's lost six of its last seven, have completely thrown in the towel. Forget the fact that its highly probable that we won't be watching Troy Tulowitzki, Todd Helton, Carlos Gonzalez or Seth Smith – none of whom participated in last night's 8-2 loss to the Padres.
My dad holds a belief that a baseball fan has a duty to see the season through. Whether the boys of summer have fallen by fall or not is irrelevant; there's something important about the "completion" of a baseball season. There are statistics to assemble, history to maintain and the off chance that something out of the ordinary can still happen in any given inning.
I can respect that kind of thinking. Truth be told, though, if it wasn't for him and the fact that the game represents nine innings of "catch up" time, I wouldn't be attending. Why bother? This team was done long ago, and it feels a little dirty forking over (his) $35 to go watch the Sky Sox North. The Rockies aren't even pretending this game has any worth. It's a tryout. It's one of two last chances to open up the turnstiles and to light that Rockie Dog grill and pour those high-dollar beers.
To be fair, the Rockies are still – far and away – one of the best values in all of sports. To their credit, the Monforts have not participated in the national trend of hiking ticket prices. Yes, like any game playing in this ecomony, the Rockies tickets are "expensive." But the Rox aren't gouging their fans as bad as plenty of others.
Also to be fair, the Rockies weren't necessarily cheap this year, either. The organization spent big bucks to sign Tulowitzki, Gonzalez and Jorge De La Rosa before the season, and things just didn't work out. Through injuries, slumps – you name it – their return on investment just wasn't there in the standings.
Then again, they didn't go out and pick up a solid pitcher when they had to have one. They were thrifty at second base, bringing in a reasonably priced Mark Ellis when they needed a Dan Uggla. And, there seemed to be, as there often is at 20th and Blake, a general lack of accountability when things go south. Jump up. Dust off. And wait until next year.
When it's all said and done (mercifully, next just eight days from now), the history books will show that Tulowitzki is still the best-hitting shortstop in the majors; that Gonzalez, while not as godly as he was last summer, still had a very respectable season; and that if nothing else, Rockies fans got to watch a commendable performance from a 38-year old first basemen that we'd all written off.
The books won't reflect the fact that the Rox failed miserably to live up to expectations, that they severely overvalued their own homegrown talent, or that the Rockies pitching staff will be essentially starting from scratch in April 2012.
How will you remember the Rockies season of 2011? I'm not exactly sure, other than I'll deem it "disappointing." I'll think of Coors Field as a place you go with my dad, but not as a place where champions reside or winning is demanded. We're (you, me and my dad) essentially Cubs fans – expecting mediocre, hoping for the miraculous and showing up for the good, the bad and the ugly. Just like tonight.
I'm gonna take you on a trip so far from here. I've got two tickets in my pocket, now baby, we're gonna disappear. We've waited so long, waited so long.