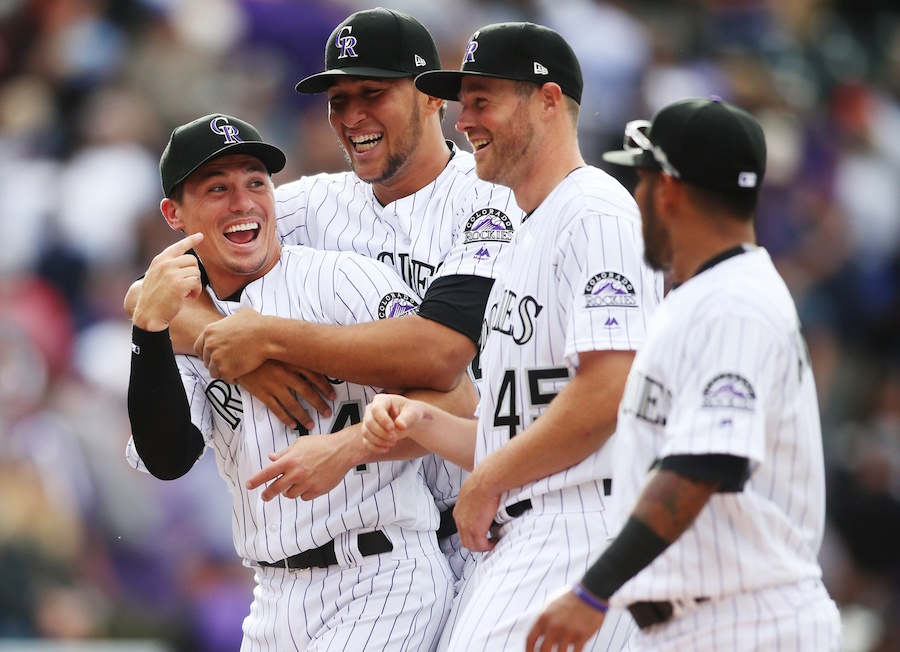 The Colorado Rockies have an off day Monday to enjoy some rest and relaxation ahead of what will be one of the longest and most-trying stretches of the the 2017 season.
With a 1.5 game lead on the Los Angeles Dodgers (which could be one game after LA's game with the Giants on Monday night), the Colorado Rockies are guaranteed to start their season-long 10-game road trip atop the National League West. But the 10 games they'll play in Minnesota, Cincinnati and Philadelphia are only a small piece of the picture over the next three weeks.
The Rockies are scheduled to play 20 consecutive games without a day off between May 16 and June 5 – the longest such stretch of the year. During that time, they'll play games in six  different cities and in all four contiguous U.S. time zones. They'll play only five games at home during that time.
After 10 games on the road, Colorado will host the Cardinals (who currently lead the NL Central) for a three-game weekend series from Friday to Sunday on Memorial Day weekend. They will then welcome the Mariners on Memorial Day proper to open a four-game home-and-home series with two games in Denver and then another two in Seattle.
The Rockies get a respite from the daunting NL West schedule that has so-far dominated the first two months of the season, but they will close their daunting 20-game stretch with three games against the Padres in San Diego.
The good news for the Rockies as they enter this stretch is that they have been a better team on the road so far in 2017 than they have been at home. At 24-15, the Rockies are tied with the Nationals for the most wins in the National League, but they boast an 11-5 record away from Coors Field. Additionally, their run differential is +6 on the road compared to +1 at home.
The pitching staff, which has been sterling so far this season, is also demonstrably better on the road to this point. Their 3.23 ERA and 1.138 WHIP are significantly better away from the cavernous outfield of Coors Field (5.13, 1.406).
Some of the best news coming for the Rockies during this stretch is they should see the return of several players from the disabled list. Tony Wolters and Trevor Story could both be back in the lineup before the calendar turns to June.
Road trips are always a chance for team bonding, but they also require heading into hostile territory. Manager Bud Black has his squad playing well and with a team-first attitude, so this stretch of games will be a big test as to whether they can continue to build upon the best start in franchise history.