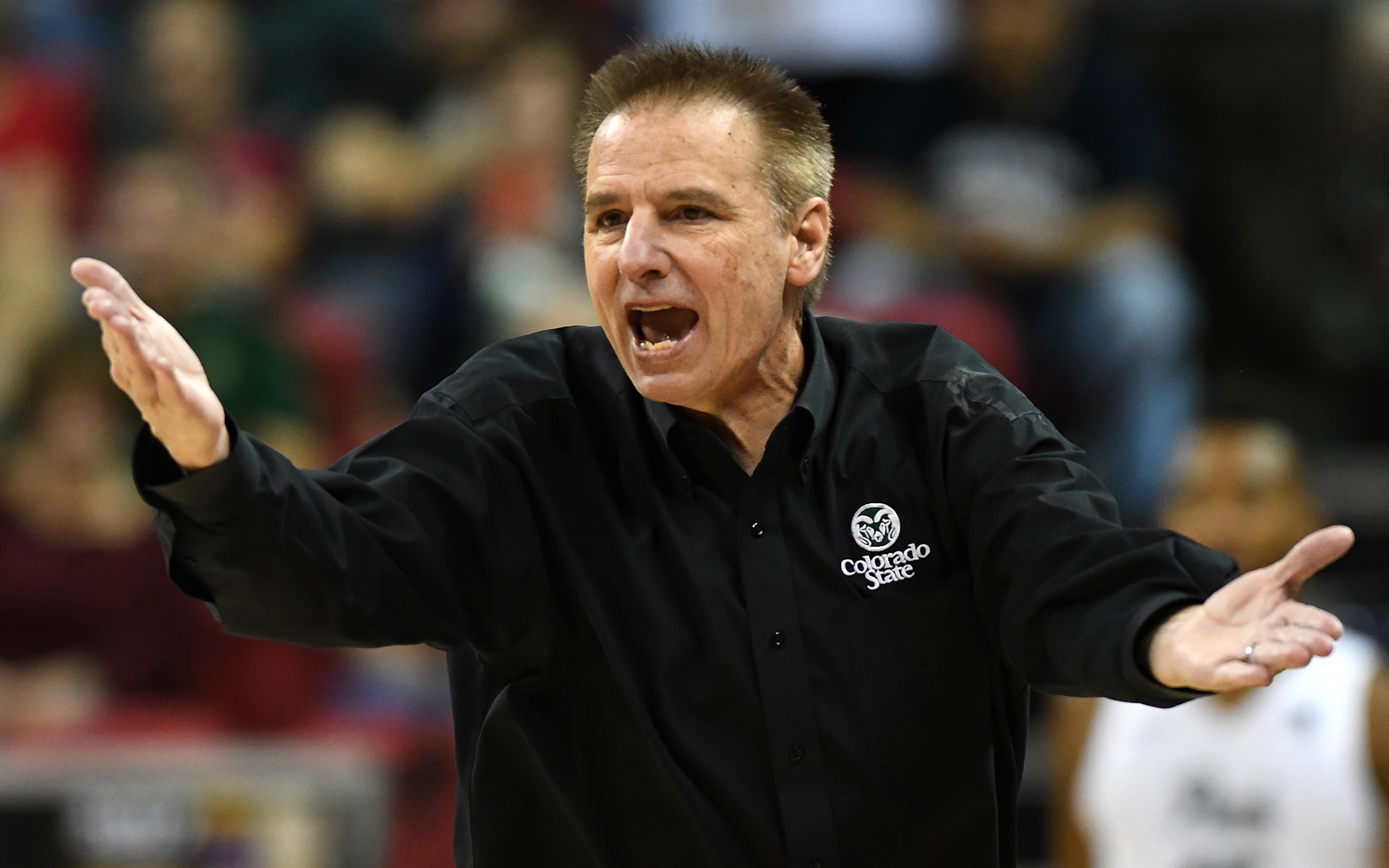 Larry Eustachy is worth the price of admission to a game himself.
Eustachy equals entertainment.
Whether he's pacing on the sideline, jumping up and down or berating the referees, Eustachy is an excitable head coach. He fights for his players when he thinks calls aren't going Colorado State's way and he knows how to push the envelope with the officials.
Most of the time — even when Eustachy repeatedly leaves the coach's box and even when he's yelling at the refs — CSU's head coach doesn't get a technical foul.
But, in last night's Mountain West Tournament championship game, Eustachy was T'd up with 8:58 to play.
Braden Koelliker fouled Marcus Marshall, as it was called on the floor though there was little contact, and because his team started to lose their composure, Eustachy called a timeout. After walking to mid-court to get his players back to their side of the court, he was T'd up.
"I don't know what it was about," Eustachy said after his Rams lost 79-71. "I did take a timeout because there was a discrepancy and I wanted to gather our team because I saw them getting frustrated. So, I think you're allowed to walk out on the court during a timeout or I would have a technical every timeout because we seat out on the court. And, so, as I was talking to one of the refs, another guy not involved in the conversation T'd me up from half court."
If Larry did call the timeout before walking out onto the court, just as the play-by-play of the game says, then why the technical?
Personal foul calls were the discrepancy Larry was talking about. At the time of his technical foul, CSU had been called for seven personal fouls and Nevada only one. On TV, his lips could clearly be read "Seven to one." When that second half was said and done, the calls were 19-6 in favor of Nevada, though some of those were intentional fouls by CSU near the end.
So, why did Eustachy get T'd up? Was official Eric Curry trying to stand out?
"I guess what I'm hearing is, if the main man is watching these things — right now, the main man that picks guys that go to the Tournament — they're really being scrutinized right now, the officials, as they try to make their final four. The officials," Eustachy continued. "So, there's motives behind some things. But, they're a good crew. Good crew. Good guys. Just didn't work out."
When Eustachy was T'd up, his Rams led by three points. Marshall missed the first technical free throw and made the second, meaning the call only resulted in a one-point gain for Nevada. It didn't determine the outcome of the game, but it still should have been waived off by one of the other two officials calling the game since Eustachy called a timeout before walking onto the court.
"I want to make it clear that I probably hold the record for the most technicals for an active coach. But it's been inactive for a long time," Eustachy said, as he then talked about the "$300,000 technical" he was called for at Boise State in 2015. Larry said it was the same situation, where he called a timeout and then was T'd up for walking onto the court, and in that season, Boise State won the Mountain West with a 14-4 record, CSU finished 13-5. 
"One I call the $300,000 technical at Boise when I stepped out onto the court," Eustachy explained. "And it cost us a league championship and an NCAA bid."
But, he clarified he didn't think the technical foul on Saturday cost his team the game. "If anything, I think it helped our team. I said, 'Bail me out guys.' And they did once again. They tried real hard." 
Following the technical, Nevada went on a 6-0 run and led by nine with 7:40 to go. Colorado State whittled the lead down to only one point with 2:38 to play in regulation, but many key rebounds down the stretch went to Nevada as they held on to win by eight and become Mountain West champions.
For CSU and the "Magnificent Seven," it was a heartbreaking end to a phenomenal finish to the season, winning 13-16 games, but missing the NCAA Tournament.