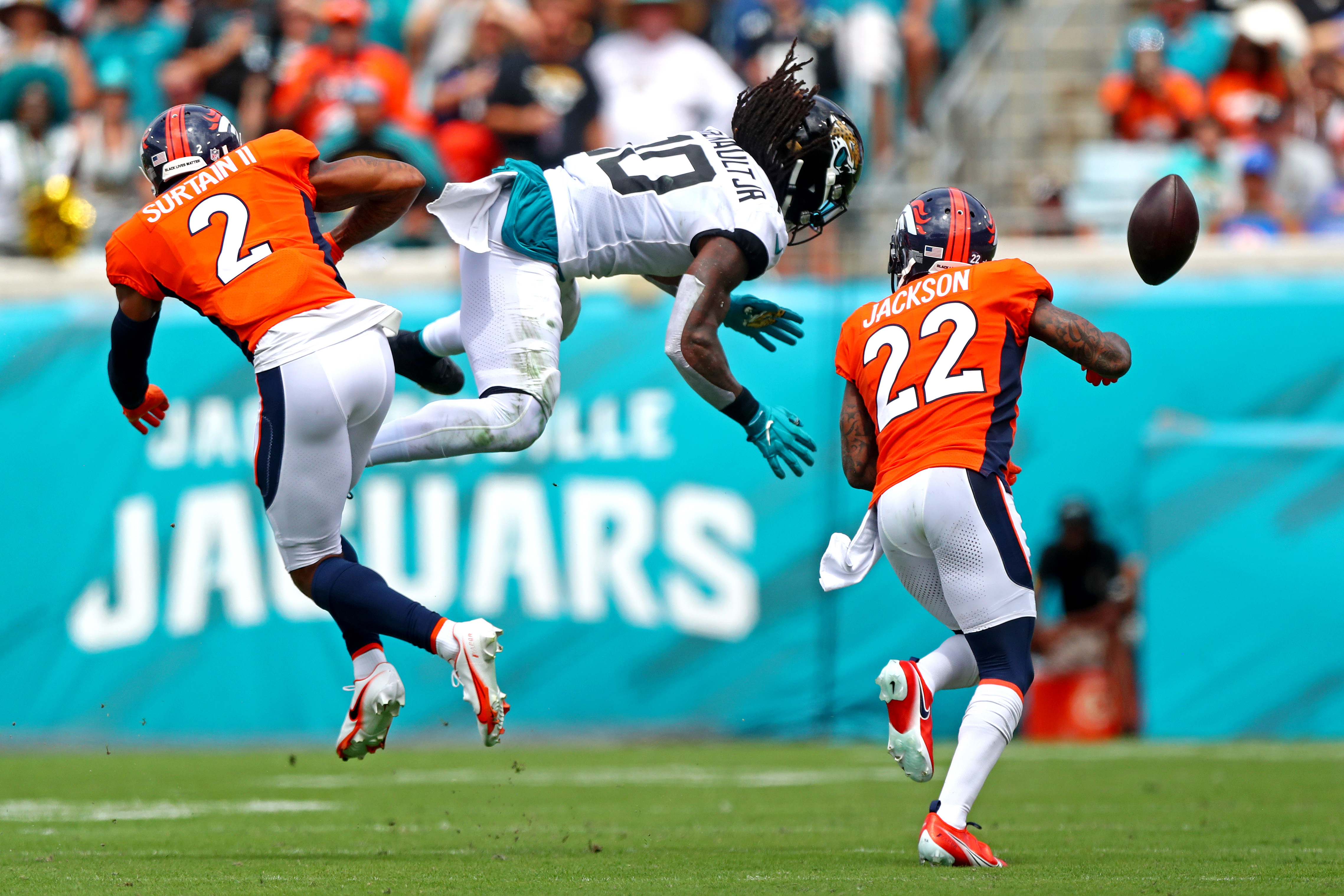 Hope is alive in the Mile High City. With a dominant defense, top-notch skill group and a quarterback experiencing a career renaissance, the Broncos are looking like a legitimate playoff contender in the loaded AFC.
Now, let's take a look at the units and players that impressed the most, and the aspects of this team that are still holding them back.
Stock Up
Teddy Bridgewater
Sure, Teddy Bridgewater's last month has been phenomenal, from strong preseason performances and winning the starting job, to balling out in his debut. With that said, his stock continues to climb, and it will keep climbing, as long as he's playing like a top 10 quarterback.
That might sound like lofty praise, but it really isn't. He played like a top-five — maybe even top-three — quarterback a week ago, and then continued to ball out against a lesser Jaguars secondary.
At the end of the day, the veteran free-agent signing was 26-for-34 for 328 yards, two touchdowns, and a passer rating of 125.6.
If Bridgewater can play like this for the rest of the season, it raises the ceiling for Denver considerably. Instead of crossing their fingers and praying for a wild-card appearance, Broncos Country can start having dreams of a playoff win, and maybe even a playoff run, come January.
Courtland Sutton
In his second game back from his devastating ACL tear a season ago, Courtland Sutton reminded everyone of the special talent he truly is.
Sutton had just one reception for 14 yards in Week 1, and he got off to a relatively slow start against the Jaguars, as he didn't quite look like his 2019 self.
However, despite the fact it appears he still isn't fully back from injury, Sutton was remarkable. He came up with multiple plays, and made some impressive downfield catches, as he corralled Bridgewater's passes.
Most impressively though, Sutton said a new career-high for receiving yards, tallying nine receptions for 159 yards and a touchdown.
It's incredible to think his day easily could have been even better, as an uncalled defensive pass interference and beautiful coverage from Shaquill Griffen erased two deep completions.
Josey Jewell & Justin Strnad
In the first half, Josey Jewell was the Broncos' defensive star, as unlikely as that might sound at face value.
Jewell quickly tallied two tackles for loss, both of which came in coverage, his supposed weakness as a linebacker. He then flew down the field, to lay a lick on the Jacksonville punt returner, though unfortunately he then exited the game after injuring himself on the hit.
Justin Strnad then entered the game and picked up right where Jewell left off. Despite playing only a fraction of the game, he finished just one tackle shy of the team lead and was strong in coverage.
For what it's worth, Strnad also had a nice special teams tackle of his own on the opening kickoff.
If Jewell misses time with that injured shoulder, Broncos Country should rest easy knowing they have Strnad to fill in.
Kareem Jackson and Patrick Surtain II
The Broncos' secondary got off to a rocky start this week but quickly rebounded. After Lawrence quickly marched down the field for an opening score, they clamped down and didn't allow another offensive point.
Everyone in the defensive backfield seemed to come up with at least one big play, but Kareem Jackson and Patrick Surtain II deserve to be spotlighted for creating two turnovers, especially considering it was Surtain's first start of his NFL career.
Jackson — who also led the team in tackles — and Surtain both intercepted Trevor Lawrence, with Surtain's being an exceptionally remarkable display of athleticism, body control, and ball skills.
This kid is legit folks.
Stock Down
Denver Special Teams
The special teams unit continues to be a major concern for the Denver Broncos, despite a nice showing in Week 1.
Denver's special teams got lucky as Jacksonville missed two field goals, and the unit also managed to recover an important onside kick. Outside of those moments though, the squad was disappointing.
Mike Ford, who has been a really nice coverage player on kickoffs and punts, drew his second pointless, stupid 15-yard penalty in as many weeks. If that trend continues, the damage he's causing with immature penalties will outweigh the help he provides Denver's special teams.
Then, when the Broncos had seemed to extinguish all of the Jaguars' hope with a 23-7 lead, the kickoff team allowed a massive 102-yard touchdown on the return. The return kept Jacksonville's hopes alive and could have swung the momentum of the game.
McMahon's special teams must improve for Denver to remain successful.
Penalties
For much of head coach Vic Fangio's reign, the Broncos have been among the league's least penalized teams.
That was not the case today, as they were called for 10 penalties, losing over 100 yards. Fortunately, in this matchup with the lowly Jaguars, the Broncos could afford such a litany of mistakes. That won't be the case as the schedule quickly dials up the difficulty after Week 3.
Sure, the officials were pretty awful in Jacksonville, and the calls did seem to favor the home team, but games like that will happen occasionally. That's a part of football and a part of sports. It's on the Broncos to make sure they don't pile on the problem with added mistakes, like Ford's silly penalty.