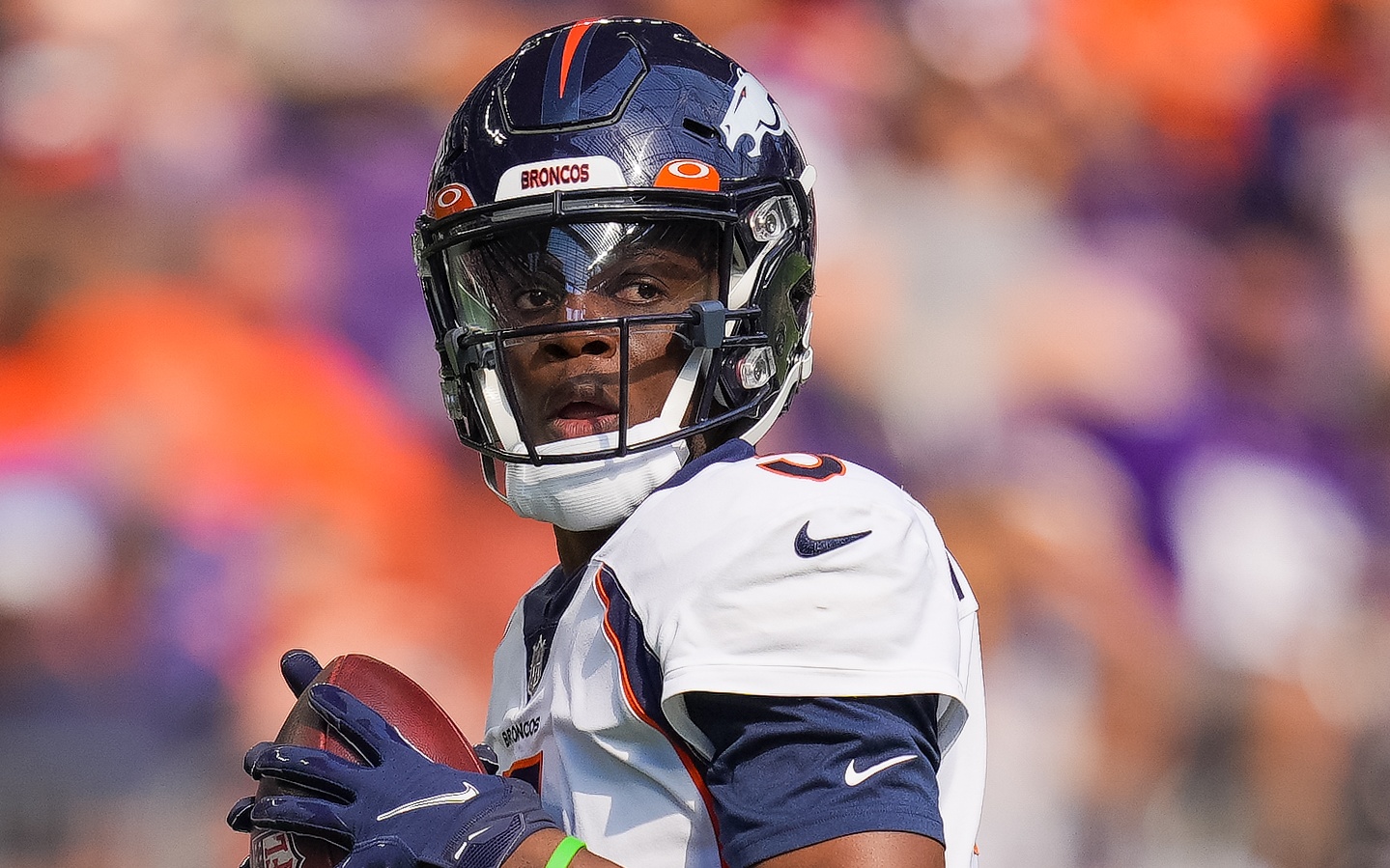 When a team has two quarterbacks, they have none.
Well, the Denver Broncos finally have an official starter in Teddy Bridgewater, the challenger who came in and stole Drew Lock's job by the narrowest of margins.
If everything were judged on the preseason games alone Bridgewater should have won. Yes, Lock was magnificent in Game 1, especially that 80-yard touchdown to KJ Hamler, but Bridgewater was more steady.
That's right, "Steady Teddy" was very good in that first game (7-of-8, 74 yards, 1TD), and even better in the second (9-of-11, 105, 2TDs). It wasn't just those preseason games, however, he impressed not only the coaches through all those practices but he won over teammates, too.
"I feel like he's a great quarterback," second-year receiver Jerry Jeudy said of Bridgewater back in June. "He knows how to anticipate. I feel like he's good at anticipating where players are going to be. I feel like that's a good thing he does."
On a 4th-and-5 last Saturday, Steady Teddy stepped up in the face of pressure, stood tall and delivered a beautiful ball on target to Jeudy for 35 yards and to Seattle's 5 yard line.
Noah Fant, a third-year physical phenomenon at tight end who's ready to ascend to greatness, also appreciated the way Bridgewater carries himself.
"I've gotten the chance to throw with Teddy these last couple days of OTAs," Fant said in late May. "You can definitely tell that he's a vet. Ball placement and things like that are very important to him."
Simply, the two quarterbacks are in different leagues when talking about accuracy, and that will benefit the receivers greatly. While Lock was 33rd last year in completion percentage (57.3), Bridgewater was fifth-best in the NFL (69.1) and with a group of receivers not nearly as talented as Denver's.
Besides that, Bridgewater was about 5% better in weighted on target percentage per Cory Kinnan, and his Panthers enjoyed 6.61 plays per possession (6th-best) while the Broncos averaged 5.74 (31st).
Right now, George Paton looks incredibly smart for trading for Bridgewater the night before the draft. Denver sent a sixth round pick for their new starting quarterback and the Panthers agreed to pay 70 percent of Bridgewater's salary this season, too.
For Paton, winning immediately with the deadly defense he built this offseason, is likely a priority. Bridgewater will help, although he made it clear this decision was all Vic Fangio's.
As for Fangio, a coach and a GM's life spans are of different lengths, and while Paton is beginning his tenure, the head coach is in Year 3 and needing a playoff berth.
Fangio was helped by a decent roster defensively the last few years, but Paton just made it a legitimate top-5 unit this offseason. And with his and Ed Donatell's coaching, the Broncos are likely to have their best defense since the 2015 season.
But, what's demoralizing to a defense?
When they come up with a huge stop deep in their territory only for the quarterback to go out and throw a pick. Denver can't have those picks this year, like they did last year so many times from Lock.
Just like in 2015, this team will make the playoffs if the defense is demonstrative — pressuring QBs around the edges and picking off passes — and if the offense is just good enough. And, crucially, if the offense can find a way to not turn the ball over too often.
Even in 2015, Peyton Manning was a shadow of his former self, throwing 17 INTs as he was benched for Brock Osweiler. But Manning came back in that season finale and helped do just enough to push the Broncos to a third Super Bowl win.
This year, the Broncos probably won't be as good as that super team, but they should be able to get back to the playoffs for the first time since that Vince Lombardi Trophy win. If so, it'll save Fangio's job, at least for another year.
And starting Bridgewater will be a smart move for the franchise on the whole if they do make the postseason.
Even if Denver is one-and-done, they have a ton of young, key pieces who have yet to make the playoffs. That includes Bradley Chubb, Justin Simmons, Courtland Sutton, Jeudy, Fant, Dalton Risner and more.
Some experience is better than none, and the Broncos could build off a playoff berth and possibly go deeper next year or in 2023. And you never know, the orange and blue could get hot down the stretch and even win a game or two in the playoffs with Steady Teddy at QB.
The great irony about football is that fans are always looking forward. After the season, it's looking towards the Combine, then the Draft, then OTAs and training camps and then the season's kickoff. But, there's rarely ever any living in the moment.
If Bridgewater can lead the Broncos back to the playoffs, even if he was the "safer" pick over the wildly inconsistent but explosive Lock, Broncos fans should enjoy it.
It could mean Bridgewater re-signs in 2022, or it could just be a springboard for the franchise to get back to those winning ways with consistency once again with another quarterback at the helm.