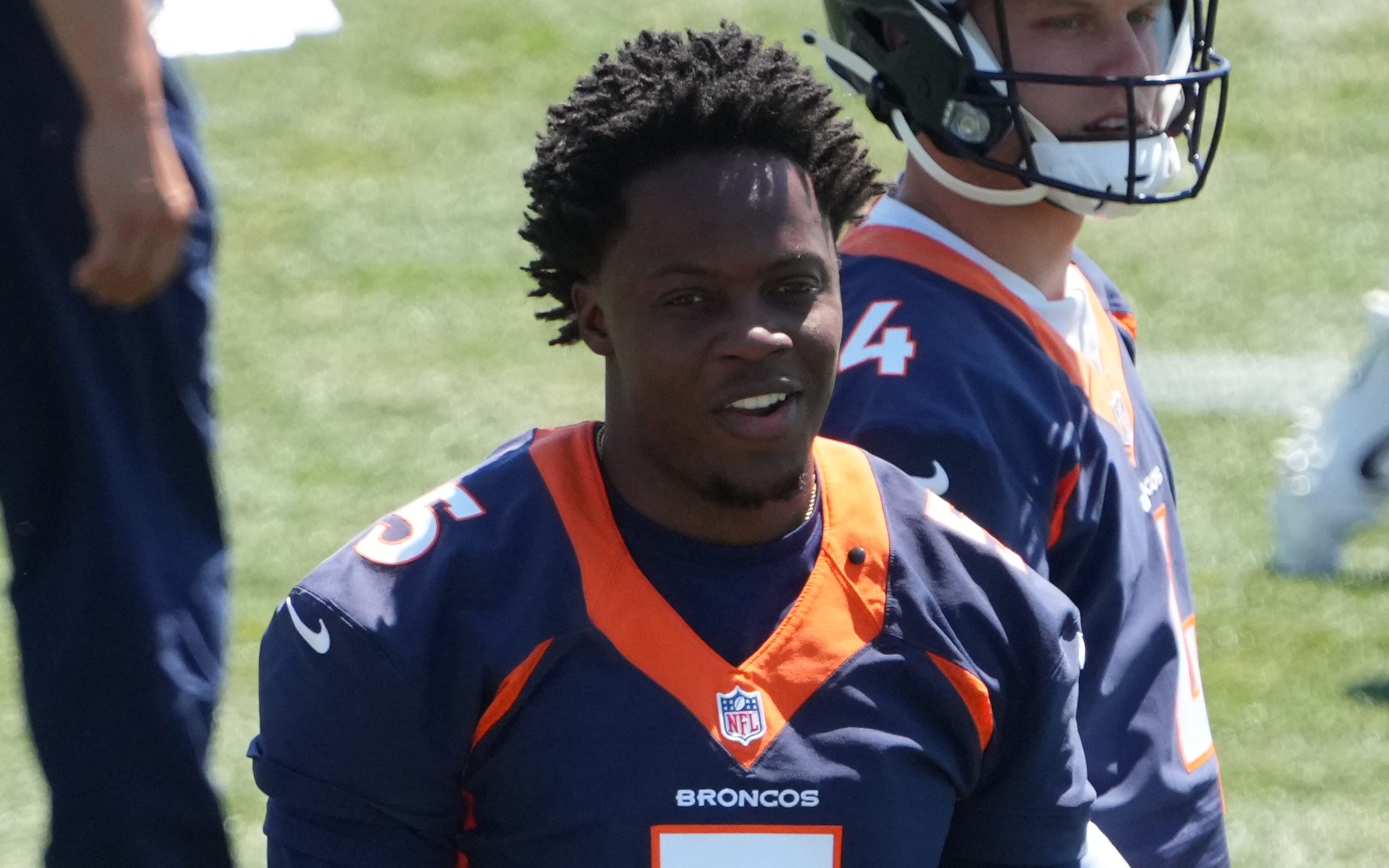 On Monday, the Broncos went through their first mandatory OTA practice, with the quarterback battle being the spotlight competition.
Teddy Bridgewater, the wily veteran, has been brought into the Mile High City to compete with young gun Drew Lock for the most important position on the team. And really, the two couldn't be more different.
Lock is a big-armed, mobile, fun quarterback but his inconsistency and unpredictability meant being the least-accurate and most-intercepted quarterback in the NFL last year. At times, he's incredibly exciting, lighting up the Carolina Panthers in the best game of his career to this point. And others, Lock is infuriating, throwing picks off his back foot while forcing the ball into covered receivers.
Meanwhile, Bridgewater is a more safe option, with a smaller arm as he throws accurate "floaters" to his receivers, as Jerry Jeudy said last week.
"I say it's a catchable pass," Bridgewater explained of Jeudy's comments. "Whatever makes it easier for those guys to catch the ball and make a play after the catch, that's what I'm all for. If it's a floater or touch or just a catchable pass, then they label it however they want."
Certainly, he knows how to set receivers up with the best chance to make a play on the ball. Last year, Bridgewater was the fifth-most accurate passer (69.1 percent) in the NFL, and if he can bring that consistency to the Broncos in 2021, guys like Jeudy and others will see their numbers skyrocket. And so far, Bridgewater and Jeudy have been meshing and creating chemistry.
Yes, Jeudy and others' numbers could blow up this year, that is, if Bridgewater wins the job from Lock. Those two are in a close battle in which Lock actually was ahead after Tuesday's practice, even though Bridgewater was leading last week.
And the veteran quarterback accidentally revealed something during the post-practice presser on Tuesday; he was injured slightly in 2020. But, no one would've known because he played through it.
"Honestly, last year—when I look back, I think for the first eight weeks, or the first seven weeks of the season, I think I was playing some really good football," Bridgewater explained. "We had guys who were having career years. I think once we played in Tampa [Bay] that second game, and I took a shot. I probably should've just shut it down for the rest of the season. I just love this game, and I never take it for granted."
Considering Lock has been injured the first two years of his career, the Broncos are no stranger to QB injuries, but they also likely want a healthy field general going into 2021. Luckily, Teddy B. said he's OK.
"I had something on the inside of my knee," he said. "I can't even remember what it was. But it lingered for the rest of the season. I just love competing. I never take [an] opportunity to go out there and compete for granted…Yeah, I'm completely good."
When looking at his stats, it's clear to see how the injury hurt his performance. For one thing, he had to sit the next week after the Tampa Bay game. For another, he threw 13 of his 15 touchdowns before the injury last year.
So, the good news is this: Bridgewater is good to go now, and his love for football helped push him through last season, even on a losing team.
Teddy Bridgewater is a true competitor who had an incredibly promising start to his career before that devastating knee injury in Minnesota. Since then, he's kept his positive attitude, done whatever his team's needed of him — like filling in for Drew Brees in 2019 — and will even gut it out through injury.
The QB battle is long from over, but it is good to know the newcomer is healthy and will put up his best fight against the incumbent Lock. Certainly, the best man should win. And if that means Bridgewater pushing Lock to be improved, that's great. Whatever it takes to help this team get over the hump and compliment what should be a top-5 defensive unit in 2021.