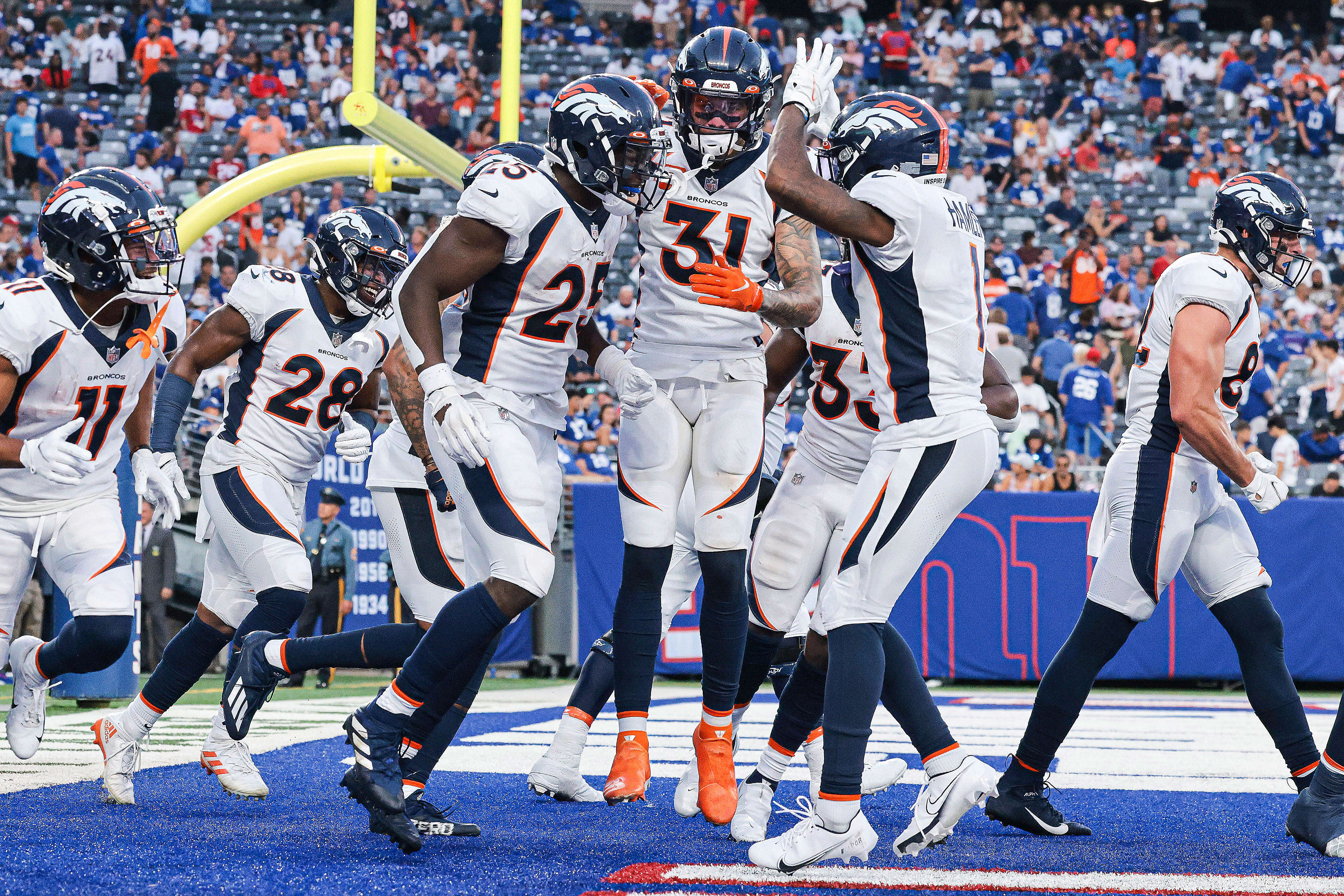 For the first time since Week 3 of the 2018 season, the Denver Broncos have a winning record.
In their dominant 27-13 win over the New York Giants, almost the entire team played great, but some stood out from the rest — either through their struggles or through their successes.
Now, let's take a look now at who Denver's most impactful players, for better or for worse, were in this game.
Stock Up
Von Miller
Broncos Country sorely missed Von Miller in 2020, anxiously awaiting his return, and what a return it was.
Miller was an unstoppable force all game long, a proverbial bull in a china shop, a one-man wrecking crew. His age was undetectable as he looked every bit like peak-Miller.
Not only did Miller come up with two big plays in the form of his sacks, but they came at big moments. His first sack forced a three-and-out, which helped keep the Giants' offense suffocated. His second sack also came on third down, this time forcing New York to attempt a 4th-and-15, and ultimately snuffing out whatever remaining hope they had for a victory.
Miller also led the team in pressures, and wrapped up Kadarius Toney for a big loss, killing New York's first drive after a big gain from Darius Slayton.
Teddy Bridgewater
Miller gets the top spot purely out of seniority and defference to a member of the Denver Broncos' all-time Mt. Rushmore of players, because there's no doubt that Teddy Bridgewater was the MVP of today's game.
Despite an offensive line that struggled all game long, allowing near-constant interior pressure, Bridgewater was phenomenal.
The new Denver quarterback completed nearly 80-percent of his passes (28-for-36, 77.78%), while throwing for 264 yards and two touchdowns, without a single turnover.
All that said, the box score fails to truly capture how great Bridgewater's performance was. There were multiple plays that seemed to be dead on arrival as the pass-rush cornered Bridgewater, only for the former Louisville product to perform his best Houdini impression, escaping and finding a receiver downfield for a critical play.
It's inarguably one of the best quarterback performances the Broncos have had since the retirement of Peyton Manning, if not the 2014 season. 'Teddy Two-Gloves' was more like 'Teddy Two-Guns' with his gun-slinging performance today.
Vic Fangio
Denver's head coach showed two things today which should inspire some amount of confidence throughout Broncos Country.
First, he was dramatically more aggressive on fourth downs than he had been in either of his first two seasons. That change was desperately needed, as Rich Kurtzman pointed out earlier in the week.
In fact, Next-Gen Stats had Vic Fangio as the NFL's worst head coach when it came to deciding what to do on fourth down.
Optimal Fourth-Down Decision %

📊: How often does the coach go for it when they should according to the NGS Decision Guide?

Among active head coaches, 2018-2020 pic.twitter.com/GCZfNgtrs5

— Next Gen Stats (@NextGenStats) September 8, 2021
His decision to go for it resulted in added points for the Broncos attack multiple times.
The second cause for optimism was how the Denver defense adjusted to New York's passing attack, thanks to Fangio.
Early on, the pass defense was underperforming to a frustrating degree. On Daniel Jones' first 10 pass attempts, the third-year quarterback went 8-for-10, gaining 109 yards and passing for a touchdown. On his next 14 attempts (a span that lasted up until Kyle Fuller broke up Jones' fourth-down conversion attempt, serving as a dagger to the hearts of the G-Men), Jones went 5-for-14 and gained just 62 yards.
That's a backup-quarterback-caliber performance.
His numbers did recover somewhat in garbage time, but at that point the Broncos defense had already accomplished the job thanks, in-part at least, to Fangio's defensive tinkering.
Denver's TE room
Albert Okwuegbunam's fumble in scoring position was crushing in the moment, but in hindsight, all it really did was prevent the Broncos' blowout victory from being so one-sided.
Otherwise, outside of that one play that arguably should've been ruled a fumble out of bounds, Denver's tight ends were some of the offense's deadliest weapons.
Noah Fant quickly emerged as one of Bridgewater's favorite targets, earning more targets than anyone, and twice as many targets as anyone not named Jerry Jeudy. With those eight targets, Fant tallied six receptions 62 yards and multiple key conversions.
Okwuegbunam didn't gain as many yards, totaling just 13 on his three catches, but his second-half touchdown was one of the most pivotal plays in the game, and one of the most awesome displays of athleticism from either side throughout the four quarters.
Even No. 3 tight end Eric Saubert had some nice plays, carrying over his momentum from the preseason.
Stock Down
Offensive line
Multiple figures inside the Broncos organization raved that this was 'the best Denver's offensive line has looked in years.'
It's a low bar to clear, but still, those statements look inaccurate after the Giants ran through the Broncos' offensive line like it was a malfunctioning New York subway turnstile.
Bridgewater was constantly harrassed by Big Blue's big men up front, and the fact he was only sacked twice is a testament to his pocket presence. It might even be a testament to some form of higher power, as it's practically miraculous Denver's quarterback was sacked so little, despite the interior of the line getting dressed down on nearly every dropback.
Not only were they poor in pass protection, but they also struggled to open lanes for Denver's talented ground game, and the running backs frequently had to deal with defenders already on them in the backfield.
Outside of Melvin Gordon's 70-yard touchdown run, which cemented the outcome, the Broncos' running backs were held under 3.2 yards per carry on the day.
Wide receiver depth
Jerry Jeudy was looking every-bit the star he was hyped up to be throughout the offseason. Unfortunately that all came crashing down, after his ankle was rolled up on midway through Denver's victory.
The loss is heart-wrenching, and its effects on the Broncos could be severe. Denver does go four deep at wide receiver, so this shouldn't impact their starting lineup too much (as K.J. Hamler and Tim Patrick can fill the void to some extent). However, the elevation of Patrick and/or Hamler does present questions as to the depth behind that duo.
It should also be noted, while the Broncos have multiple big-bodied options they like on their practice squad, they don't have many players that play a similar style to Jeudy. Outside of Hamler, their next-best option is likely Kendall Hinton.