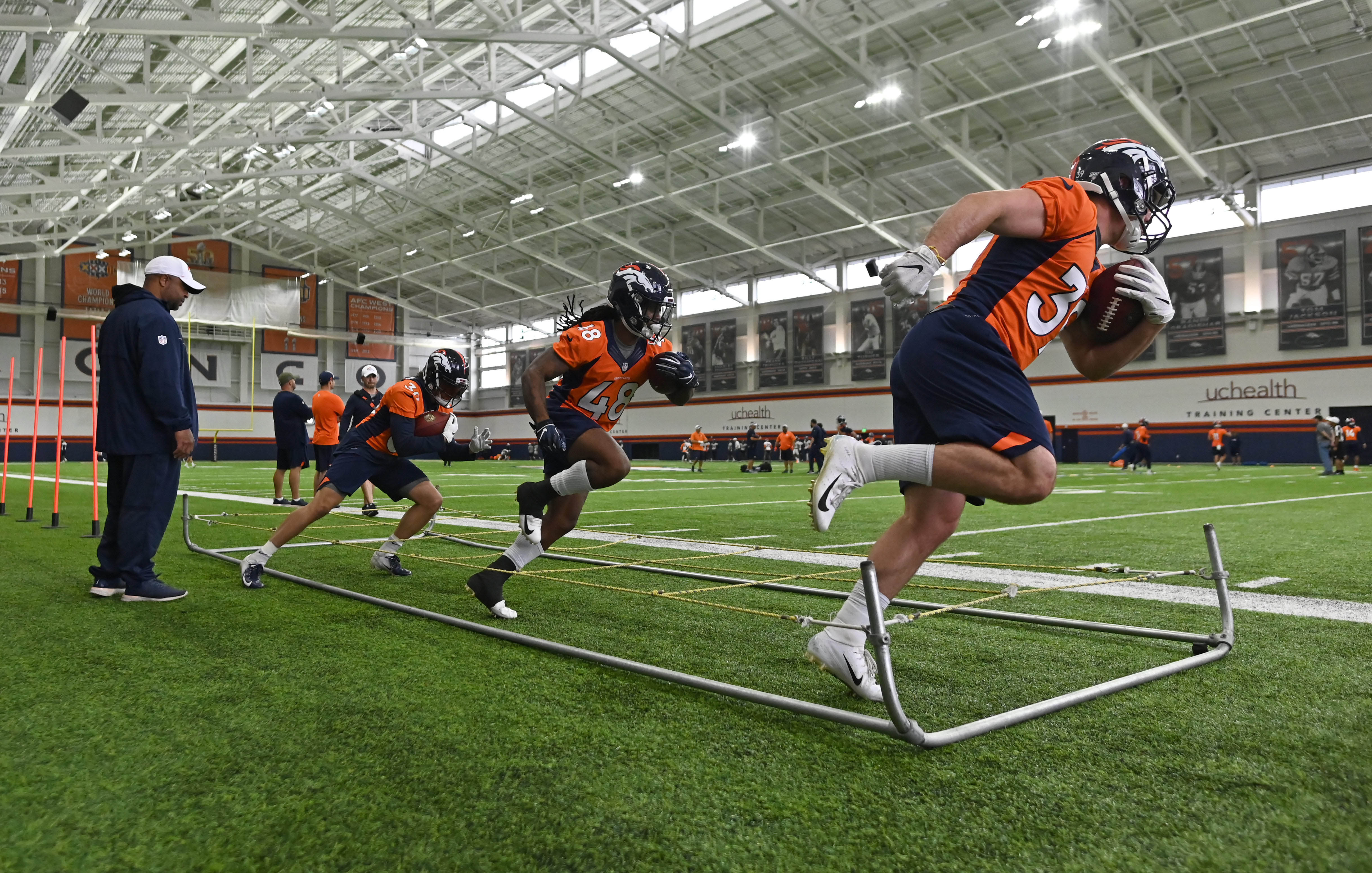 Written by Torry Rees
Broncos legend and Hall of Famer Terrell Davis joined the Ronnie K Show on Mile High Sports AM 1340 | FM 104.7 to discuss the state of Denver's backfield, the offensive line's impact on the running game, and Mike Munchak's experience.
Although they are young, Denver's running back group boasts excellent depth featuring Pro Bowler Phillip Lindsay, Royce Freeman, and Devontae Booker who combined for over 1700 yards last year. They're expected to be just as prominent in the 2019 campaign.
"It's going to be an offensive that's explosive," Davis said. "The backfield's real good. I think it's going to be more of a three-back rotation. If you can get [Devontae] Booker going, you get [Royce] Freeman going, it's going to allow [Phillip] Lindsay to have some time when he can rest up a lot and then be more explosive when he's on that field."
The message inside of training camp that's been echoed is the idea that Freeman and Lindsay will split carries in a parallel of what Atlanta's Devonta Freeman and Tevin Coleman did in 2017. Most running backs would like to be a workhorse back, but there are pros and cons with that approach.
"It's kind of a double-edged sword there," Davis said. "You want to be a guy that gets out there every down no question. But if you got other guys that can come in and give the team some production, then that's the best-case scenario for the team."
The two-time Super Bowl champion reflected back on being an every-down back during his time with the Broncos and the difficulties that come with managing energy.
"I was always trying to go as far as I can go every place," Davis said. "But at the same time you do have plays where you're conscious about, right? Listen, I know I'm in here, it's a long drive, I got to save some energy. But you hope that if a player has a chance to break out that they have enough strength and energy to get the job done."
With new offensive line coach Mike Munchak stepping in, the general consensus is that the line will improve. Davis knows in front of every great running back, is a great offensive line.
"When I was in Denver, I played with the best offensive line coach I'll say in history out there," Davis said. "His job is going to be to get bold [enough] to work on the fundamentals and some technique and makes sure that he limits us to holding [penalties]."
Improving the OL was a point of emphasis for Broncos in the offseason with the signing of Ja'Wuan James and drafting Dalton Risner. With new pieces and a new coach, growing pains are expected, however, those pains will lead to a strength for Denver.
"You got a line that's still trying to find its way," Davis said. "But Munchak's a guru and I have all the confidence in the world that the offensive line is going to be a strength of the Broncos when it's all said and done."
You can listen to the full interview with Terrell Davis here or below, including what he had to say about the Broncos Super Bowl chances and Pat Bowlen's impact on him.
Catch Ronnie K on the Ronnie K Show every weekday morning from 7a-8a on Mile High Sports FM 104.7 | AM 1340 or stream live any time for the best local coverage of Colorado sports from Denver's biggest sports talk lineup. Download the all-new free Mile High Sports Radio mobile app for Apple or Android.