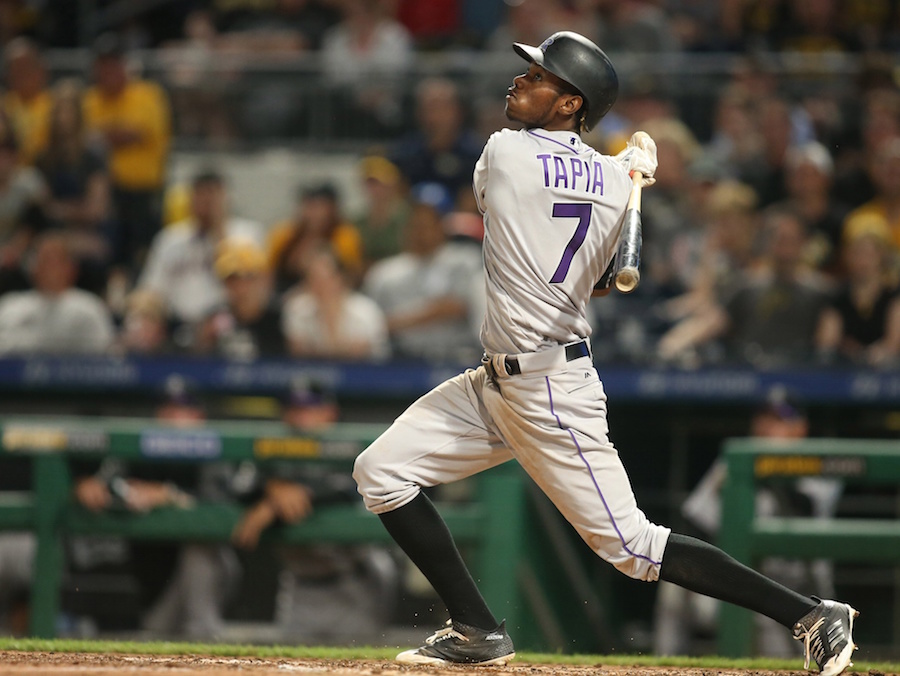 From the beginning of his short tenure with the Colorado Rockies, outfielder Raimel Tapia – though a bit embattled in his ability to stay in the bigs – has proven to be a special talent.
"He's a unique player, from his hair, to his stance and how he runs," manager Bud Black said Thursday after Tapia delivered Colorado's first walk-off win of the season. "The thing that I like about him is that he likes to play and he wants to contribute. You hear me talk about good Rockies, and he's a good Rockie. Even if he's in Albuquerque, he's a good Rockie."
From his swing to his stance, to his speed and his confidence, the Rockies have their pick of the litter in what makes Tapia stand out in the lineup.
"I've had people tell me, 'You do that a little different than most players. You have a lower stance, your hands are a little different on the bat, you're kind of out in front.' But it's worked for me, and it's been a good thing for me," Tapia said.
So far this year, Tapia has been bouncing around from the Albuquerque Isotopes to the Rockies after being called up to fill in for other starters on paternity leave, and now for an extended stay with Gerardo Parra on the DL. You could say his tenure this year has been somewhat unstable. For Tapia, however, the inconsistency at the Major League level doesn't concern him one bit. It's quite the opposite, actually.
"When I first came up, I wasn't as adjusted to [Major League ball] and I struggled a little bit, but now I'm coming up and I'm keeping my same game that I played in Triple-A, and I'm doing it fairly well," Tapia said. "I just get here and am adjusting myself and keep adjusting myself to the game. I know that I can do it, and I just keep playing my game."
Tapia's turning the tables on his game this time around after recording his first two hits of the season in Chicago last week. On Thursday night in Denver, he achieved a feat that dreams are made of at this level.
After surrendering an eight-run lead to take the game to the bottom of the ninth against the San Francisco Giants, the Rockies needed a hero to salvage what was left of that competition. Enter Tapia who, thanks to a clutch hit late in the game with two men on, drove in the winning run for his first career walk-off.
Moments later, after nearly being mauled by his teammates in celebration at first base, he received an ice-cold bath that every young slugger dreams of in little league.
"I dreamed of that not even as a kid, but just last week. Just to have that hit and have that moment with your team, it's really special," Tapia said. "It felt really good, because I helped my team win and that's what we needed, so it felt really good."
During his first two call-ups of the year, Tapia couldn't produce a single hit at the plate, which completely paled in comparison to the big numbers in the minor league system. Across 34 games with the Isotopes this year, he boasts a .359 batting average and a robust .526 slugging percentage.
Despite his slow start to his time in the Majors this year, Black said he never worried about Tapia's ability to get the job done when he needed him most.
"He's been swinging the bat well the last couple of days, and I've been saying this prior: I think his batting average, his on-base percentage, his at-bats in Triple-A and what I saw in spring training, what player development has told me about Tapia, he can hit. So I thought that overtime the Triple-A numbers would translate into big league games. We've seen that the last couple days, even in Chicago, Pittsburgh, and tonight," Black said after Thursday's victory.
Aside from Tapia's obvious unique talent, his success as of late boils down to one key character trait.
"This cat's got confidence," Black said, matter of factly.
That self-assurance has become a staple of the 23-year-old's young career, and is something that's carried him to the success he's seen in so few games.
"My confidence is huge for me," Tapia said. "Every time I go up to the plate and the pitcher throws a pitch, I have confidence in myself that I have the ability to make contact and I have confidence in myself to make a play."
His exuberant determination, along with his quick feet, draws up sweet, sweet memories of one of the greatest (fictional) players of all time from Major League: Willie Mays Hayes.
When asked about his spirit animal, Tapia laughed and said, "Of course I see similarities between us. Just the way he plays and the way he carries himself, it's really important in this game."
With the spirit of Hayes behind him and a walk-off in the books, Tapia's ready to tackle his next dream:
"Spend many years up here in the big league and be able to help my family, win a World Series, and just keep playing well."