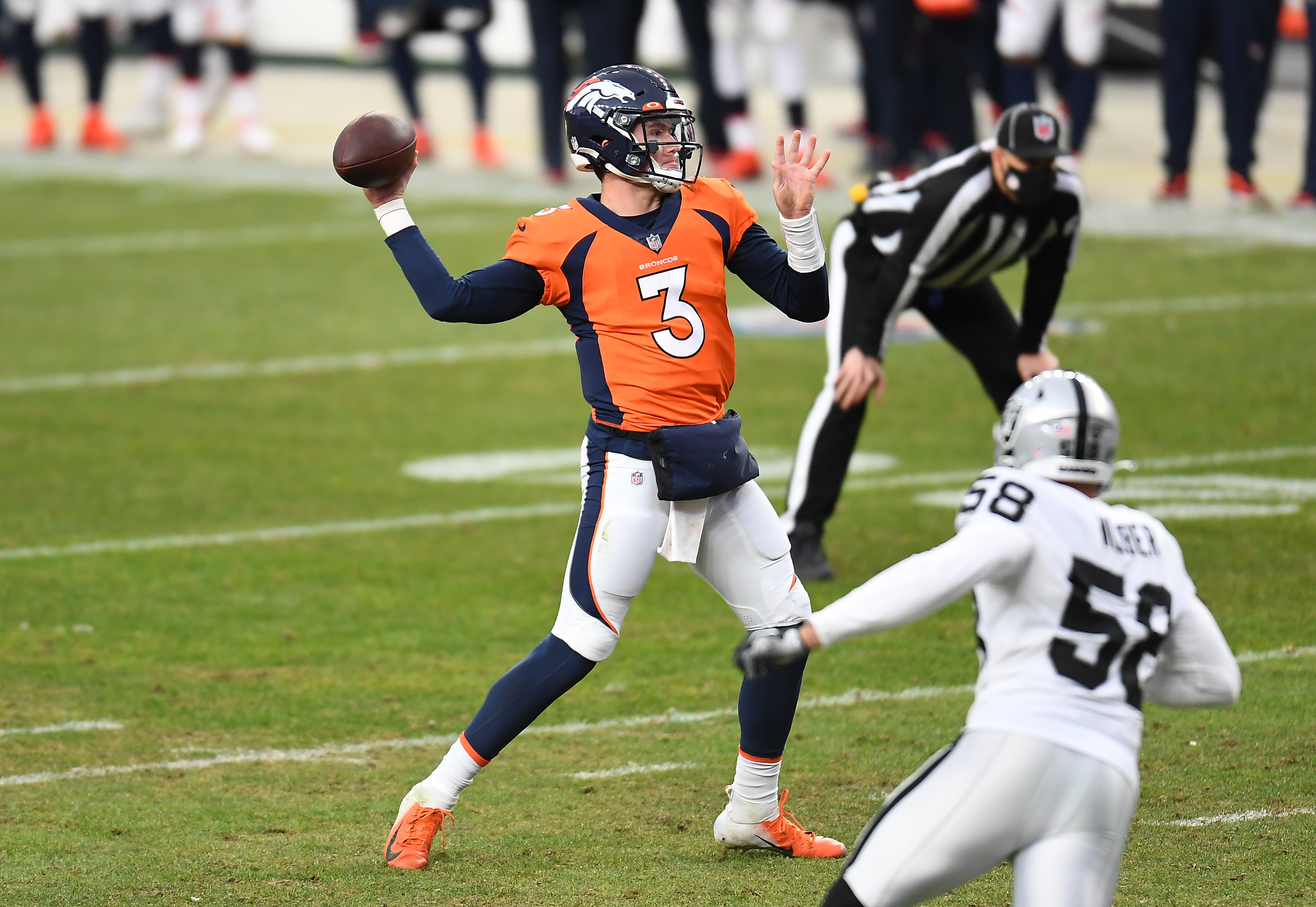 The Denver Broncos' schedule for the 2021 season is finally out, which means we can now finally start looking forward to the best matchups of the year.
After pouring over the schedule, here are the five that I'm counting down the days until.
5. Broncos @ Jaguars
Week 2. September 19th. TIAA Bank Field.
The Broncos and Jaguars matchup should be an exciting one, but the best aspect of this one might be getting to see how both of these young upstart teams are coming along.
Watching how Trevor Lawrence, Travis Etienne, Laviska Shenault, D.J. Chark, and Urban Meyer stack up against Vic Fangio's loaded defense sounds fascinating.
This game should also be our first real chance to get an idea of Lock's off-season progression, as Week 1 can often be an unreliable data point and the fact Lock will have to go against a scary Giants defense could make it even less reliable.
4. Broncos vs. Raiders
Week 6. October 17th. Empower Field at Mile High Stadium.
They say "styles make fights" and if that's true, both of the battles between the Broncos and Raiders this season should be excellent, as their styles are polar opposite.
Denver has a loaded defense but an offense that just can't seem to turn on, while Vegas is coming off a season where they had a top-10 offense but faded from playoff contention as their defense and Derek Carr shriveled up under the spotlight.
Both these teams will be battling for a wild-card spot, and in the AFC West, which should make the rivalry spicier than ever.
Plus, the Raiders and Broncos appear to be the two frontrunners in the Rodgers sweepstakes, which will add a little extra zest to the game if either team manages to land him.
Another important aspect of this one is that it is the Broncos' only divisional game through the first 11 weeks of the season, which makes it pivotal for them to win. If they lose here, they won't have an opportunity to improve their in-division record until Week 12.
3. Broncos @ Giants
Week 1. September 12th. Metlife Stadium
The matchup between the Broncos and Giants also features a very interesting dynamic, though instead of being polar opposites, they're eerily similar, which should lead to another great battle of styles.
In one corner, we have a team headlined by a quarterback from the 2019 draft class who has had an up-and-down start to their career, a ton of promising talent on offense, led by a top-five defense and an underrated first-time head coach.
In the other corner, we have the exact same thing.
This game gets bonus points for the masterful defensive chess match that is sure to take place between Vic Fangio and Patrick Graham and also for being the season-opener.
2. Broncos @ Chargers
Week 17. January 2nd. SoFi Stadium.
Both of last year's matchups between the Broncos and the Chargers were incredibly entertaining, and this year's games should be even better with Justin Herbert and Drew Lock both a year further into their development, and both rosters looking improved.
Plus the installation of former Fangio understudy, Brandon Staley, as head coach should be an upgrade on Anthony Lynn and lead to a nastier Los Angeles defense.
That said, it is fair to wonder if new offensive coordinator Joe Lombardi and his complex offensive scheme could lead to some Herbert regression. He was last the coordinator for the 2014 and 2015 Detroit Lions who left a lot to be desired in terms of offensive production, and were a tough watch.
Even if Herbert does regress some, the Chargers and Broncos project to be among the AFC's wildcard contenders, so a late-season matchup like this is sure to hold heavy playoff implications.
It could be especially vital for the Broncos if they find themselves neck-and-neck in a playoff race, as the next week Denver has to host Kansas City — who has had their number as of late — and ending their season on a two-game, in-divison losing streak could be devastating.
1. Broncos vs. Chiefs.
Week 18. January 9th. Empower Field at Mile High Stadium.
This has to be the top choice, especially if the Broncos wind up successfully bagging Aaron Rodgers from the Green Bay Packers.
In that case, this game would likely determine the fate of the AFC West, Homefield advantage in the playoffs, and potentially be a preview of the AFC Championship game. Plus, Rodgers vs. Patrick Mahomes? Yes please.
Talk about a way to cap the regular season.
Even if the Rodgers trade doesn't come to fruition, that should be a marquee matchup. Either the Lock or Bridgewater-led Broncos should be on the playoff bubble, which means that Week 18 matchup is likely to be an important one, at least in the wildcard race.
Plus the narrative of Lock trying to revive Denver from their playoff drought against his hometown team, the Juggernaut-like Chiefs, who have currently won 11 straight against the Broncos, is an intriguing one.