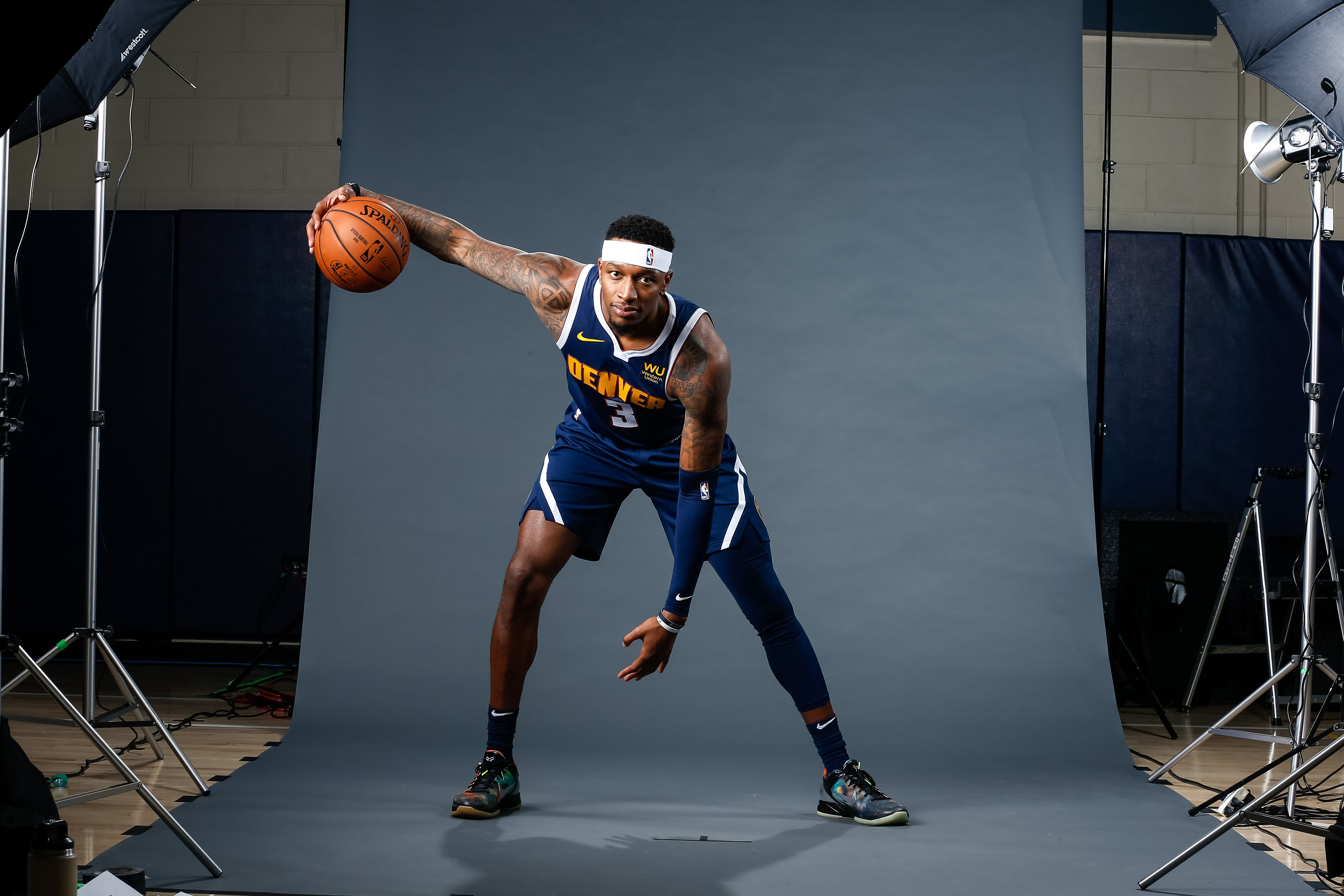 COLORADO SPRINGS – There is only one true position battle to watch for during the Denver Nuggets 2019 training camp and that is the battle for who will start at small forward.
So far, after two days of training camp, Nuggets' head coach Michael Malone is no closer to making his decision.
"Not really," Malone responded when asked if anyone has stood out at the small forward position. "Will Barton has been limited. He is doing all of the non-contact drills and is very limited in the contract right now so he has not had a real chance, but I thought that Torrey Craig was great yesterday with the first group. Today, Juancho got a chance to play with that first group and did some really good things. Obviously, it is a lot easier when you are playing with guys like Nikola, Jamal, and Paul, but both of those guys have had good moments. So it is something that we will continue to monitor, but by no means is there a leader in the clubhouse for who will be our starting small forward on opening night."
Even though there is no "leader in the clubhouse," as Malone said, that does not mean that there is a complete lack of clues that could lead to a clearer view of who has made the best impression thus far and who has lost some ground in the battle for the starting small forward role.
As Malone said on media day, the four players who are competing for the starting role are Will Barton, Torrey Craig, Juancho Hernangomez, and Michael Porter Jr.
So of those four players, who has increased their stock and who has seen their chances of starting dwindle?
Will Barton
Barton's injury could not have come at a worse time, but before diving into the doom and gloom, let's look at the positives.
When Malone was asked if Barton's injury had anything to do with the core injury he sustained last year, he said it does not which is good news.
"(The injury) is something new and it is nothing real serious," Malone stated. "We are just being really cautious with all of our guys right now."
Barton's hamstring issue is not expected to keep him off the floor for too long, but after missing 39 games last year and losing his starting spot in the playoffs, Barton needed to hit the ground running as training camp began; not immediately find himself behind the eight ball the first week of camp.
Still, it seems like Barton could get back to on the hardwood in the near future which means he won't lose too much ground. Additionally, Barton is seemingly the most natural fit at small forward for the time being. Unless Craig shows that he can consistently hit shots from beyond the three-point one (which will be discussed later in this article), Hernangomez becomes a strong defender, or Porter Jr. suddenly begins to look like the mega-star that he can be, Barton has the most natural skill set to elevate the rest of the starting group.
That still does not change the fact that Barton is not able to play as of right now. That means the door is now open for the likes of Craig, Hernangomez or Porter Jr. to potentially leap Barton on the depth chart.
Torrey Craig
There is no one who has seen their stock rise like Craig has as it pertains to the starting small forward role.
There is no denying that Craig brings a different level of defense, toughness, and physicality than the other three candidates. Craig can theoretically defend four different positions and knows exactly what his role is on both ends of the floor. He is a relentless rebounder and provides constant energy for every second he is in the game.
The only skill that is holding Craig back is his consistency shooting the basketball from beyond the three-point arc, but Craig knows that and has spent "countless hours" this summer trying to remedy the situation according to Malone, who praised Craig's improved shooting ability. Still, Malone is not willing to fully buy into the hype just yet.
"I think much improved, but the one thing I always tell myself is to not get too excited in September; don't get too excited in training camp," Malone said when asked if Craig has improved as a three-point shooter. "Obviously, it has to carry though to real games, but Torrey has put in countless hours in the gym all summer long. In the month of September he really shot lights out and in camp right now he is shooting the ball at a high level. If he can continue to shoot like he did in the playoffs, he is a guy who is going to be tough to keep off the floor."
Obviously, if Craig is a high-level shooter, he becomes a much more complete player, but the other advantage that Craig has over the other three players competing for the starting small forward role is the trust of his head coach.
Let's go all the way back to December 15th, 2017. Craig had only logged a total of six minutes at the NBA level thus far, but Malone needed someone who could defend Jrue Holiday. So, despite Craig only playing in a one single NBA game in his entire career, Malone elected to start him and have him defend Holiday every second he was on the floor.
By the time that game had ended, Torrey Craig had six points, four rebounds, two assists, and the game-saving block on Holiday on a mid-range jumper. From that point until now, Malone has entirely trusted Craig. That is why, when Barton was struggling in the playoffs, Malone elected to start Craig in his place.
That trust that Malone has in Craig may be the biggest advantage of any of the four candidates competing for the starting role, but if Craig also manages to be a strong three-point threat, it may be impossible to give the starting spot to anyone else.
Juancho Hernangomez
No one had a better summer than Hernangomez.
Not only did he have what seemed to be endless amounts of fun this summer at his basketball camp and with his family, but he also was a large reason that the Spanish National Team was able to take home the World Championship at the FIBA World Cup and he finally seems to be healthy.
Now, it is impossible to ignore the growing confidence of Hernangomez.
"Yes, and I think it is not just on the court. I think he is really confident in his body," Malone said when asked if he is seeing a more confident Hernangomez. "He was dealing with that injury all year last year — that core injury — and I think having that surgery and playing at such a high level this summer, he is coming into camp feeling great about his body, his health, and then you couple that with a gold medal, playing at a high level, and shooting it with great confidence. I do sense a more confident Juancho Hernangomez which is a great thing for him and more importantly for us."
Will Hernangomez's increased confidence translate to improved play in the NBA? That really is the golden question. There is no arguing the fact that Hernangomez has an uphill battle ahead of him. Barton is the more skilled offensive player and Craig is more impactful on defense. That has left Hernangomez stuck between a rock and a hard place.
So what is Malone looking for from Hernangomez that could allow him to fight his way not just back into the rotation, but potentially into the starting lineup?
"Can he shoot the ball consistently? Last year he was somewhat up and down in that regard," Malone stated. "Can he guard his position and contain the basketball? Can he rebound? I think he is more than capable of doing all of those things at a high level."
So far, through just two days of training camp, Hernangomez has played well and impressed to the point that he was playing with the starters on Wednesday. If Hernangomez can continue to show he can be a lethal outside shooter and keep his man in front of him on defense, he may end up looking like the safest choice to start at small forward.
Michael Porter Jr.
Despite the fact that Porter Jr. has not played basketball in nearly two years and he only played three collegiate games since high school, he has emerged as the dark-horse candidate to steal the starting small forward position.
There is no denying that Porter Jr. has the highest upside out of Barton, Craig, and Hernangomez. He is 6-foot-10, has a 7-foot wingspan, is arguably the most gifted shooter on the Nuggets roster, is incredibly athletic, and moves like a guard in terms of end-to-end spend and horizontal quickness. That combination is deadly alongside the rest of Denver's starters.
Porter Jr. still has a long way to go before he can live up to his nearly-limitless upside, but that does not mean that Malone is going to be shy about playing him. During media day, Malone had this to say about Porter Jr. and his role.
"We have to find a way to give him a chance to play," Malone said. "He has to earn it, but we have to get him out there because the talent is there. When we drafted him a few years ago — when Tim drafted him — we made that decision. It was 'hey, he fell for a reason, but we believe this kid has incredible talent'.
"His size, his length, his shooting ability, and just his raw talent are something that we really appreciate. He just has to continue to work on his game, buy into what we are doing, and understand that we are a team that prides themselves on defense first and foremost."
So what does Porter Jr. have to do to earn his way to playing time? Malone made it crystal clear on media day.
"We have all been hitting him with the same message," Malone explained. "It has been — and you have to remember about Michael; since he was a young kid, he has been the best player at every gym he has ever been in and has had the ball in his hands at all times — so now can you find a way to play without the ball? When you do have the ball, can you find a way to make a play for your teammate? Understand the team that you are joining. We are second in the league in assists per game. We play for each other. I think Mike has really bought into that as well as the defensive end of the floor, but it is not going to be easy for him.
"All I can ask for is for him to buy in and commit to making those changes and I have seen that. Michael is a great kid; he really is. He is going to do some things this year that are going to make my beard and hair get a little (more grey), but that is part of it. He is a talented, talented young player and I am going to help him become the best player he can be."
So how is Porter Jr. handling his new responsabilites so far?
"He is bought in," Malone explained. "He understands that, 'ok, I have to learn to play without the ball and when I have the ball I have to learn to make plays for other people and on defense I have to stay locked in'. We are a team that is going to pride ourselves on defense. For my first three years, we were a top-10 offense and a bottom defense and we did not get any postseason play. The reason we made that jump was because of our commitment to the defensive end of the floor. All of our players need to understand that as well as Michael Porter, and he does. It is not going to be perfect — there are going to be bumps in the road — but all I care is that Michael is engaged, he is buying in, and he wants to be the best player he can be for this team."
Yes, he is mentally accepting the challenges set for him, but how is that translating on the court?
"He is learning. He is really talented, but he is still learning," Nikola Jokic explained. "You can see that he is still looking for the spot where he is supposed to be. He just needs one or two weeks just to play with us just to see how we are playing. We had a lineup with me, Gary, Jamal and Paul and he was there and they were moving and cutting and he just did not know what to do. So we told him, 'when you are standing, you are wrong; whatever you do, just move and that is a good move'."
That exact same sentiment was shared by Malone as well.
"There are moments where he looks really talented and there are other moments where he has a ways to go," Malone explained. "He is a young kid who is learning how to play with a lot of really talented basketball players. I am not expecting Michael Porter to go out there and be something amazing right away. I know that this year is going to be a lot of ups-and-downs and we will support him through those ups-and-downs and help him become the best player he can be."
Still, the one advantage that Porter Jr. has over all other possible starters is his incredible potential. If Porter Jr. can continue to work on learning these different skills throughout camp and throughout the preseason, he could find himself starting at small forward in the first game of the year in his NBA regular season debut.
"He is a really big threat," Jokic explained. "He is a really good shooter, he can post up guys, and he can go by guys. He is a really talented player, you know? I think [the team hasn't had] a player like that size-wise, [with] how talented he is."
Who is most likely to start at small forward after two days of camp?
With all of that being said, who appears to be in the lead for the starting small forward role? Well, let's check the scoreboard really quick.
Barton dealing with a minor hamstring injury has set him back a great deal. He seemed like the favorite heading into training camp, but the fact that he has not been able to really go through any contact work has hurt his case.
Craig has been said to be much improved as a shooter and is currently the best defender among the four potential starting small forwards. When combining that with the fact that Malone's trust in Craig and his infectious energy are massive advantages, it seems that Craig's odds of starting have improved more than any other candidate.
Hernangomez is finally healthy, coming off of an incredible summer, and is shooting well at camp so far. If Barton continues to miss time and Hernangomez is able to show growth on the defensive end of the floor, he could jump Barton sooner rather than later.
The enigmatic Porter Jr. is the dark-horse candidate who has said all the right things so far, but he still has not played an actual competitive basketball game in two years. It does seem like his odds have climbed slightly because of the maturity he has shown, but he is still a mystery until he plays an actual game in the NBA.
With all of that being said, it seems like Torrey Craig has taken over the lead in the battle for the starting small forward position, but with four more days of training camp to come prior to the preseason, the could change very quickly.