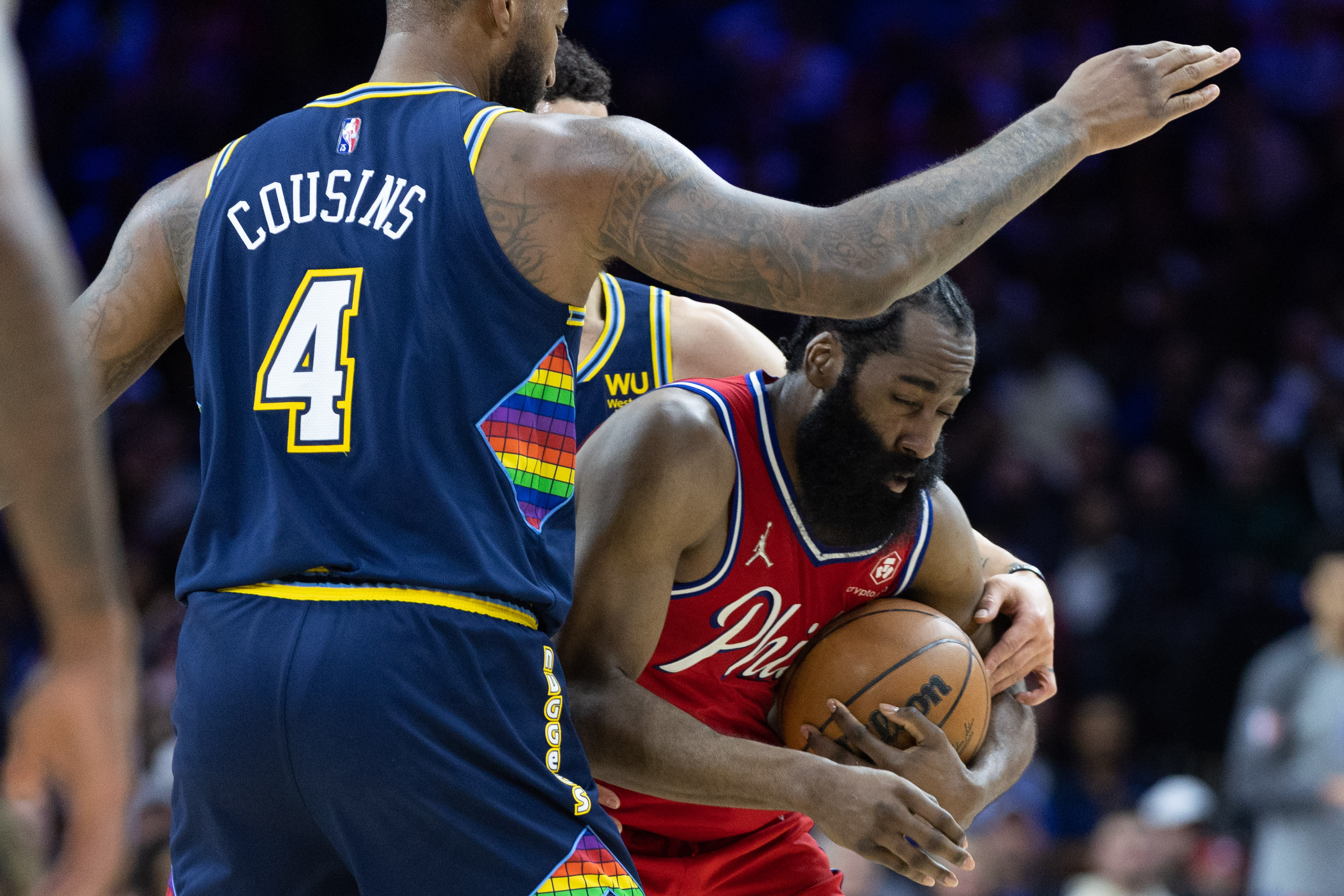 By game's end, any objective observer could not fairly assign the title of "Most Valuable Player" to just one big man in Monday night's Nuggets-76ers game in Philadelphia. Both Nikola Jokic and Joel Embiid – the front runners in the race for NBA MVP – were excellent. Both showed why they're deserving of the crown.
Both players scored at an efficient clip. Jokic had a modest 22 points on 8-16 shooting; Embiid did Philly's heavy lifting by scoring 34 on 11-20 shooting and going 9-10 from the charity stripe. Jokic grabbed 12 rebounds compared to Embiid's 9. Jokic dished 8 assists, while Embiid added 4. Embiid was impressive on defense, blocking 2 shots; Jokic's subtle presence in the paint was there as it always is, adding 2 blocks of his own. Ultimately, it comes down to one's "style preference" – Jokic and Embiid play differently, but they both do what they do very, very well.
So, as much as everyone watching in hopes of coming to a conclusion as to who is more valuable, it just didn't happen.
What was revealed in Denver, however, was far more valuable.
The Denver Nuggets are better, deeper and tougher than you think. Despite what's been said, either subtly or out loud, this does not have to be a wasted season in Denver. Without the services of Jamal Murray for most – if not all – of the season, the Nuggets can still win in the postseason. Without the sharpshooting of Michael Porter Jr., the Nuggets can still make plenty of noise come playoff time. Anyone who watched as the Nuggets went toe to toe with the Sixers in Philly, ultimately emerging victorious, had to be impressed. It's not that the Nuggets won; it's how.
Bones Hyland is not afraid of the moment. Yes, he's young. No, he doesn't shoot like Murray or Porter Jr. just yet. But this kid savors the spotlight. He's not afraid to take the game's biggest shots. Last night, as Jokic as Jokic was, it was Hyland who stole the show, and in many ways, won the game. In 31 of the game's most crucial minutes, Hyland scored 21 points, a dozen of which were the result of timely, clutch three-point shooting. Of every player on the court – including Jokic and Embiid – Hyland had the game's highest plus-minus total. In short and in front of our very eyes, Hyland morphed from a fun-loving, highlight-reel rookie, to a viable piece of a playoff puzzle. There will be ups and downs and plenty of growth to come, but if either or neither Murray or Porter Jr. never plays a minute in the postseason, any playoff minutes Hyland gets will pay the Nuggets back tenfold. The future – perhaps even the immediate future – is bright for Hyland, and in turn, Denver.
Boogie Cousins is exactly what the Nuggets needed. Forget about the numbers – any numbers. That's not what Cousins brings to Denver. What he does bring, though, is a toughness that these Nuggets – at times called "soft" – haven't had since Kenyon Martin. While Cousins 14 minutes were invaluable, allowing Jokic critical rest minutes, it was a five-second exchange with Philly's James Harden that mattered most. Cousins, essentially, occupied Harden's space – and was completely unapologetic about it. Harden drew a foul and took exception to it; yet, Cousins held his ground and wasn't about to hear Harden's grievances. On the boxscore, the sequence doesn't show up. But Cousin's toughness sets a tone in Denver that is an absolute most come playoff time.
Speaking of toughness, Jamychal Green has changed the narrative of his season as well. Early on, Green was a disappointing replacement for Jerami Grant, who departed for Detroit after the Nuggets Western Conference Finals run in the Bubble. Green has been "okay" – but lately, he's played a key role. Namely, his defensive presence has been key – and it was on full display last night . Late in the game, Embiid exploded toward the rim, ready to throw down on the Nuggets. Green had different ideas. Challenging the Sixers big man like few players in the NBA would, Green went for the block that turned into a hard foul. It wasn't dirty, but the end result was Embiid hitting the floor with a thud that had Philly fans up in arms. The play drew a flagrant-one, but it was well worth. Like Cousins' message to Harden, Green's foul sent an equally important warning: The Nuggets aren't easily intimidated these days.
And lastly, and perhaps most importantly, Michael Malone is growing right along with his team. However or wherever you weigh in on Malone, there's no denying he's been handed a difficult assignment this season. He's playing with one arm tied behind his back, as two of his biggest weapons were taken away. Yet, the Nuggets are right in the thick of things. But last night's win in Philly was more than just a win in the standings; it showed that Malone and his team are falling into sync at the most critical juncture of the season. Early in his tenure with the Nuggets, most would suggest that there's no way the coach would've ridden the hot hand of Hyland down the stretch. Malone simply didn't trust rookies – in nearly any instance. But last night Malone's feel for the game was one of the biggest reasons his team won – on the road against one of the East's best teams.
The Nuggets may or may not end the season with "the" MVP, but they might advance further in the playoffs than anyone thought possible. And that discovery is most valuable.