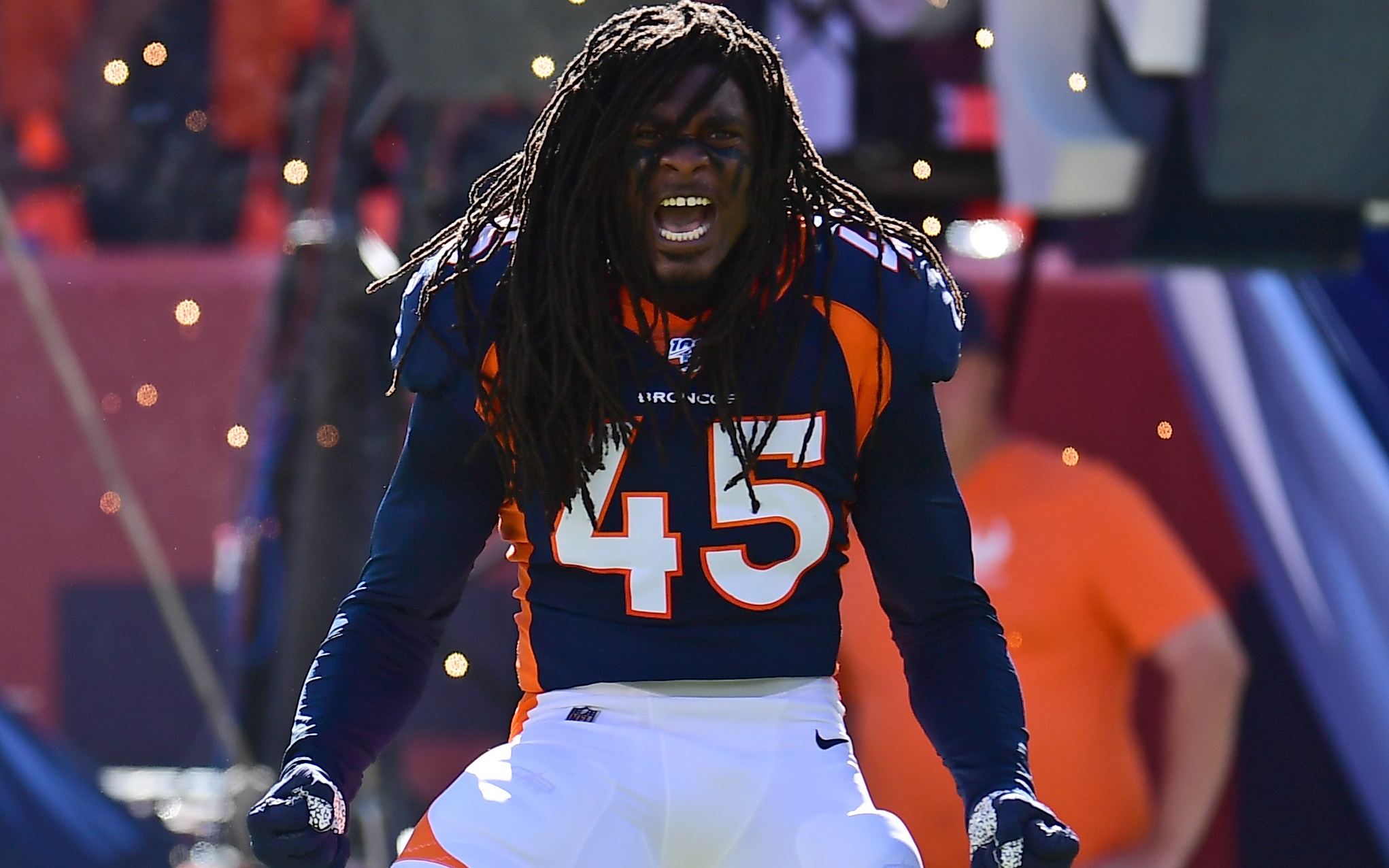 The Denver Broncos tallied their first loss of the season thanks to a 23-7 drubbing from the Baltimore Ravens on Sunday. For the first time, Denver really struggled to move the ball effectively on offense and never found a rhythm in the passing game.
The defense had moments of real competence and held a very explosive Raven's offense under their season average 27.3 points per game. The front seven did a fantastic job of taking away the running attack but the defense was not able to create any turnovers and, at the end of the day, couldn't do enough to keep their team in it.
Denver was going to see their win-streak broken at some point and not everyone exhibited a subpar performance. The Broncos will simply need to find the sliver lining in this troublesome loss and allow it to motivate them next week against the Pittsburgh Steelers.
Here are the winners and losers of Week 4 according to Pro Football Focus
Best Offensive Performance- Javonte Williams- 80.5 (13th of 98 running backs)
Javonte Williams has a very understated showing against a team in Baltimore that showed to be somewhat vulnerable to the rushing game. With only seven carries, Williams collected 48 rushing yards giving him an average of 6.9 yards per carry. He also had three receptions for 11 yards.
We think Javonte Williams' run may have broke @KyleBrandt. 🤣

📺: @GMFB x #AngryRuns 😡 pic.twitter.com/gKNq8z1DUj

— Denver Broncos (@Broncos) October 5, 2021
Williams is still yet to have a "breakout" game but he has consistently put together tough carry after tough carry, showing his burst and physicality.
Even in a loss, with the decision made by the coaching staff to shy away from the running game, he was still able to generate the most electric offensive play from scrimmage for the Broncos. Keep him on a watch list because there is a good chance we continue to see this rookie running back changing the complexion of games to come.
Worst Offensive Performance- Netane Muti- 38.4 (70th of 72 Guards) 
Netane Muti had big shoes to fill when starting offensive guard Dalton Risner went down to injury. There was a vacant spot and it was his job to fill it to the best of his ability.
Anyone who has been paying attention has seen the upside that a player like Muti can offer but he is a young player with limited reps against starters and it has shown.
Not loving how many hits Teddy is taking. In light of a #Ravens defensive player calling the #Broncos offense "finesse" coming into this game, this hasn't been the response you'd like to see from the offensive line

— Ryan Edwards (@redwardsradio) October 3, 2021
The interior offensive line has been a weakness for this Broncos team in a season where hopes were high for the offensive line overall. In actuality, the entire line has seemed to struggled, starters or otherwise, but most notably Muti and rookie Quinn Meinerz have been downright bullied in their spot starts.
Muti still has sneaky good upside and Broncos fans should not be ready to give up on him, but with Risner looking to be healthy again, it is probably better for the overall effectiveness of this unit that he remain a depth piece.
Best Defensive Performance- Alexander Johnson- 77.3 (11th of 107 linebackers)
Alexander Johnson has to be the biggest surprise on this Denver Broncos defense. His impact on this star-studded unit has been felt by each opponent with no exceptions. Johnson has been all over the field and has been wildly effective in the running game as well as rushing opposing quarterbacks.
Broncos knew what was coming well in advance. Knew the direction and concept.

Alexander Johnson is a beast, man. Skirts right through a meh cut attempt and makes a play at the LOS. Love watching Johnson play. pic.twitter.com/4zRwzqiWQo

— Spencer N. Schultz (@ravens4dummies) October 5, 2021
Not only was Johnson fabulous against the Ravens in Week 4, but he has been phenomenal all season. So far he has played 226 of 243 defensive snaps on the season and is ranked as PFF's seventh overall linebacker through the first four weeks. And of the top 10 linebackers he is only one of five that have played in all four of their team's games so far this season.
Denver may have had a rough showing this week, but it would be difficult to find many plays where Johnson was not exactly were he was supposed to be and he does not appear to be slowing down any time soon.
Worst Defensive Performance- Justin Simmons- 36.2 ( AND Justin Strnad- 36.2
Well, it is a pair of Justins that have landed in last place according to PFF.com.
Again, we find Justin Simmons in the basement having struggled in coverage against Lamar Jackson and the Raven's pass-catchers. Simmons' effectiveness against the running game has been above average but versus Baltimore, he recorded the worst team grade in pass coverage at 29.6
Lamar and Andrews picking on all-pro Justin Simmons on two consecutive play action passes.

BEAUTIFUL throws into tight coverage and tough catches.

Lamar trusting his guy to go make plays 🔥 pic.twitter.com/MtpLxQN1eJ

— Spencer N. Schultz (@ravens4dummies) October 5, 2021
Lamar Jackson is a very talented quarterback and Simmons did his best to thwart the Raven's receivers but he was beat by some very nice plays and just hasn't found that Pro-Bowl caliber consistency the league has come to expect from him.
Justin Strnad was neck-and-neck with Simmons for the worst ranking and struggled particularly in the run game. With respective scores of 27.0 in run defense and 28.5 in tackles, he has not shown the versatility promised by the Denver Broncos front office.
Strnad is another youngster filling in for Josey Jewell who went down a few weeks back with a season ending shoulder injury. He will need time to catch up to the speed of the game due to limited starting experience and age but the schedule just gets harder for Denver from here, and he will need to find his footing in the baptism by fire that is coming his way.