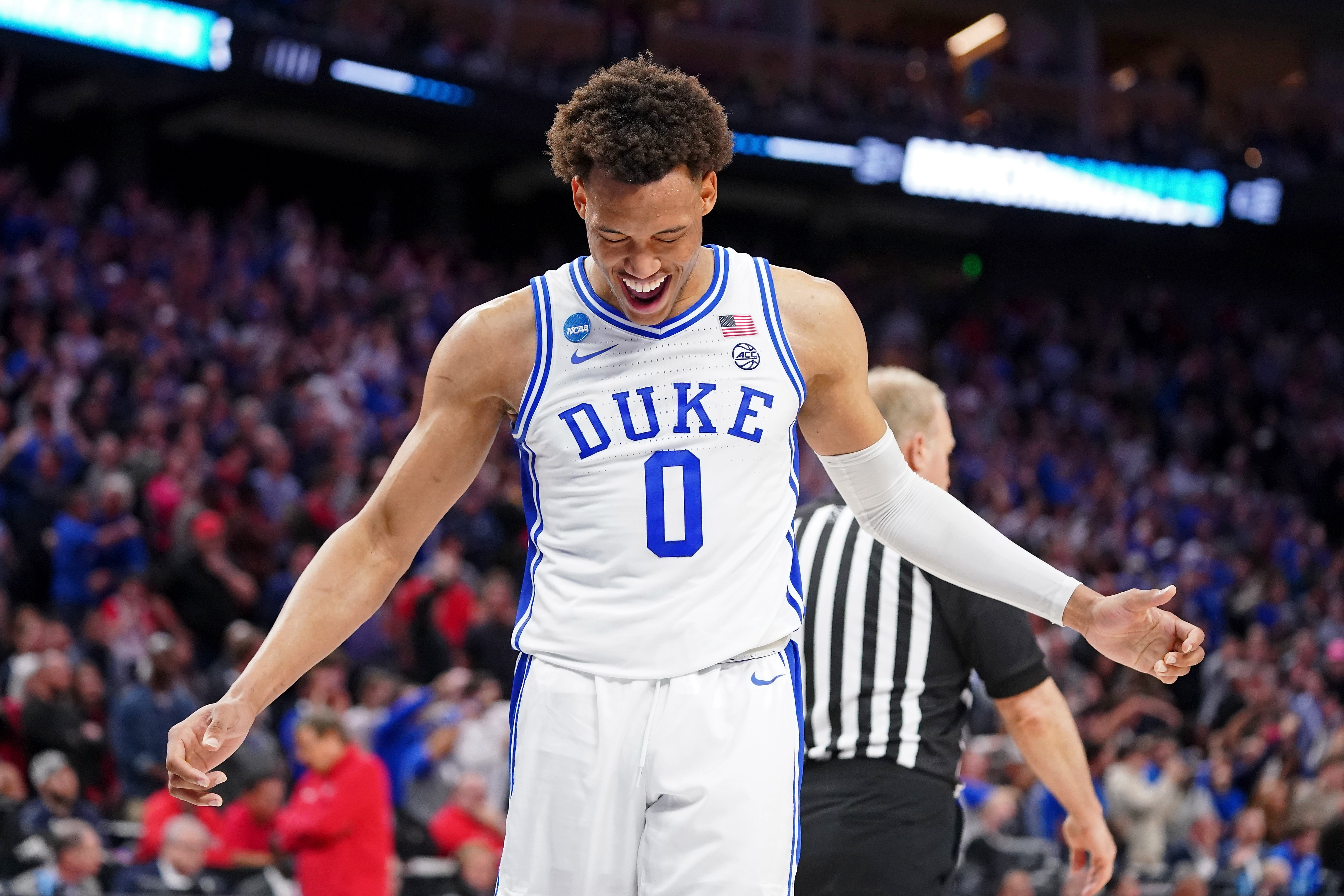 With the 2022 NBA Draft creeping closer and closer, big boards are being finalized, mock drafts are beginning to crystalize, and the Denver Nuggets are hoping to realize their championship aspirations with some big moves on draft night.
The Nuggets have the 21st and 30th picks in the draft this year. Though it's possible that the Nuggets don't end up using those picks, it's better to be prepared and understand some of the draft prospects in the back half of the first round. There are several players projected to go higher that aren't great fits with the Nuggets, and there are several players in Denver's draft range that the Nuggets may choose to avoid as well.
But who are the draft prospects the Nuggets like the most? It's all speculation until the pick is in, but the Nuggets hope to bolster their defense and their wing rotation this off-season. That's a pretty good place to start, as there are a variety of wings capable of helping the Nuggets in this draft class.
Mile High Sports 2022 NBA Draft articles
Why the 2022 Draft is important for the Nuggets
Shooting Guards | Small Forwards | Power Forwards | Centers
Let's discuss the 10 players that fit best:
---
Dyson Daniels | Wing | G League Ignite
Draft Age: 19, Height: 6'7.5″, Weight: 195 lbs, Wingspan: 6'10.5″
The talent: Dyson Daniels is one of the most dynamic open floor players in the draft class. He's a strong athlete and elite passer, getting out in transition with both rim runs and hit-ahead passes that make him fun to play with. Though he's not much of a shooter right now, he has elite touch around the rim and a strong floater game to compensate. He's a good defender with elite potential on that end both on and off the ball. Most mock drafts have him going top 10 and bordering on top five.
The fit: Mixing talent and fit, there may not be a better prospect for the Nuggets than Daniels. He has some Lonzo Ball to his game and projects to be an elite connecting piece, something the Nuggets need desperately. He's not going to be available to the Nuggets unless they trade up, but he's a prospect worth gambling on.
Tari Eason | Forward | LSU
Draft Age: 21, Height: 6'8″, Weight: 217 lbs, Wingspan: 7'2″
The talent: Tari Eason looks like a basketball player that was built in a lab. With elite measureables and physicality, Eason will be ready to contribute on the defensive end on Day 1. He's excellent as a switch defender with quick twitch athleticism and long arms to gather in steals and blocks. He's a great transition threat, and his halfcourt offense is developing, though definitely behind the eight-ball. Eason will likely be selected outside the lottery but inside the top 20, right before the Nuggets pick.
The fit: Eason isn't a wing as much as he's a forward who will likely spend most of his time playing the power forward position unless he becomes more reliable as a ball handler. Because of that, the fit isn't perfect in Denver. He'd likely begin the season behind all four of Michael Porter Jr., Aaron Gordon, Zeke Nnaji, and Jeff Green in the rotation. Still, he's talented enough and impactful enough as a defender that the Nuggets could look to draft and develop him slowly.
Jalen Williams | Wing | Santa Clara
Draft Age: 21, Height: 6'5.75″, Weight: 209 lbs, Wingspan: 7'2″
The talent: As a wing in the NBA, there doesn't appear to be much that Jalen Williams can't do. He's a quality scorer, playmaker, floor spacer, rebounder, and defender. He may not have the best skill in any of those categories, but that he's skilled in all of them makes him appealing as a versatile prospect. Williams should be malleable to what teams need from him in different lineup combinations. He's expected to be drafted outside the lottery but likely won't make it to the Nuggets at 21.
The fit: Williams may not be a Day 1 starter, but he's a player the Nuggets could expect to pick things up quickly and be a rotation piece sooner rather than later. Whether he's playing shooting guard, small forward, or even small ball at power forward, Williams could adapt to the role the Nuggets need him to play, and he has potential to be more than that down the line. He's probably the best prospect the Nuggets could realistically draft without trading up.
MarJon Beauchamp | Wing | G League Ignite
Draft Age: 21, Height: 6'6.5″, Weight: 197 lbs, Wingspan: 7'0.75″
The talent: MarJon Beauchamp has more talent as a scorer and playmaker than he showed with the G League Ignite. He was asked to play a complementary role next to Jaden Hardy and Dyson Daniels, and he excelled in all but outside shooting. Beauchamp was impactful as a cutter, transition threat, and defender for Ignite, and there's no reason he can't do the same at the NBA level. The shot is also looking better.
The fit: Beauchamp spoke to Nuggets media about wanting to fill a role and be impactful on the defensive end which is exactly what the Nuggets are looking for. His size, athleticism, and defense would bolster Denver's wing group immensely. While the Nuggets might hope for a better shooter, defense is most important with Denver's offensive talent in house already. If Beauchamp can fill that role, he's a perfect fit at 21.
Ochai Agbaji | Wing | Kansas
Draft Age: 22, Height: 6'5.75″, Weight: 218 lbs, Wingspan: 6'10.25″
The talent: After a senior season where Ochai Agbaji won Big-12 Player of the Year and a national title at Kansas, his talent as a 3&D wing is readily apparent. With some pogo stick athleticism, quality scoring instincts, and a willingness to do role player things, Agbaji as a relatively easy path to being a quality player. As long as he shoots well, teams will want to have him around for his defensive skills. Agbaji is currently projected as a borderline lottery selection.
The fit: Agbaji is ready to make a difference in an NBA rotation almost immediately. He's a plug-and-play wing who would come off the bench for Denver but certainly has the capacity to start during regular season games. The question with Agbaji is mostly ceiling related. Can he be more than a competent starter at his peak? Would the fit be so good in Denver that it would eliminate those questions? It's a chance the Nuggets would probably be happy to take.
Dalen Terry | Wing | Arizona
Draft Age: 19, Height: 6'7.25″, Weight: 195 lbs, Wingspan: 7'0.75″
The talent: Dalen Terry is very Andre Iguodala-esque in that he's good at just about everything on the court except for high level scoring off the dribble. It's difficult to teach his defensive playmaking skills given that he makes great use of a wingspan over seven feet long. Teams that are looking for scoring probably shouldn't look Terry's way, but for teams in need of a high level role player with some intriguing upside as a defender and playmaker, Dalen Terry is the guy.
The fit: Given that the Nuggets have Nikola Jokić, Jamal Murray, Michael Porter Jr., and Bones Hyland, Terry's lack of scoring prowess really isn't that big of a deal. His defense and playmaking would absolutely fit with Denver though. The only question is his age at 19 years old and whether Michael Malone would trust him to perform in a high level playoff series. He's probably a year or two away from that, and that honestly might be just fine.
Wendell Moore Jr. | Wing | Duke
Draft Age: 20, Height: 6'5.5″, Weight: 217 lbs, Wingspan: 7'0.5″
The talent: Wendell Moore was a top 25 recruit heading to Duke for the 2019-20 season. After three years in the program, he began to blossom as an all-around shooting guard. Moore can do a bit of everything. He's a quality passer, quality defender, shot 40% from three as a junior, and is athletic enough to hang with the top dogs. Most see him as a borderline first round talent. I wonder why he isn't rated closer to Ochai Agbaji.
The fit: Moore would be an excellent fit in Denver's wing rotation. He's a connector and would remind many of Gary Harris, though perhaps a little bigger. He makes the right reads, plays a versatile style, and fills in wherever the team needs him. The Nuggets could make use of that skill set. Maybe Moore doesn't develop into the long term starter at shooting guard, but if he's averaging 20 to 25 minutes per game in a playoff rotation, that's just fine.
Christian Braun | Wing | Kansas
Draft Age: 21, Height: 6'7″, Weight: 209 lbs, Wingspan: 6'6.5″
The talent: Christian Braun and Wendell Moore have very similar games. Braun played a support role at Kansas while Agbaji was the leading scorer. That left Braun to carve out a niche as a secondary playmaker, complementary scorer, and physical defender. Braun did well at Kansas and competes incredibly hard. He's a strong athlete too, though his negative wingspan and a perceived lower ceiling place him at the end of the first round.
The fit: If the Nuggets are looking for rotation players on the wing, Braun fits the bill extremely well. He would assume some of the more difficult defensive assignments off the bench and be a nice complementary piece next to Jamal Murray, Bones Hyland, and others. Braun will also probably be capable of playing sooner than later which will entice the Nuggets for sure.
Christian Koloko | Big | Arizona
Draft Age: 22, Height: 7'0″, Weight: 221 lbs, Wingspan: 7'5.25″
The talent: Christian Koloko struggled to find his footing at Arizona during his first two seasons before becoming the Pac-12 DPOY and Pac-12 MIP in his junior season. Koloko improved on the offensive end as a pick and roll option and a finisher around the rim. The biggest jump was defensively though, as Koloko proved he could protect the rim while staying mobile enough to switch onto guards and forwards at will. If he can do that at the next level, Koloko will be a starting caliber big man for a long time.
The fit: Koloko is the only true big man on this list, and it's because he has enough mobility that he could possibly slide to power forward and play next to Jokić in certain lineups. That's a unique look that the Nuggets haven't experimented with since Mason Plumlee departed, but Koloko might be a unique addition in that regard. Even if he can't do it, the Nuggets would have their athletic backup center of the present and future.
David Roddy | Forward | CSU
Draft Age: 21, Height: 6'6″, Weight: 261 lbs, Wingspan: 6'11.5″
The talent: Roddy figured out how to be the best version of himself as a junior at Colorado State. He hit spot up jumpers, attacked closeouts with a quality handle and footwork, and used his size to punish opponents in the paint. He's a good passer and looks the part of a good shooter, though the body type is certainly untraditional. There are players with a similar frame and skill set that have figured it out though, and perhaps Roddy is the next big bodied short forward to make a difference.
The fit: The fit in Denver is a bit influenced by him being a local Colorado State product, but Roddy is an intelligent player and uses that basketball IQ well. His passing, cutting, and switching defense would be helpful for the Nuggets, and while he may not see immediate playtime, the Nuggets could definitely use a player like him if Aaron Gordon were to sustain an injury.