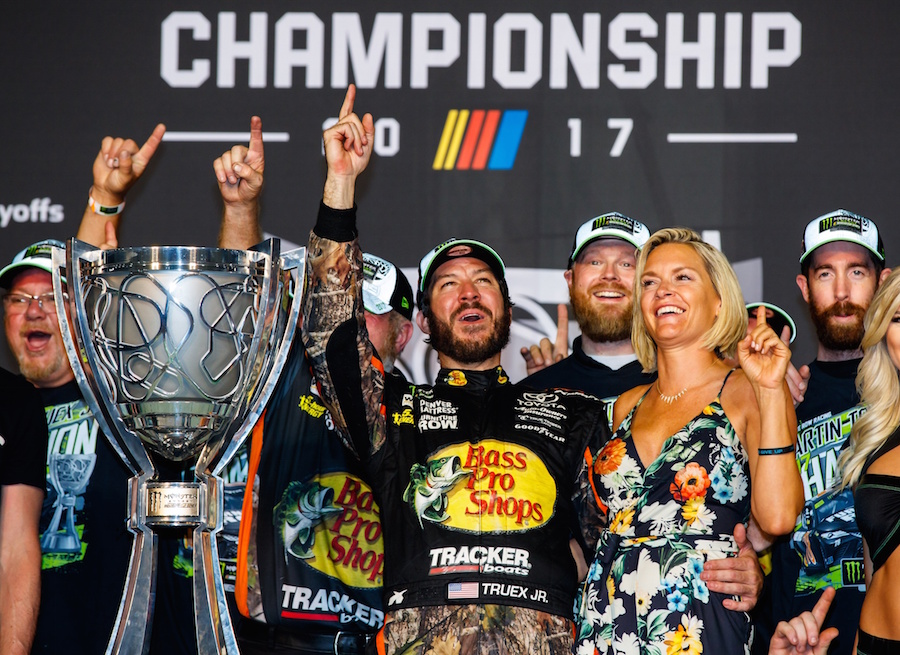 Denver, you just won the Super Bowl.
Not that one – the Super Bowl of NASCAR (with apologies to the Daytona 500), a title arguably more elusive, especially 'round these parts.
Martin Truex Jr. did it. He won the Monster Energy NASCAR Cup Series Championship on Sunday. Truex was the man of the hour at a party that Denver, Colo. was never invited to until 2005 – that's when we became a NASCAR town, the only one headquartered west of the Mississippi.
For a moment, forget about Sunday's race, a clutch performance on a track that had the potential to spoil Truex's most outstanding season.
Instead, think about the improbability of such a title. A NASCAR team… here. And winning it all? It's like the University of Hawaii stealing an NCAA skiing title from CU or DU. Surely those odds had to enter the minds of Furniture Row Racing owner Barney Visser and all those who brought NASCAR to Denver back in 2005.
How bold was it that a local furniture company put its name and money behind a racing team with no prior history in Denver?
How cool was it that Joe Garone, a Colorado native who was born into the racing world, running his dad's garage until he was pulled south to perfect his craft among names like Bill Elliott, Joe Gibbs, Michael Waltrip and NASCAR itself, came back to run a team in his own backyard? How cool is it that he was there in Miami to see if all come to fruition?
And how committed was everyone involved — Garone and a cast of too many to name here — simply to stick with it? After never finishing higher than 22nd in their first year of competition? After failing to earn a spot in the Daytona 500 in 2006? And after only racing a partial schedule in 2009 so they could get the finances in order? Here they stand atop the NASCAR world.
Unbelievable.
How gutsy was it for Truex, one of the sport's most-talented drivers, to work his way up through the ranks — having plenty of success along the way — and ultimately leaving Michael Waltrip Racing for the opportunity to be the top driver for a team with little to no history of winning — and — stationed out West? How ironic was it that in Sunday's win, Truex held off Kyle Busch, whose brother Kurt drove the Furniture Row No. 78 car for a single year in 2013 before departing for Stuart-Haas Racing? How clutch was Truex, winning at a track that was supposed to be his nemesis?
How appropriate was it that everyone at Furniture Row Racing didn't let down their old pal Jim Watson, a road-crew fabricator for Furniture Row Racing, who died of a heart attack on Oct. 21 at the tender age of 55?
And that Truex had his longtime girlfriend Sherry Pollex — whom he started dating in 2005 — by his side after a cancer recurrence had caused her to miss one of his wins earlier in the season.
Pollex defeated Stage III ovarian cancer in 2014, Truex's first year with Furniture Row Racing. Visser, who suffered a heart attack just two weeks ago and is still in recovery, graciously offered to let Truex take the remainder of the 2014 season off after Pollex's diagnosis. Truex stayed in the driver's seat throughout her treatment, never forgetting the gesture. Pollex was there to celebrate in victory lane on Sunday, forging another lifelong memory.
If, at roughly 4:30 p.m. Mountain Standard Time, there was one Coloradan watching the Broncos bumble and stumble against the equally bad Bengals rather than cheering on Truex as he took a victory lap in Miami, it was one too many. The Broncos may rule when it comes to popularity in the region, but this season, the kings in Denver are Truex and the Furniture Row Racing team, who collectively and boldly held off Kyle Busch and the rest of the field at Homestead-Miami Speedway.
Not only did "Colorado" claim the the checkered flag ("our" eighth on the season), but we took the whole enchilada, too. That's a national title more coveted in some places than the (actual) Super Bowl.
The Broncos were founded in 1960, earned their way into the NFL in 1970, and hoisted the Vince Lombardi Trophy for the first time in January of 1998. Furniture Row Racing won it all in a dozen short years. The sport of NASCAR is about speed, and considering the circumstances, that's pretty damn fast.
So, today, rather than griping about the Xs and Os involved in the Broncos' loss, revel in the fact that we're No. 1.
In NASCAR, no less.