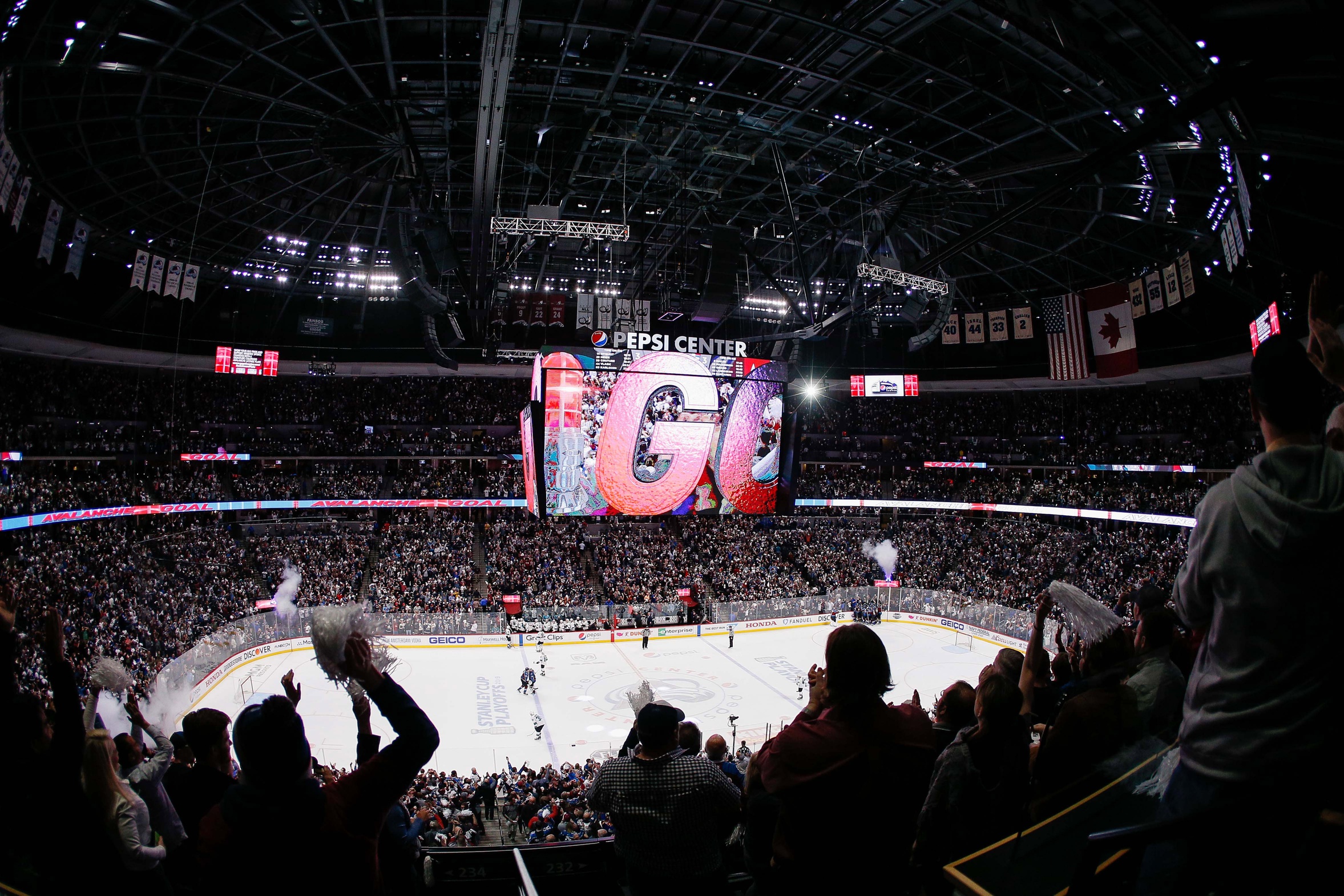 Allow me to interrupt the euphoria oozing from Pepsi Center for a moment.
Luckily, that's not easy to do. After all, it is euphoric around these parts. Both the Nuggets and Avalanche have exceeded our expectations. It's quite possible that the Nuggets (tied 2-2 in their series with Portland) and the Avalanche (tied 3-3 in their series with San Jose) will both be playing in the Western Conference Finals. This town is on fire – playing with house money, no doubt – and it's about damn time.
But what more can one say? It's tough to write the newest version of "The Avs are Awesome" or "The Nuggets are Nails" – both teams have made April, and now May, incredibly special. It's a feel-good story already. What else can I write?
When a city experiences this type of success all at once, all is right with the world. Strangers are hugging. High fives are handed out like rally towels. We're all punch drunk on this thrill ride that began in Calgary, zipped through San Antonio, made stops in San Jose and Portland and seems to always find its way back to Pepsi Center, a rockin' palace of a place right about now.
Around here, it feels like 1:30 a.m. on Saturday night at the ol' watering hole just about every night.
"Maaan…I love you, man!"
"No, man. I love YOU, man!"
Ain't life grand?
Why, then, can't we all just get along? In the midst of all this bliss exists a steady stream of silly smack, a topic that seems to be sensitive at the very least.
Who's the better fan: Avs fan? Or Nuggets fan?
Before you answer, know this: Whatever your opinion might be, approximately half of Denver already believes you're an idiot. And not only that, but that particular half is wildly insulted. In fact, both halves already believe they've been wildly insulted because I've just suggested that's it's half. That's a slap in the face; half is an insult, because everyone knows that there are more (you fill in the blank) fans. Not only are there more, but they're better, too.
So, instead of brothers hugging brothers from other mothers, thrilled for one another that their team has done so well, we're all bickering like a bunch of third-graders.
If one thing is certain, there's not all that much crossover between the two groups of fans. Some, just not a lot. Just because you're from Colorado, just because you stroll over to the Can from time to time, just because everyone can agree that the Broncos reign supreme no matter what and the party deck – while funny at first – was ultimately a great use of right field, does not mean that Avs fans root for the Nuggets or Nuggets fans root for the Avs. There are certainly exceptions, but in general, at best they don't care; at worst they root against one another.
Sounds silly, but it's true. Avs fans and Nuggets fans are akin to cattle ranchers and sheep ranchers back in 1876, when Colorado became a state. They're neighbors with common interests (agriculture then, sports now…you get the analogy, right?), but for some reason, neither one cared much for the other. Back then, they'd shoot each other. Now, they just argue on Twitter.
Before I reveal who's actually right, however, let's establish a few simple truths – the first being that Avs fans and Nuggets fans are different. That's just a fact. If you took the logos and jerseys out of the equation, I could spend 10 seconds inside the concourse at Pepsi Center and tell you which team was playing that night.
Avs fans are, well, let's just say a bit more monochromatic.
Nuggets fans are a bit more diverse.
(Again, we're just dealing with the facts, folks – don't shoot the messenger.)
A typical Avs fan lives in an affluent suburb.
A typical Nuggets fan lives… somewhere.
Avs fans, at least the originals, are familiar with winning championships. Fair or not, that's been the standard since these hosers moved here from Quebec.
Nuggets fans, especially the originals, expect the worst. They've had more than 50 years of reinforced learning that a title is probably out of reach.
Avs fans are a far more sensitive lot. For example, if Mile High Sports doesn't write enough about the Avs, Avs Fan will fill up my inbox, call me an idiot, and vow never to read Mile High Sports again. A year later, he'll do the same exact thing.
Nugget Fan is more aloof and more contemptuous. For example, if I write that Nikola Jokic isn't a star, he'll say I'm an idiot, or at least suggest that I simply don't understand basketball, the NBA, analytics or Tim Connelly. He'll conveniently have fistfuls of stats to prove me wrong, and if I still disagree, he won't argue, he'll just conclude – still – that I'm an idiot.
Avs fans have at least one jersey – errr, sweater – probably more, and they'll wear it to just about every game. On any given night, you'll see a Forsberg, a Sakic, a Roy, a Landeskog, a MacKinnon and now a Makar. I've even seen someone wearing a Bernie (the mascot) jersey.
Nuggets fans will refuse to wear the free t-shirt handed out at Game 1 of Round 1 of the NBA playoffs, which they haven't experienced for six years, but they'll knock over the 8-year old kid in front of them to catch one thrown out by members of the hype(?) squad. If a Nuggets fan actually owns a jersey, it's highly likely he'll be wearing it as the tank top that it is, even in the dead of winter.
A lot of Avs fans were really cool in the '90s, and they're just fine with that.
A lot of Nuggets fans are really cool; just ask them over drinks during the third quarter.
And here's where you're about to disagree, lose your mind, send me a scathing tweet or email…
Avs fans – when it matters and probably more consistently – are louder.
There are more Nuggets fans. Sorry, there just are. It's an older franchise and more people, both internationally and in America, watch and play basketball more than they watch and play hockey. That's not a knock on hockey; it's just a fact. It's an accepted truth that when it comes to sports in the Land of the Free, it's the "Big Three" … and hockey. Colorado is, in fact, located in America.
(And yes, Soccer Guy, if you've read this far, we all know… you're No. 1, the World's Game, etcetera, etcetera. We're not even arguing.).
During the playoffs, it's harder to get an Avs ticket than a Nuggets ticket (I can vouch for this myself). Rumor has it that while everything at the Can of late has officially been dubbed a sellout, the Nuggets may or may not have had a few extras lying around for employees and such for Games 1 and 2 of the Portland series. Word is that wasn't the case with the Avs. These aren't facts, just murmurs.
It would appear that the Avalanche are winning the local TV ratings game as well.
But, everyone sure seems to like Charles Barkley and Shaq.
So, you want to know who has the better fans?
Why would you ever ask me? The only thing you'll both agree on is that I'm the idiot.
Besides, you wouldn't believe me anyway.
Now, please, go back to bickering amongst yourselves.
Go Nuggets (tonight).
Go Avs (tomorrow night).
Yay us.