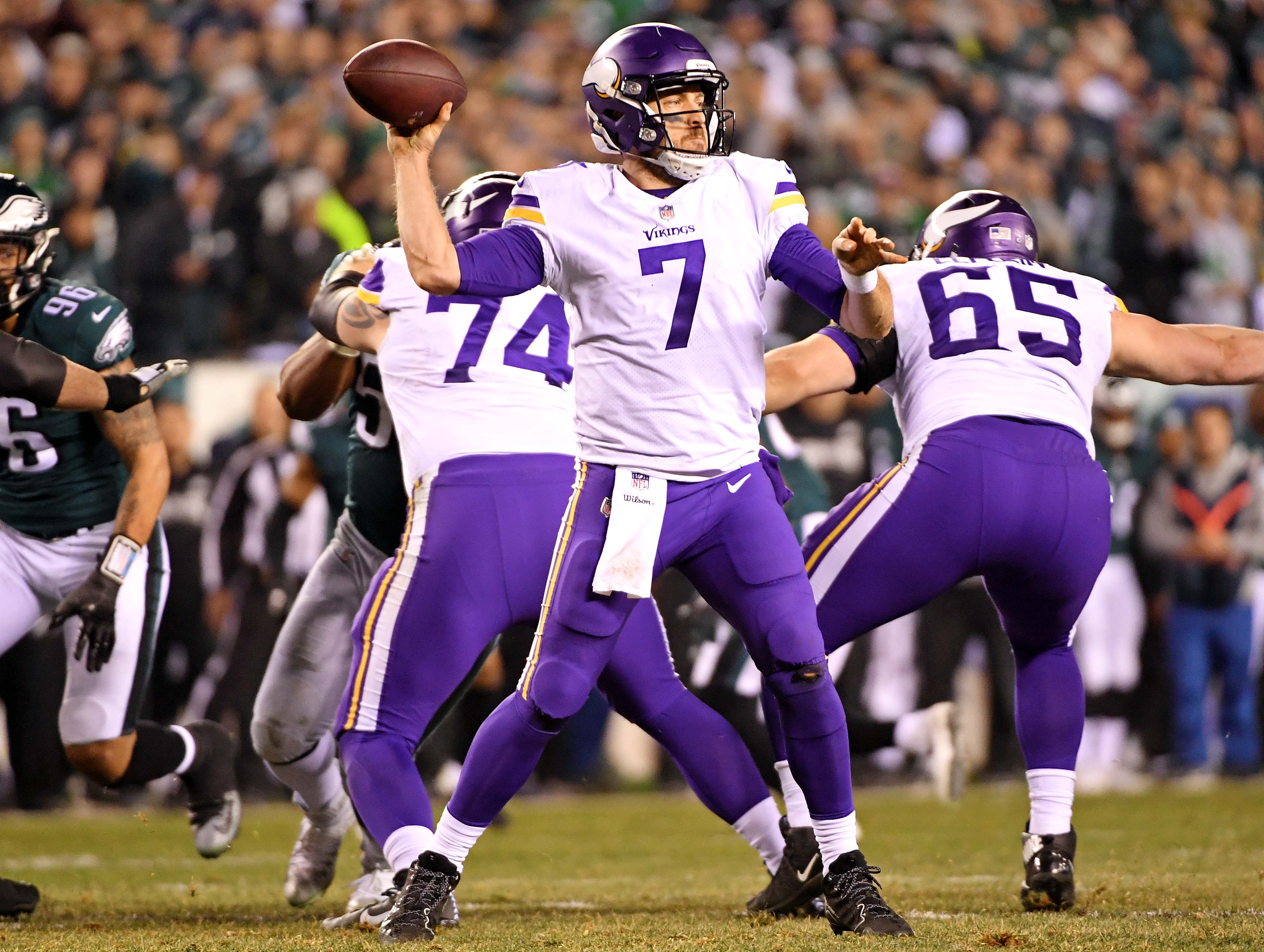 With only minutes left to midnight on Monday evening, Denver Bronco fans learned that the short-term future for the franchise will rest on the shoulders of 30-year old Case Keenum.
Keenum's signing drastically affects how the Broncos approach the rest of the off-season, free agency, the NFL draft and more. After shoring up what many thought was the weakest position on the team last season, the Broncos now have many more options moving forward.
Money to spend
The first benefit to signing Keenum is his much-cheaper price tag, as opposed to a potentially crippling Kirk Cousins deal. The leftover money can be used to fill a number of holes on the offensive line and add skill-position players to surround Keenum with. Keenum, according to Mike Klis of 9News, will reportedly sign a two-year deal worth $36 million — chump change for a team that badly needs to recoup resources and assets while saving money in the process in the wake of the cap-busting, 'all-in' Peyton Manning era.
The Broncos will have plenty free-agent options for the No. 3 wide receiver role, and the cash saved by signing Keenum over Cousins will play a part in retaining many players from last year, including Emmanuel Sanders, Demaryius Thomas, Derek Wolfe and more — a positive domino effect that could greatly benefit the Broncos.
The future is still out there
Like it or not, Keenum is the Broncos' Day One starter. But he's not the long-term future.
Keenum is 30 years old. He will be slotted by most as a solid bridge option for Denver, but not as the long-term future. Picking a quarterback fifth overall can't be ruled out, but now that Keenum gives them flexibility, they don't have to.
Having a competent veteran in the room and allowing a young quarterback like, perhaps, Baker Mayfield, to sit and learn as Keenum handles the short-term 're-tooling' that the Broncos are undergoing would give a lot of reassurance to Broncos players and fans that they won't suffer through the dysfunctional quarterback situation that they've seen over the past two years.
In the short term, Case Keenum isn't a bad option at all.
Consider this. No Broncos quarterback that wasn't named Manning has ever had a 67 percent completion rate in at least four starts in a single year. However, Keenum has — last year in Minnesota.
Keenum's 98.3 QB rating over 450 or more attempts last season has never been achieved by a Broncos quarterback (except for that Manning fellow again). Keenum's 2017 season would've been one of the very best in Broncos history.
Nobody is arguing that Keenum is a top-flight option at quarterback. But as a short-term solution? Keenum is a better fit than most believe.
Elway is willing to bend
General manager John Elway has been criticized like he's never been before for his swings and misses on offense in the post-Manning era. From misses in Montee Ball to his drafting of Brock Osweiler, to the selection of Paxton Lynch and lastly, somehow believing Mark Sanchez and Trevor Siemian were a viable 1-2 combo going into training camp two years ago.
All Elway moves. All major failures. With Gary Kubiak now playing a role as senior personnel advisor, many wondered how much bending Elway would actually do. Would he retort back to his ways of tall quarterbacks with big arms? Or would he chase after the target that essentially was pegged as 'Kubiak's guy' since day one?
The Keenum move has Kubiak's fingerprints all over it. Kubiak signed Keenum as an undrafted free agent in 2012 in Houston and believed in him enough to send him out on the field very quickly. Kubiak, in his expanded role, appears to have sold Elway on Keenum — at least for the short-term  — as they attempt to find their franchise quarterback.
By spending money and pulling the trigger on Keenum, fans should be reassured that the Broncos under Elway are not headed down an ego-driven, dictatorial path that has plagued many a bad NFL franchise. Elway is trusting his guy.
Trading down on draft day is in play
The quarterback situation has been sewn up for now. If Denver believes that  project in later rounds, packaged with the idea of receiving many more draft assets, is a potentially sweeter option, the Keenum signing allows for the Broncos to move their offseason's best asset, trading out of the No. 5 overall pick and bringing in a king's ransom.
The Broncos may not have found their long-term solution at quarterback, but signing Keenum means that they don't have to… today, at least.