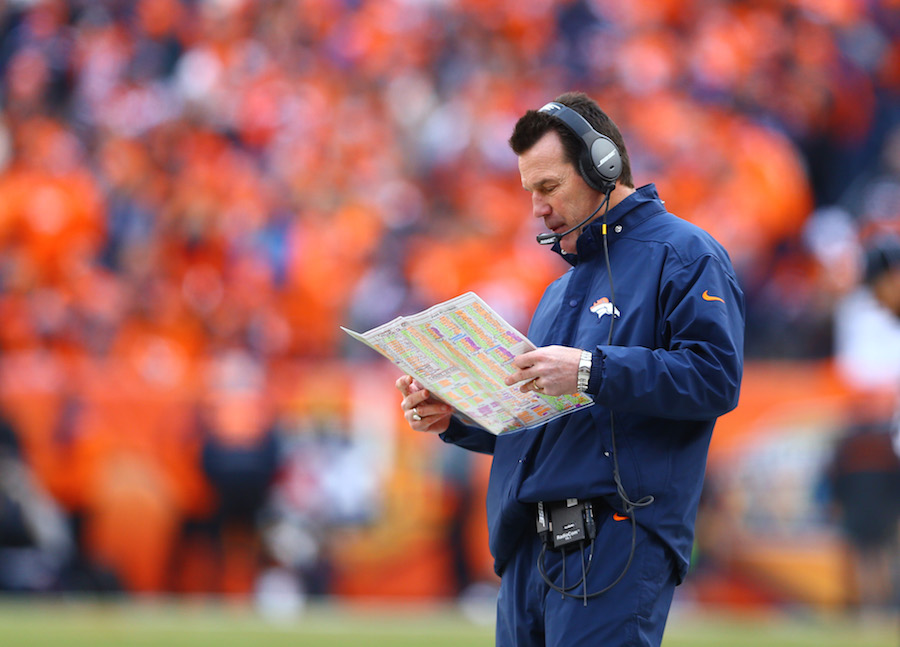 The Broncos have more question marks than hash marks at this point — Von Miller's contract, Aqib Talib's gun charges, Paxton Lynch's long-term upside — but I can assure you of one thing: This offense is going to be significantly better in 2016.
Yes, the NFL revolves around the quarterback, and when you look at Denver's depth chart — Sanchez, Siemian, Lynch — it's difficult to imagine the Broncos doing much of anything offensively, but that's the lazy way to look at things. Quarterbacks may be the face of the franchise and quarterbacks may steer the ship, but they can't do it alone; without surrounding talent, a great quarterback can look mediocre, while a mediocre quarterback can look great with superior weapons at his disposal.
Take these two quarterbacks for example:
Quarterback A: 60.1% completion; 3,821 yards; 31 touchdowns; 8 interceptions (10-6 record)
Quarterback B: 59.6% completion; 3,905 yards; 31 touchdowns; 15 interceptions (10-6 record)
Both of these quarterbacks ended up with nearly identical seasons statistically, and yet no reasonable NFL fan or evaluator would ever put their names in the same conversation.
So who are they? Well, Quarterback A is the one and only Aaron Rodgers, and Quarterback B is the Harvard grad himself, Ryan Fitzpatrick.
And their two seasons go to show why surrounding talent matters so much. While Fitzpatrick was put in a fantastic situation, with Pro-Bowl receivers in Brandon Marshall and Eric Decker at his disposal, Rodgers saw his No. 1 option, Jordy Nelson, go down for the season before Week 1, and it only got worse from there, as most of his weapons and offensive line spent the year playing hurt, if they played at all.
So while a quarterback is easily the most important position in football, it's still imperative that they're surrounded by talent on the offensive line and at skill positions. And for the Broncos, it's that second part that they really need to count on.
Remember, it was just a few years ago that this was one of the greatest offenses in NFL history; there's still plenty of talent on this team, starting at the wide receiver position.
While Demaryius Thomas admittedly had a disappointing season last year, there were only four wideouts — Julio Jones, Antonio Brown, DeAndre Hopkins and Brandon Marshall — in the entire league that matched DT in receptions, yards and touchdowns. If that's what we all consider a "bad season," we've got it pretty good.
And when we look at the last two seasons, since Emmanuel Sanders joined the team, there hasn't been a better one-two punch in the NFL. Check out the league leaders in receiving yards since 2014, courtesy of Pro Football Reference:

And don't underestimate the fact that half of that production came in a year when a washed-up Peyton Manning and an inexperienced Brock Osweiler combined for the second-worst passer rating in the NFL, only trailing the St. Louis Rams.
Pair those guys with Mark Sanchez, who I'm assuming will win the starting gig, and he's entering the season with the best receiving corps of his career — by far. We all like to bash the Butt Fumbler, but it's hard to expect too much from Sanchez when these were his leading receivers in New York:
2009 — Jerricho Cotchery (57 rec; 821 yds; 3 TDs)
2010 — Braylon Edwards (53 rec; 904 yds; 7 TDs)
2011 — Dustin Keller (65 rec; 815 yds; 5 TDs)
2012 — Jeremy Kerley (56 rec; 827 yds; 2 TDs)
Not only are Thomas and Sanders in a whole other weight class than those wideouts, but you could make the case that Jordan Norwood and Bennie Fowler could have competed for the No. 1 gig in New York, too.
My point being: No, Sanchez is not a great quarterback, but he's never had great weapons around him either. And even still, behind a dominant defense and solid running game, he was able to guide the Jets toward two straight AFC Championship Game appearances. Give him two of the game's best wideouts, combined with a much-improved offensive line (not great, but significantly better than last season's dumpster fire) and a motivated C.J. Anderson, and who's to say Sanchez can't be this year's Ryan Fitzpatrick?
And let me add another important factor into the equation: Gary Kubiak.
Last year, we did not see the Gary Kubiak offense. Not even close. This year, it's all his, and Denver will be better off for it.
In Kubiak's 21 years as an NFL coach/coordinator, his offense has ranked inside the top-10 in scoring 15 times, his rushing attack has ranked inside the top-10 in yards 14 times, and his passing game has ranked inside the top-10 in yards nine times. All of which is to say, he's a darn good coach, especially when he gets to run things his way.
Don't forget, this is a guy who guided Matt Schaub to three 4,000-yard seasons, including a league-leading 4,770 yards in 2009.
Under Kubiak, Denver's offense will never be worse than it was in 2015. Just as they've shown this offseason, the Broncos will continue to build around Kubiak's scheme. There's a reason John Elway paid a premium for Anderson. There's a reason Elway drafted a fullback sooner than most franchises would have even considered it. And there's a reason he signed two tackles in the offseason.
He wants to give Kubiak every asset he needs to build another top-10 offense. And they're much closer this season than they were last season.
So when Vegas drops the Broncos' championship odds and ESPN lowers them in their power rankings because of questions at quarterback, relax. The Broncos had much more serious concerns at quarterback last season; the rest of the offense was even worse, and they won the Super Bowl.
There's plenty of ammunition on that side of the ball to keep the franchise in Super Bowl contention.