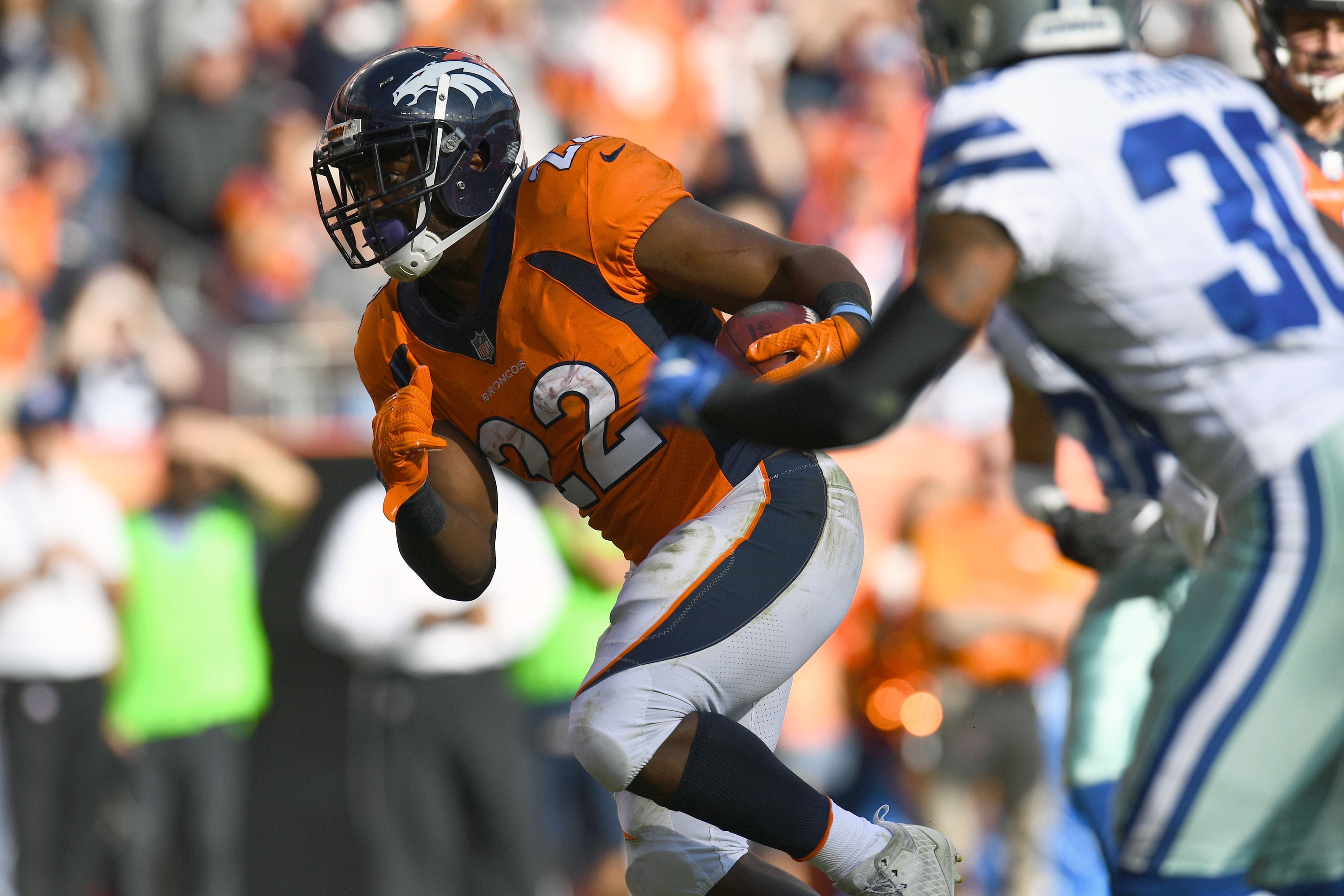 The Broncos' improved rushing attack has improved a middling passing game, creating a powerful one-two punch that is sending opponents reeling.
Through two games, the Broncos and offensive coordinator Mike McCoy have leaned heavily on halfback C.J. Anderson to open up the passing game and relieve pressure from quarterback Trevor Siemian.
"The run game — that was the jump starter," said Broncos head coach Vance Joseph. "Our running game leads to our passing game being effective. If he [Anderson] can be effective every week, it's going to help us pass the ball. That's huge for us."
The Broncos rushing attack is currently one of the top in the league. The Broncos have rushed for 318 yards (first in the NFL), and average of 159.0 a game (first), and 4.2 yards per attempt (eighth). Anderson leads the way with 199 yards through two games, good enough for the second-highest total in the league.
"He played his tail off," said Siemian, about Anderson's 25-carry, 118-yard performance. "[He had] a bunch of highlight-reel runs, but then a bunch of bloody, ugly, four-yard runs that don't show up on a stat sheet as much. But he played really, really well."
As defenses focus on Anderson and the run game, the Broncos have been able to become more aggressive in their passing game as well. Behind an improved offensive line, Siemian has been able to get more creative and find more ways to move the ball and score.
Through two games, Siemian has thrown for 450 yards, and is averaging 7.5 yards per attempt. He has thrown six touchdowns in comparison to only two interceptions, and has lost one fumble on a strip-sack in which he didn't even finish his dropback before being flattened by the Cowboys' DeMarcus Lawrence. Siemian even has an impressive rushing touchdown to his credit, after a nimble run that de-cleated the Chargers' Joey Bosa.
"I thought Trevor played excellent, once again," said Joseph, praising his quarterback's performance against Dallas. "He put us in good plays all night. Again, outside of the one interception — which was more of a unit issue than a Trevor issue — he played well. If he plays that solid for us, we'll be hard to beat down the stretch."
Siemian's improvement from last season is becoming more obvious with every outing. Through the season first two games, Siemian's completion percentage is up from 2016 — from 59.5% to 65.0% — as is his yards per attempt (7.5 up from 7.0), QBR (75.2, up from 48.4) and passer rating (106.9, compared to last season's 84.6). His heady play and leadership has brought nothing but praise from his teammates.
"You see the progression every week," said guard Ron Leary. "We have all the faith in the world in Trevor. We voted him captain of the offense, and he's doing a great job. I have much love for him."
While the Broncos' passing attack is, statistically, in the middle of the rankings in the league; ranking 21st in averaging passing yards per game (191.5), and eighth in yards per attempt (7.5) — but Siemian's six touchdown passes are tied with Detroit's Matt Stafford six for tops in the league.
With both aspects of the offense clicking, the Broncos have managed to control the clock in both games this season. So far, the team averages 34:02 on offense, a five-minute improvement over last season's 29:03. The team has exponentially improved on third-down conversions as well; the Broncos' lead the league with 57% of third-down attempts converted, rocketing up from 34% last season, 30 spots up from last season's second-to-last finish.
"That's what it's about. You've got to convert third downs, and that's what we're doing," said wide receiver Emmanuel Sanders. "We've got to continue to do that. Kudos to Mike McCoy and the entire offensive coaching staff. Those guys are up in the office late at night, and they're making the right calls and putting us in great positions."
In the end, there's only thing that really matters for any offense: how many points they're putting on the board — and the early returns are promising. The Broncos are averaging 33.0 points per game, which ranks them fourth in the league. In 2016, a moribund Denver offense managed only 20.8 and the 22nd-place ranking. "I still want to get better offensively. I still want to be able to finish drives more," said Sanders.
The Broncos' next test will come on the road against the Buffalo Bills. Rookie left tackle Garett Bolles' ankle injury is expected to keep him out of that game, and how the Broncos adjust to his absence will go a long way toward showing how dynamic and versatile their offense has truly become.