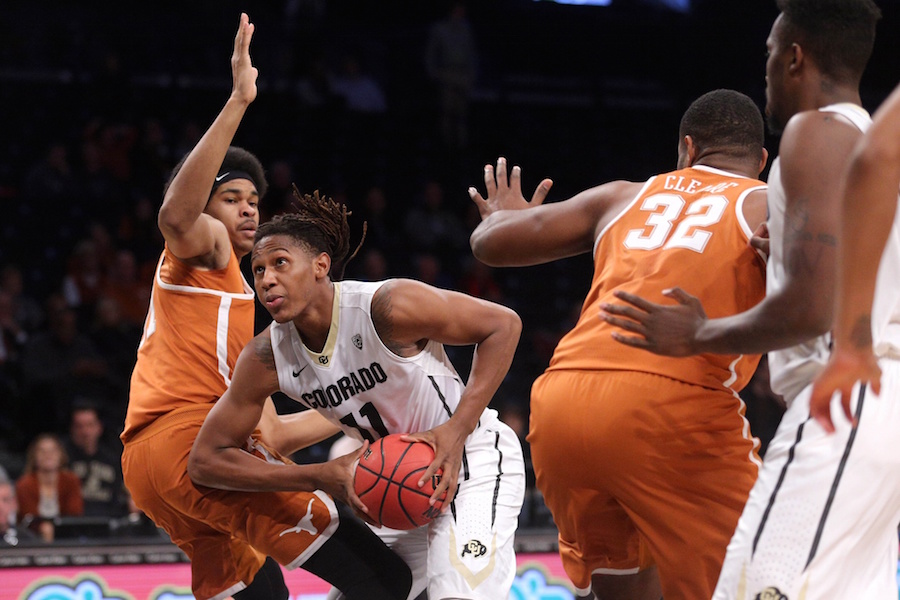 After going to the Barclays Center and suffering a close loss on Monday to Notre Dame, the Colorado Buffaloes got back to playing the way we're accustomed to on Tuesday.
The Buffaloes had a bounce-back performance against the No. 22 Texas Longhorns in their final game of the Legends Classic, winning 68-54.
Couple of first half photos for your enjoyment. #GoBuffs #RollTad pic.twitter.com/XIOkUgBU0L

— Colorado Basketball (@CUBuffsMBB) November 22, 2016
They finished in third place in the tournament.
Unlike the Notre Dame game, where the Buffs were out-rebounded for the first time in the young season, the Buffs were relentless on the boards and that seemed to be the story of the game.
The Buffaloes out-rebounded Texas 41 to 32, a margin wide enough to cause any team to have issues
Shockingly enough, for the second game in a row Colorado's leading rebounder was George King.
King recorded a double-double and paced the way with seven points and 10 rebounds in the first half. He would go on to finish with 12 points and 13 rebounds.
Josh Fortune also provided some assistance in the scoring column, tallying 11 points.
The player that has stood out the most this season has been Derrick White, who has been a much-needed addition to this Buffs roster.
White went an efficient 7-of-10 from the floor and has been great at point guard. He finished with 16 points, five rebounds, four blocks and three steals.
Next, The Buffaloes head back to Boulder as they face Wofford on Sunday.