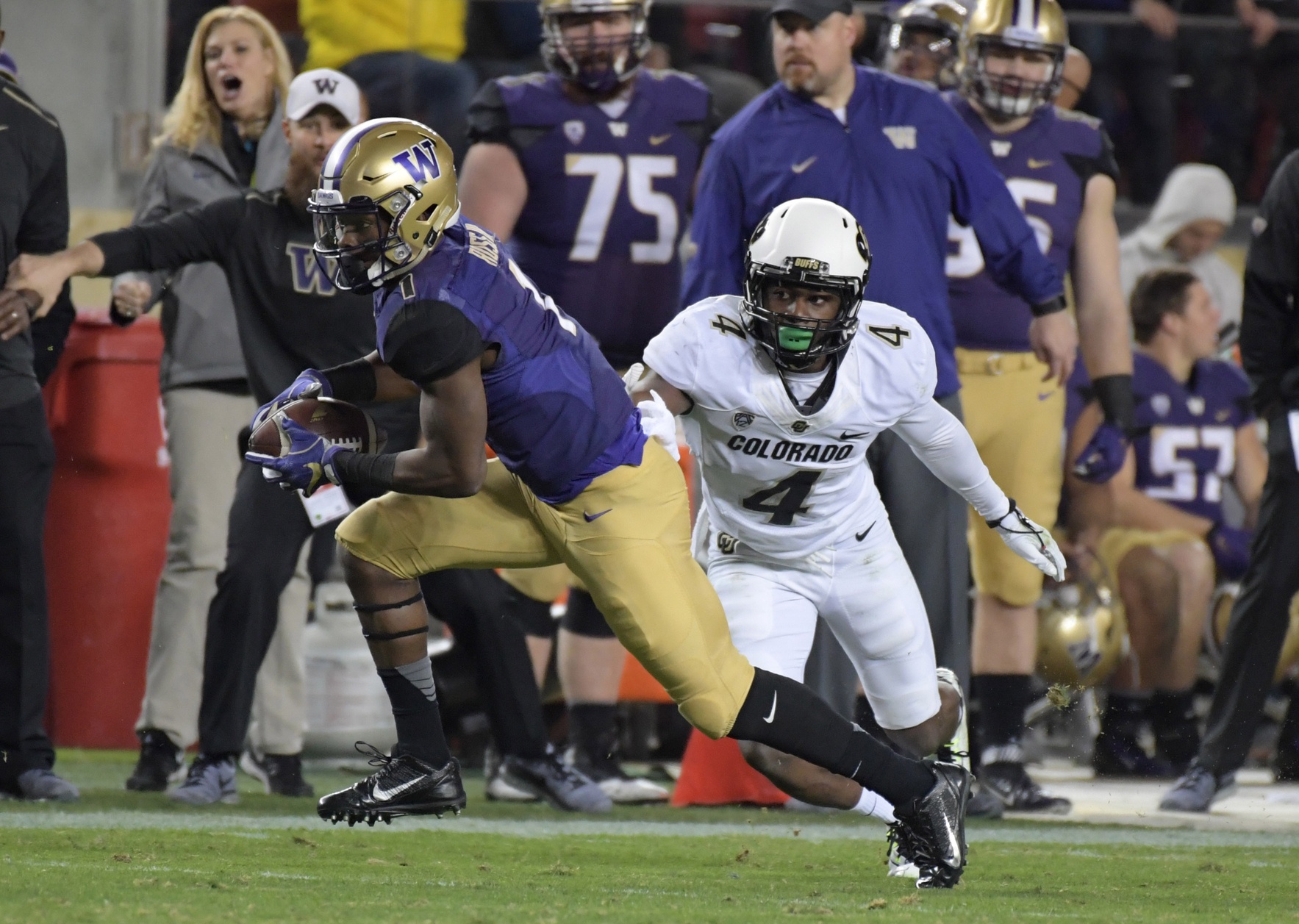 Mike MacIntyre clearly recalls the blowout at Levi's Stadium in last year's Pac-12 championship game. The Washington Huskies completely dominated his Colorado Buffaloes for the entirety of the game, winning the school's first conference title since 2000 by delivering a 41-10 thumping to the then-No. 9 Buffs.
"We are excited about Washington coming in here [to Boulder], and I'm pretty sure that they're excited to come in here, too," said MacIntyre, moments after beating in-state University of Northern Colorado last weekend.
"It's just a rematch of the Pac-12 championship game, where they completely beat us pretty good in the second half — to say the least."
While MacIntyre has made it known all spring and summer long that this is a different team than last year's — and that expectations should be minimized — he has remained confident in this bunch, both offensively and defensively, as they head into Pac-12 play.
Through three games, Colorado remain undefeated, in large part due to their defense. The Buffs won their season-opener against in-state rival Colorado State University, 17-3, before crushing Texas State in their home opener, 37-3. They bested the University of Northern Colorado; winning convincingly over their in-state foes by a 41-21 margin. That game saw the Buffs' defense surrender their first touchdown of the season, but the offense responded and started showing signs of life.
Leading the way is multi-dimensional sophomore quarterback Steven Montez, who's completed 69-of-101 passes; throwing for 858 yards, six touchdowns and three interceptions. Senior running back Phillip Lindsay has carried the ball 71 times, gobbling up 378 yards and three touchdowns in the process. The Buffs' receiving corps is both strong and deep, led by seniors Devin Ross, Bryce Bobo and Shay Fields.
Colorado's offense has gotten off to slow starts, but it seems as if it's only a matter of time until the offense gets to clicking — they've shown progression each week. That time needs to be now.
This weekend, the Buffs open Pac-12 conference play against a very talented Washington Huskies team. Through three games, the seventh-ranked team in the country has looked as good as advertised and their offense is already in high gear after beating Rutgers 30-14, demolishing Montana 63-7, and a 48-16 pounding of Fresno State.
The Buffs are all too familiar with sensational junior quarterback Jake Browning. Through three games, he's 58-for-78 (74.4 percent) with 798 yards and eight touchdowns on the season, while throwing only one interception. Running back Myles Gaskin has collected three rushing touchdowns and two receiving touchdowns already, and containing the multi-dimensional threat will be the Buffs' biggest challenge yet. Receiver Dante Pettis was named the Pac-12 Special Teams Player of the Week after scoring four touchdowns against Fresno State, three on passes from Browning, and another via punt-return — the eighth of his career, tying Texas Tech's Wes Welker and Oklahoma's Antonio Perkins for the NCAA record.
With all of the talent that Washington possesses — and with memory of last year's humiliating loss hovering like a dark cloud over Boulder — how can the Buffs possibly be ready for the Huskies?
"We're definitely ready," Ross said. "We're just scratching the surface offensively; we have a lot of potential, as you can see, and we just have to come out this week ready for Pac-12 play. It's going to be a tough, tough opponent; obviously a rematch of the Pac-12 championship. We're ready."
Avenging last year's loss is foremost on their minds, but the Buffaloes can't let themselves get tangled up by the past. To win, they'll need focus on every play, but if they could somehow pull off the monumental upset — Washington's a 10-1/2 point favorite — not only would they be in line to defend last season's Pac-12 South crown, but the shockwaves would rumble across the college football landscape like the sound of Ralphie's hooves atop Folsom Field.