This Wide Wide Sports-less World is something else, eh? It only took about one week of sans-sports-living to realize just exactly how much we watch, consume, enjoy, discuss…need sports.
It's been rough.
If there's been a silver lining (outside of Tiger King), it's that plenty of sports outlets have become very creative in their efforts to deliver us sports. One of my favorite ways of doing this has been the repurposing of "retro" content – classic games, moments, performances.
And there's no reason Mile High Sports can't get in on the fun. In an attempt to take a trip down memory lane, we're proudly presenting "The Cover Story" – the tale of Mile High Sports Magazine as told through each and every cover.
Now, we're going to shake things up and present them in a somewhat random order, but at the end, we'll give you, the reader, a chance to vote for your favorites. So, for the next several weeks, while we're all cooped up inside, check in in often at milehighsports.com and check out our Cover Story.
We'll post every cover and perhaps some behind-the-scenes tales behind a few.
Click here for the entire series.
Enjoy.
Issue: June 2003, Arnold Palmer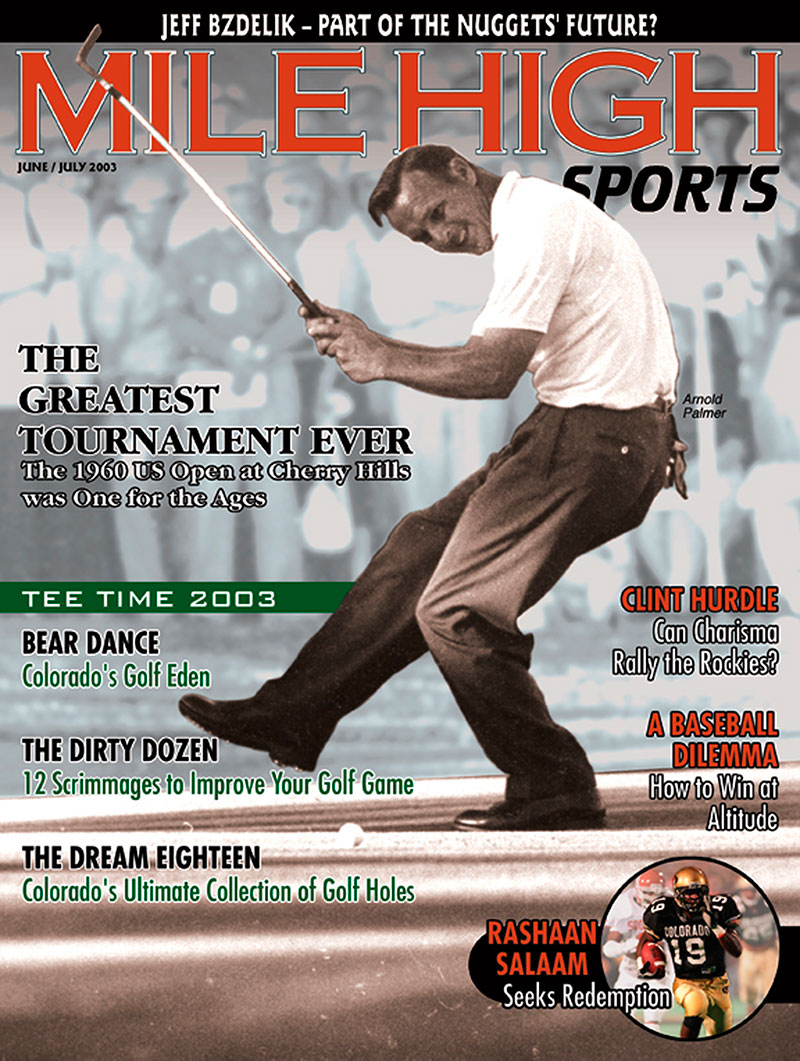 Our first-ever golf issue featured none other than the great Arnold Palmer. Specifically, the photo was of Palmer during his win at the 1960 US Open played at Cherry Hills Country Club was an image we obtained was from the incredible Time-Life Sports Collection.
A few things come to mind when reminiscing about this particular issue. To begin, the amount of help we received in putting together the story and photos was amazing, if not unexpected. Cherry Hills Country Club, for example, was far from a stuffy, pretentious, private club. In fact, the folks there were just the opposite, going above and beyond to supply historical records, photos, contacts and memorabilia from the '60 Open. But that wasn't all – Arnold Palmer himself, along with his PR staff could not have been more gracious. It seemed strange for a young editor to pick up the phone and find Palmer on the other end. But that's really who Palmer was. Much has been made of Palmer being one of the true gentlemen in sports – that's all absolutely the case.
Another subtle detail on this cover is the color of the masthead. Technically it's "copper" and there's actually a metallic component within the ink. This was the first of several issues that took advantage of metallic printing ink, something we've used for special issues from time to time.
But perhaps the most vivid memory of this issue was opening the mail months after the issue came out and finding a FedEx package with a dozen or so signed copies, courtesy of the man on the cover.
---
Issue: August 2011, Carlos Gonzalez
Besides a sweet, sweet swing from the left side of the plate, a cannon of an arm, and an infectious personality, guess what else Rockies outfielder Carlos Gonzalez had?
Great taste in cars. And the means to buy them.
Over the years, Cargo drove his fair share of exotics, a few of which were featured in the magazine. But when he showed up to Spring Training in 2011 with a brand new Ferrari 458 Italia, we knew it would be the perfect "prop" for the "Boys and Toys" issue, which served as a collection of local athletes and their eccentric hobbies.
This one is easily one of the most "fun" covers in MHS history. With one of the most personable Rockies and a red Ferrari, how could it not be?
---
Issue: February 2019, Phillip Lindsay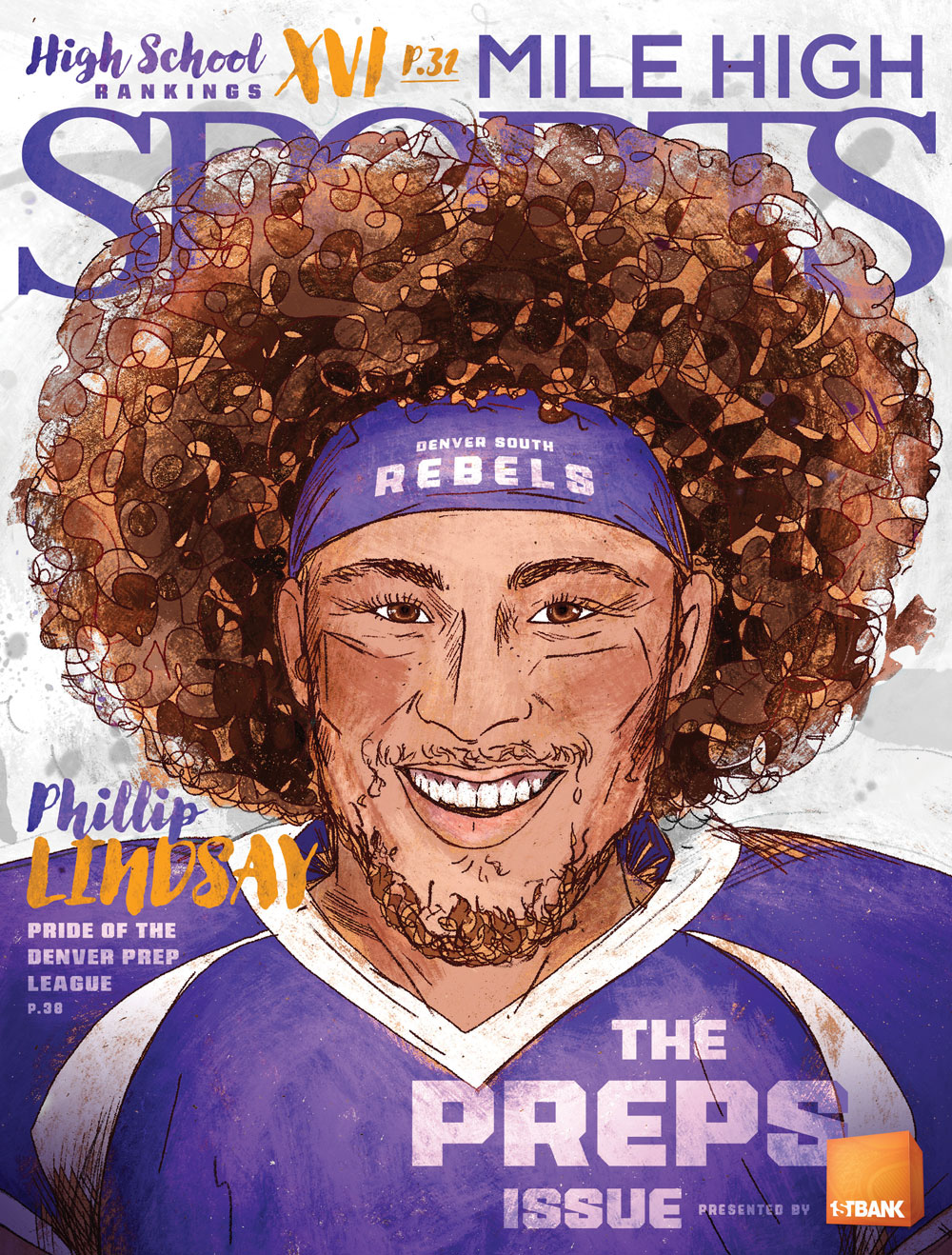 Let's start by saying that this cover became an instant classic.
Let's take a step back, however, and make a confession: The cover you see is actually "Plan B."
Don't misunderstand, Phillip Lindsay was always supposed to be on the cover. He was always supposed to be sporting the purple and white of his high school alma mater, Denver South. And Lindsay, of all people, was game for being on our cover.
First, he got hurt. A wrist injury and surgery pushed back the original date set for the custom photo.
And then, Lindsay was chosen to go to the Pro Bowl, which pushed up the second scheduled date.
And lastly, through a small mix up, and perhaps a little coaxing from Von Miller, Lindsay headed time the Pro Bowl with Miller, the day before the photo was to be taken.
With very little time remaining before press, and without another person in mind for the cover, "plan b" was hatched. Art director Nick Heckman created a comp and hired Elettra Cudignotto, the perfect artist with the perfect style, to capture the essence of Lindsay.
Perhaps "Plan A" would have made for a classic, too. But "Plan B" was undoubtedly an instant favorite.
You can help Mile High Sports:
Enjoying our trip down memory lane with Mile High Sports Magazine? For over 17 years, Mile High Sports has been the local, independent voice covering everything from the Preps to the Pros in Denver and across Colorado. One way you can help us continue our coverage is to click here to subscribe to Mile High Sports Magazine. Whether for yourself, your business, or friends and family, we appreciate the support. THANK YOU!