This Wide Wide Sports-less World is something else, eh? It only took about one week of sans-sports-living to realize just exactly how much we watch, consume, enjoy, discuss…need sports.
It's been rough.
If there's been a silver lining (outside of Tiger King), it's that plenty of sports outlets have become very creative in their efforts to deliver us sports. One of my favorite ways of doing this has been the repurposing of "retro" content – classic games, moments, performances.
And there's no reason Mile High Sports can't get in on the fun. In an attempt to take a trip down memory lane, we're proudly presenting "The Cover Story" – the tale of Mile High Sports Magazine as told through each and every cover.
Now, we're going to shake things up and present them in a somewhat random order, but at the end, we'll give you, the reader, a chance to vote for your favorites. So, for the next several weeks, while we're all cooped up inside, check in in often at milehighsports.com and check out our Cover Story.
We'll post every cover and perhaps some behind-the-scenes tales behind a few.
Click here for the entire series.
Enjoy.
Issue: September 2008, The Barrel Man
When all is told, this cover of Tim McKernan – aka "The Barrel Man" – is quite possibly the magazine's best. It combines several elements, all of which define exactly what Mile High Sports has been and stood for.
To begin, there's a fan on the cover. After all, an early marketing slogan for the publication was "Be a Better Fan." And there was no better fan than The Barrel Man. Giving "the fan" a voice within the magazine has always been a mission of Mile High Sports, and over the years, McKernan and his wife Becky had become friends of the staff.
But The Barrel Man was also hand selected because of what seemed to be taking place in Broncos Country. The Broncos had missed the playoffs for the two-straight seasons and it felt like the honeymoon from back-to-back Super Bowl wins in '97 and '98 was officially over. There were hardly any pieces remaining from the Super Bowl years, and the most important link to then "then" and "now" was Mike Shanahan (who would be let go following the 2008 season). For the first time in our lives, it felt like the Broncos, while still the most beloved team in town, had reached a bit of a ho-hum status. To us, entering the 2008 season, something felt "off" – so we turned to the man who had represented the Broncos for as long as we could remember – McKernan – and we asked him.
He agreed and had plenty of interesting anecdotes to validate the hypothesis. Perhaps suggesting that Denver's love affair with the Broncos had come to an end was an overstatement, but Mile High Sports has never shied away from discussing an unpopular topic, even if it rocks the boat just a bit. In fact, the entire cover design – a gem from art director Nick Heckman – posed tough questions heading into the 2008 season.
Sadly, McKernan passed away in December of 2009, a little more than a football season from appearing on our cover. It's been suggested that Broncomania died along with him; in retrospect, we were lucky to have known him and were proud to feature him so prominently in September 2008 issue.
---
Issue: March 2013, Chase Cervi, Jana Blue, Crystal Matthews, Emily Hendricks, Skylar Mikkelson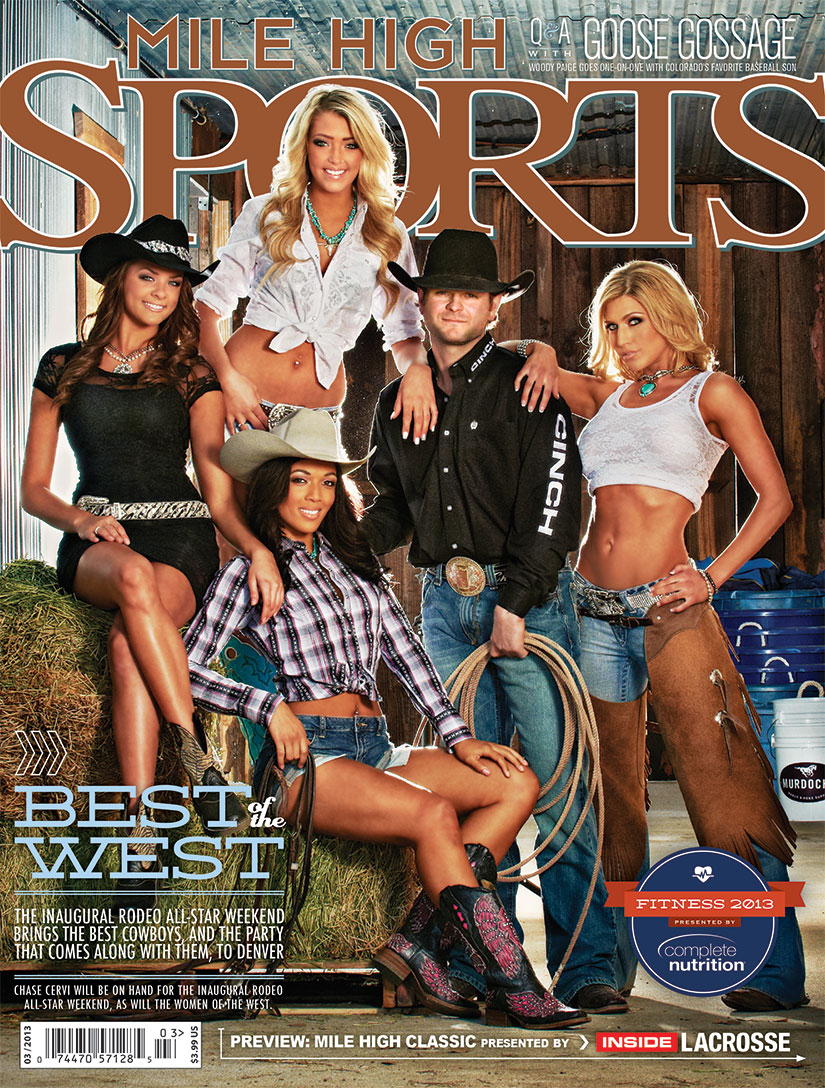 Quick trivia: Which Mile High Sports Magazine covers have doubled as billboards?
Answer: Both Rodeo All-Star covers.
Rodeo All-Star? That's right. Rodeo All-Star. What, pray tell, is that? In case you've never attended, it's essentially the rodeo version of the Midsummer Classic, the ProBowl, NBA All-Star Weekend, et al. You know…the stars of professional rodeo.
And that's exactly what our friends over at the National Western were looking for. Rodeo All-Star, an event held in Denver annually in April, brings the best athletes in the sport of rodeo together for a weekend of fun – just like the other sports. And Mile High Sports was on the forefront of this endeavor.
The initial positioning of Rodeo All Star was very much like the NBA's All-Star Weekend. Celebrities. Concerts. Parties. You know, the fast lane, but rodeo style. As such, our covers that previewed event were geared this way. This particular image included Chase Cervi, a stock contractor and one of the best pickup men in the rodeo game.
And girls.
Snow Angels to be exact. To position Chase in the middle of all the excitement, we thought it would be a swell idea to place him in the middle of Emily Hendricks (Snow Angels covergirl 2012), Crystal Matthews (a Snow Angels covergirl finalist and MHS columnists), Jana Blue (Snow Angel, Denver Nuggets Dancer and Broncos Cheerleader) and Skyler Mikkelson (Snow Angels covergirl finalist). We set up shop at the Cervi Ranch in Rogen, Colo. and took some fantastic photos inside the barn.
Not only did the concept work well for the cover, but the images were used for billboards to promote the event. Sadly, what looked like a great and creative longterm partnership was cancelled after only a few years, as it was deemed that Mile High Sports was not "on demo." Ahh, such is the life of a publication.
---
Issue: June 2016, Brandon McManus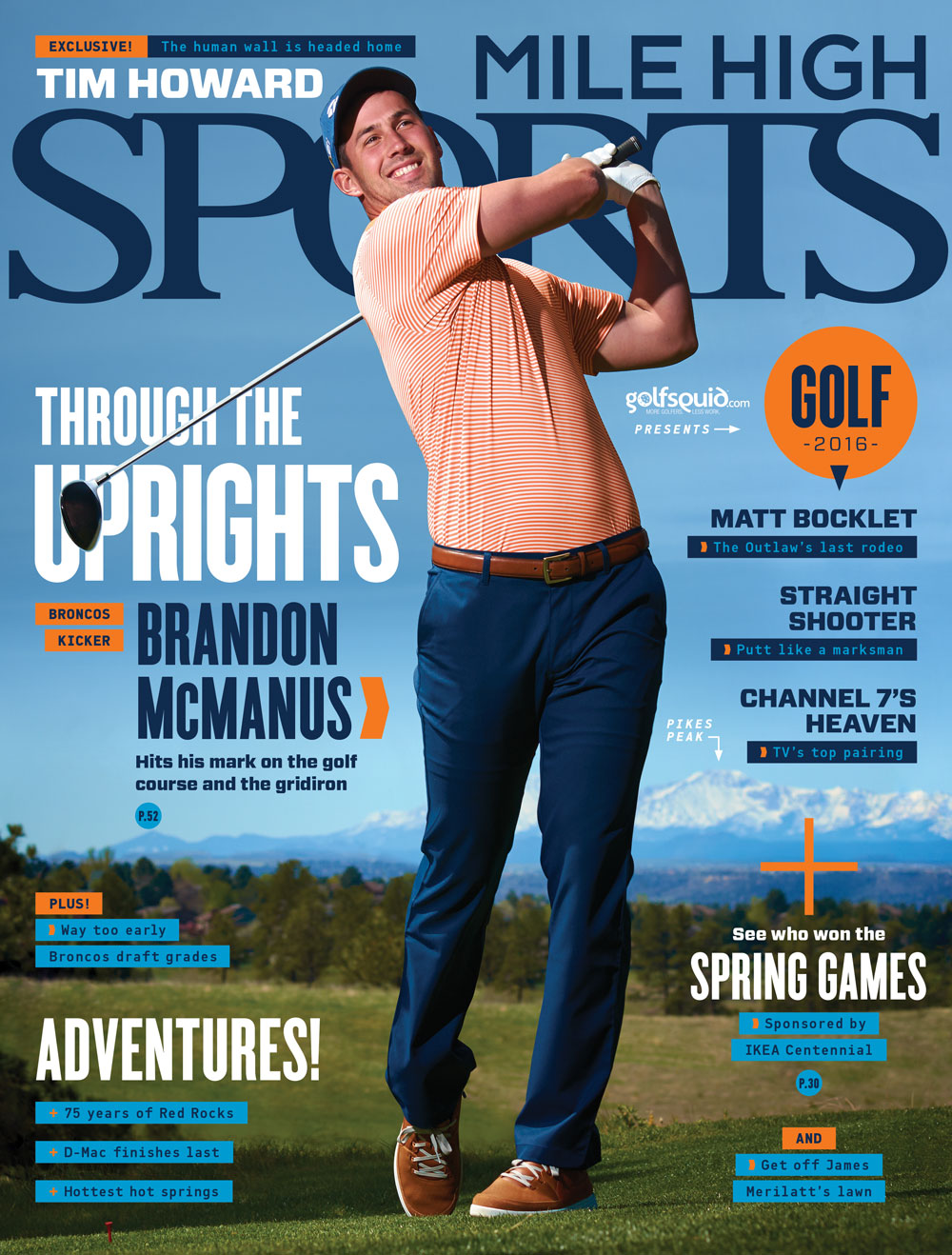 There are really only two ways to truly get to know an athlete: Either, play golf with them, or go driving with them. When either of those scenarios take place, the conversation with just about any athlete is considerably different than when they're forced to talk into a recorder while standing in front of their locker.
There are exceptions though. And Brandon McManus is one such exception. The Broncos kickers is as genuine as they come no matter where you talk to him. On the radio. In the locker room. On the golf course. In the car. Simply put, he's just a guy anyone would like to hang out with.
For this particular cover, McManus agreed to playing a round at the famed Colorado Golf Club, one of the nicest – and hardest – tracks around. It's one of those layouts that's long and tricky, and if there's any wind, which is often the case down in Parker, scoring well becomes even more difficult. But that didn't detract McManus, who's a good – becoming great – golfer. The editor of Mile High Sports, however, couldn't quite hang. It becomes an awkward "interview" when the guy asking the questions is also recording snowmen, while the guy answering them is playing par and bogey golf. That didn't matter to McManus though, who took it all in stride and even bought a round of the course's signature 19thhole drink, the "Indian Paintbrush," after the round.
One fun fact about the cover image: McManus' orange shirt, which is "as is" in the final cover, was once changed to light blue in post-production to better fit our designer's color palette. Upon seeing the initial cover comp, McManus politely requested that the shirt be reverted to its original Broncos orange, which we promptly accommodated.
You can help Mile High Sports:
Enjoying our trip down memory lane with Mile High Sports Magazine? For over 17 years, Mile High Sports has been the local, independent voice covering everything from the Preps to the Pros in Denver and across Colorado. One way you can help us continue our coverage is to click here to subscribe to Mile High Sports Magazine. Whether for yourself, your business, or friends and family, we appreciate the support. THANK YOU!