This Wide Wide Sports-less World is something else, eh? It only took about one week of sans-sports-living to realize just exactly how much we watch, consume, enjoy, discuss…need sports.
It's been rough.
If there's been a silver lining (outside of Tiger King), it's that plenty of sports outlets have become very creative in their efforts to deliver us sports. One of my favorite ways of doing this has been the repurposing of "retro" content – classic games, moments, performances.
And there's no reason Mile High Sports can't get in on the fun. In an attempt to take a trip down memory lane, we're proudly presenting "The Cover Story" – the tale of Mile High Sports Magazine as told through each and every cover.
Now, we're going to shake things up and present them in a somewhat random order, but at the end, we'll give you, the reader, a chance to vote for your favorites. So, for the next several weeks, while we're all cooped up inside, check in in often at milehighsports.com and check out our Cover Story.
We'll post every cover and perhaps some behind-the-scenes tales behind a few.
Click here for the entire series.
Enjoy.
Issue: October 2003, Carmelo Anthony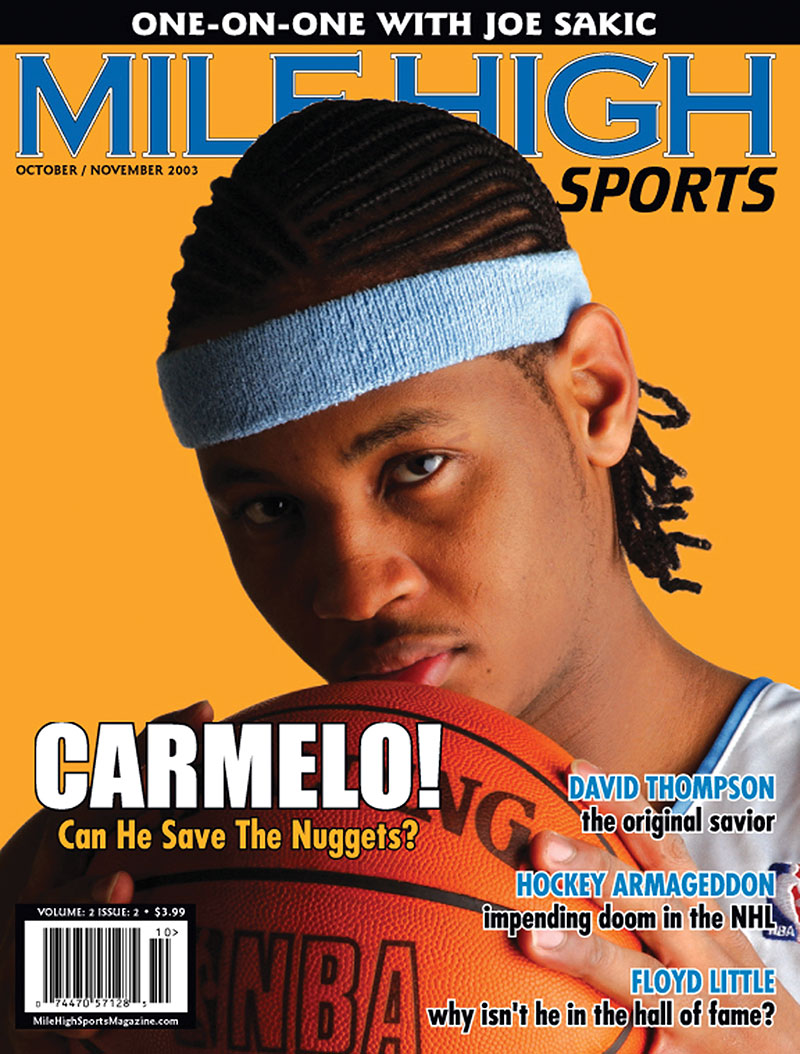 I've often said that this one put Mile High Sports on the map. Interestingly enough, in the original concept meeting, a former, not-to-be-named business partner said, "Why would we put Carmelo Anthony on the cover? Who is Carmelo Anthony?" In retrospect, the answer to that question would become: "Carmelo Anthony? Well, he's only graced more MSHM covers than any other Denver athlete."
But there were several reasons why this particular cover was the one that "put us on the map." To begin, one of the magazine's early advertisers was Cal Spas, a hot tub company that had a location just west of I-25 and just south of (then) Invesco Field. It was an optimal location in terms of exposure, and somehow, one of the original partners in the magazine, Kevin Medina, struck a deal with Cal Spas to hang a giant canvas cover off the side of their showroom wall. And that cover just so happened to be the baby-faced, dreadlocked Anthony, the newest member of the Nuggets.  When cars drove down the highway, they couldn't miss this bright yellow image . And because it was only the seventh edition produced by MHS, it was likely the first time most people had ever seen the magazine.
There was another reason, though. About this time, MTV's "Cribs" was an extremely popular television show. The basic premise? A 30-minute video tour of a celebrity's home. Luckily for us, MTV chose to feature Carmelo and his new penthouse suite atop a prominent Denver high-rise. Even luckier for us, there on Melo's coffee table sat a copy of this very issue. Whether or not the masses noticed didn't matter to us; "we" were on MTV, and that was pretty cool.
And then there's one more story that few people know. Before the issue came out, editor Doug Ottewill received a phone call from a realtor who was selling a "sports" house. "There should be a story written about such a home," suggested the realtor – after all, the house came equipped with an indoor half-court basketball court, a batting cage and a weight room. In fact, a Colorado Rockies pitcher was the original owner. After some time on the phone, it was concluded that "advertising" was a more likely fit than "editorial." The realtor ultimately purchased a half-page ad that showcased the gigantic house and all of its "sports" features. By happenstance, that ad ran within the feature about the Nuggets rookie. A few months later, Melo moved from his downtown penthouse and into the "sports house" – proof positive that print advertising works.
---
Issue: September 2012, Eric Decker & Demaryius Thomas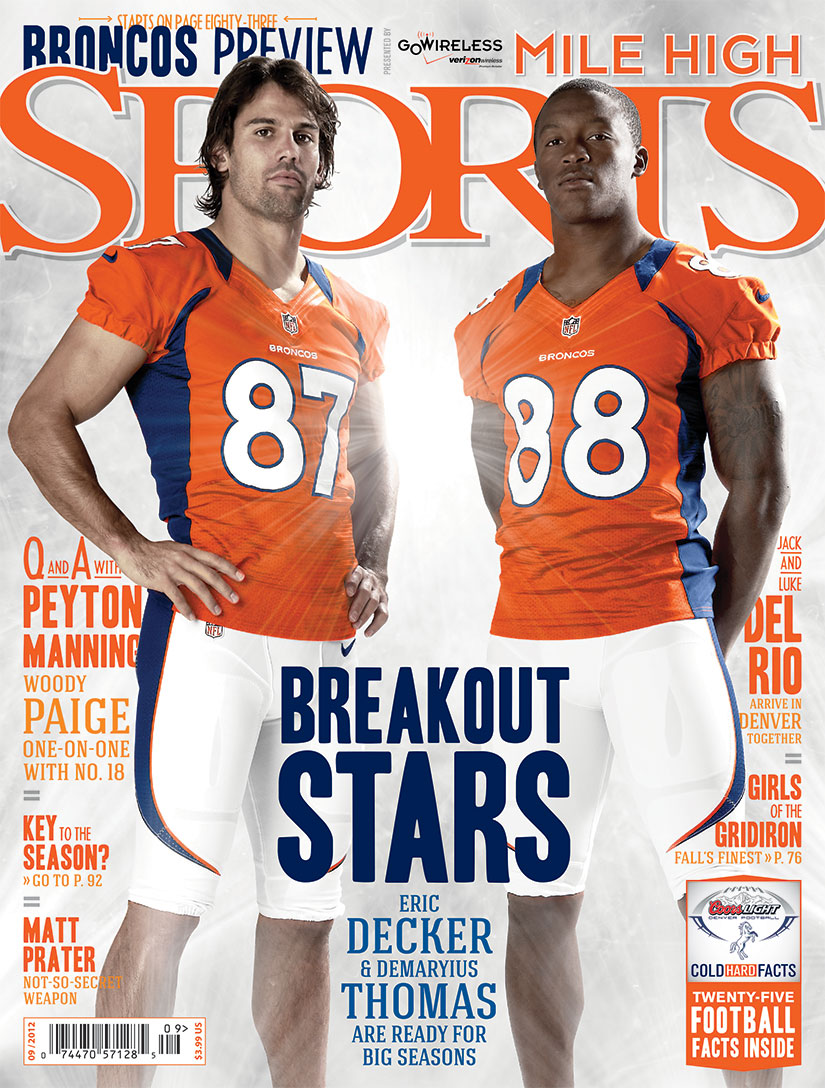 While this might be one of the magazine's favorite covers – at least one that features a pair of Denver's favorite athletes – it didn't exactly go as planned. Over the years, both Eric Decker and Demaryius Thomas were very gracious to Mile High Sports (each of them has their own cover, too), and became bigtime stars during their tenure with the Broncos. Naturally, we wanted to make this a cover to remember. The original plan was to have Decker and Thomas standing on a runway in front of a fighter jet; the headline would read something like "The Broncos Air Attack." Because the photo was to take place at Broncos headquarters, this would all happen via the magic of photoshop, of course. But when the original concept started to come together, there was one problem – it looked silly for some reason. Now, photographers Randy Parietti and Bill Swartz had a great plan in place. They'd taken a nice clean photo of a fighter jet and the runway on which Decker and Thomas would be standing. They'd also done all the measuring and math so that they could drop the image of the two players into the image of the airplane, and nobody would know that the shot wasn't a single image.
There was one problem though – the shoes. Mile High Sports president James Merilatt was the first to point out that both Decker and Thomas were wearing running shoes – not football cleats. And it looked "off." In order to make it look like Decker and Thomas were "really" standing on the runway, having their shoes was a necessity. But, the shoes were, well, a little weird given the circumstances. After much deliberation and multiple cover designs, the conclusion to play this one a little more "straight" prevailed. The final cover featured both receivers, no jet airplane, no runway, no clever headline and… no running shoes.
---
Issue: May 2017, Mike MacIntyre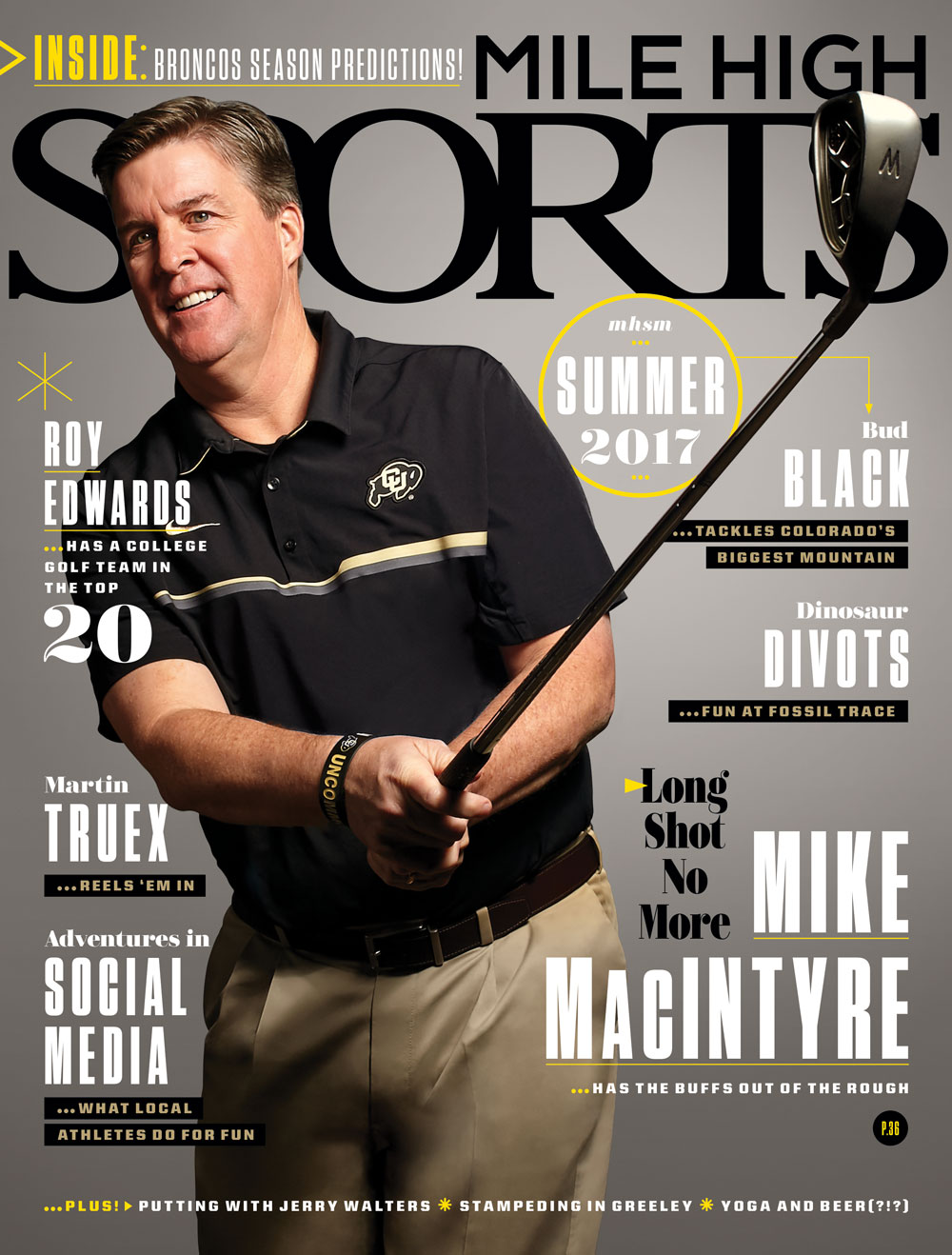 It seems that something always goes wrong when it comes to playing golf with football coaches from CU (you'll see at least one other example down the road). In this instance, a round of golf with Buffs coach Mike MacIntyre – one of the nicest guys you'll ever meet, by the way – went from 18 "real" holes to a par-three. Why? Because the Boulder country club was hosting the Pac-12 golf tournament, and a little bad weather altered the plan from a preview of the tournament track to a trip around the club's par-3 course. That was no problem, other than it would have been fun to spend a little more time with Coach Mac (2). One other note: Take a look at the golf club; designer Nick Heckman cleverly flipped the "W" (for "wedge") to a nice big "M" (for "MacIntyre" of course). The club, actually, belonged to editor Doug Ottewill, and not Mike MacIntyre.
Enjoying our trip down memory lane with Mile High Sports Magazine? For over 17 years, Mile High Sports has been the local, independent voice covering everything from the Preps to the Pros in Denver and across Colorado. One way you can help us continue our coverage is to click here to subscribe to Mile High Sports Magazine. Whether for yourself, your business, or friends and family, we appreciate the support. THANK YOU!