This Wide Wide Sports-less World is something else, eh? It only took about one week of sans-sports-living to realize just exactly how much we watch, consume, enjoy, discuss…need sports.
It's been rough.
If there's been a silver lining (outside of Tiger King), it's that plenty of sports outlets have become very creative in their efforts to deliver us sports. One of my favorite ways of doing this has been the repurposing of "retro" content – classic games, moments, performances.
And there's no reason Mile High Sports can't get in on the fun. In an attempt to take a trip down memory lane, we're proudly presenting "The Cover Story" – the tale of Mile High Sports Magazine as told through each and every cover.
Now, we're going to shake things up and present them in a somewhat random order, but at the end, we'll give you, the reader, a chance to vote for your favorites. So, for the next several weeks, while we're all cooped up inside, check in in often at milehighsports.com and check out our Cover Story.
We'll post every cover and perhaps some behind-the-scenes tales behind a few.
Click here for the entire series.
Enjoy.
Issue: October 2008, Joe Sakic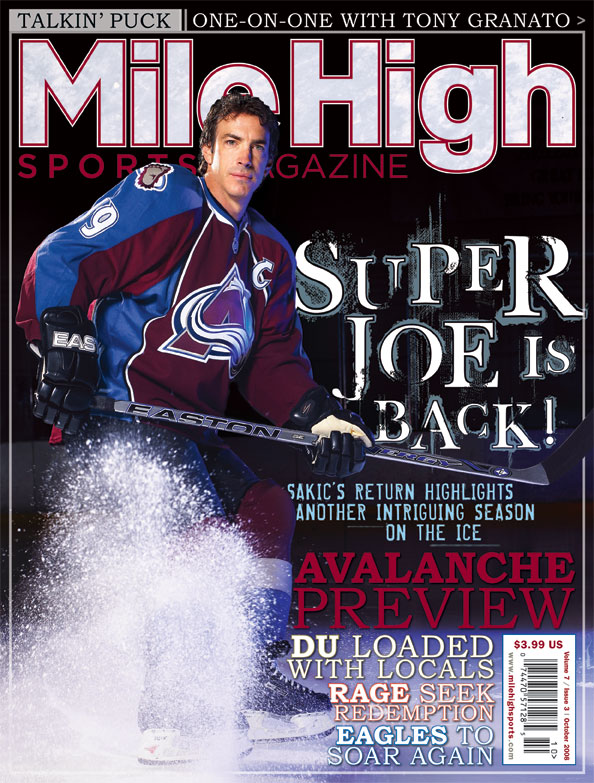 When Super Joe Sakic announced that he'd return for one more season with the Avalanche in August of 2008, there was no other choice for the annual hockey edition of Mile High Sports. Always quiet, gracious and accommodating, Sakic became a Mile High Sports favorite over the years, so to capture him on the cover of what looked to be his final year skating for the Avs was an honor to say the least. The headline "SUPER JOE IS BACK!" felt appropriate.
But this shot wasn't necessarily an easy one to get. On the ice at the Avalanche practice facility, lighting and camera were set, and a certain spot on the ice was designated in which Sakic was to begin a signature hockey stop. Strobes were in place so that the action would be frozen perfectly in the frame at the exact moment the "snow" flew from Super Joe's skate blade.
But there were a lot of variables to consider at once. Sakic's expression. The amount of snow flying in the air. The angle of the stick, skates and jersey. And in order to nail the shot, Sakic was asked to skate a small loop more than once, and to make that hockey stop more than once and in multiple ways at multiple angles. Nobody was counting, but it's safe to say the greatest player in Avalanche history, nailed that stop at least a dozen times, tweaking ever so slightly as we went.
"Think you got a good one in somewhere in there?" the captain asked, dripping with sweat.
Surely, we did. As it turns out, the cover is arguably the best hockey cover in MHS history. Sadly, Sakic's final season was riddled with injury, but the cover image is reflective of his entire body of work on the ice, one that likely will never be replicated in Colorado. And by the way, Super Joe's head and body may or may not be taken from two different photos.
---
Issue: February 2004, Jeff Byers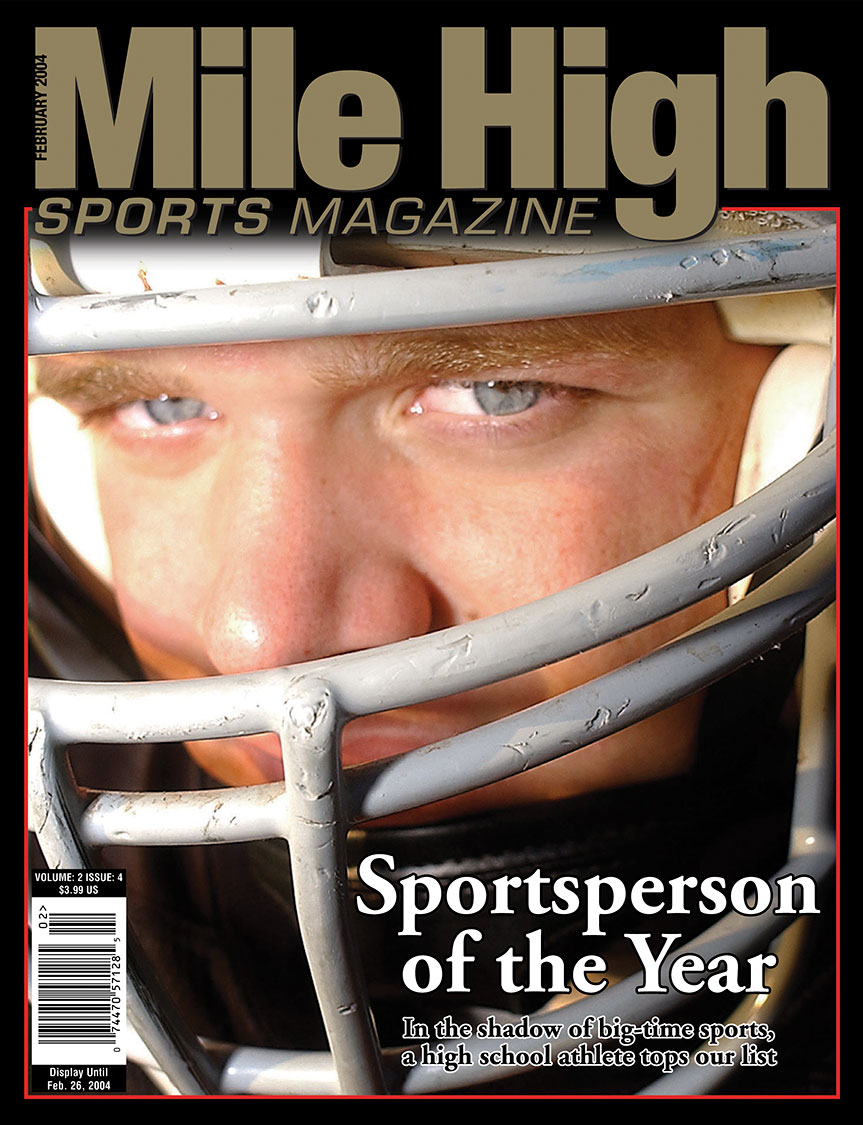 Who is Jeff Byers?
That's likely your question now, and it was definitely the question then.
Up until February of 2004, Mile High Sports had always opted for "notable" athletes for its covers – basically, household names. For a fledgling magazine, this strategy was employed in hopes of earning instant credibility and, to some extent, marketability. Names like John Elway, Patrick Roy, Shannon Sharpe and Arnold Palmer were among the earliest covers. So, who then, was Jeff Byers anyway?
Following the 2003 high school football season, Byers was named the National Gatorade Player of the Year. Not only was this unprecedented in Colorado, but it was the first-time ever an offensive linemen was chosen for Gatorade's top honor. Byers, playing for Class 4A Loveland, seemed like an excellent choice for our second-ever Sportsperson of the Year award.
But should we really put a high school kid on the cover? That was the discussion back at headquarters. The magazine had (and continues to) devote an ample amount of coverage to prep sports, holding true to the early slogan "Mile High Sports: From the Preps to the Pros!" But this was the cover. This was a landmark decision. Would that issue sell? Would people recognize Byers? Would we better off to put a bigger name on the cover, perhaps Nuggets rookie Carmelo Anthony, our professional athlete of the year?
To conclude a lengthy discussion (see debate) between the powers that be at Mile High Sports, then president James Merilatt famously said, "Sometimes you have to be who you want to be." What he meant, was that if Mile High Sports prided itself on preps coverage, then this seemed to be a fine time to tell the world that the kids meant every bit as much as the professional or college athletes – that if we were bold enough to call a high school kid the most significant Colorado athlete that year, then we need to be bold enough to put him on the cover, too.
So, we did, and haven't looked back since. Byers was the first of many preps to eventually grace our front page.
Byers went on to play at USC, and despite an injury plagued college career, was a significant member of the Trojans 2006 National Championship. After receiving a medical redshirt, Byers entered the NFL in 2010 as an undrafted free agent. He had stints with both the Seahawks and Broncos, before finishing the final three years of his NFL with the Carolina Panthers.
---
Issue: March 2017, Tim Howard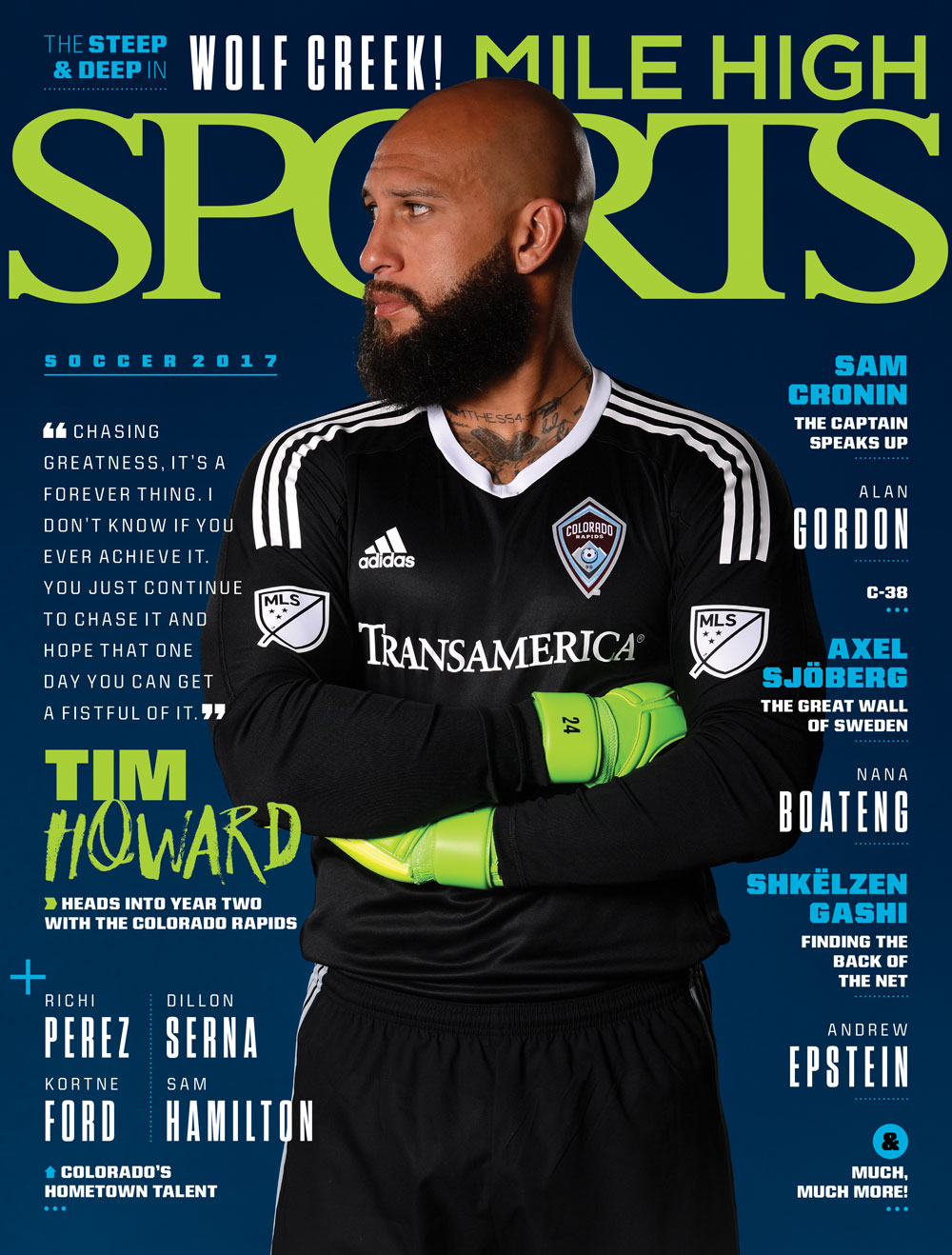 If we're talking about the global stage, it's quite possible that Tim Howard is one of the most internationally known individuals to ever appear on the cover of Mile High Sports. A 2014 interview with Howard (by Woody Paige) as a member of Everton, is still one of the most highly viewed pieces to ever run on milehighsports.com
Prior to the 2016 MLS season, there were rumblings that Howard could be coming to the Colorado Rapids. At the time, this notion was hard to believe, as Howard was easily the most notable soccer player America could offer. It was Howard, after all, that had just come off of an incredible performance in the 2014 FIFA World Cup. Whether you were a fan of soccer or not, Howard was a household name.
And even though Mile High Sports had been tipped off that Howard was likely on his way to join the 2016 Rapids, his arrival was too late to make the annual soccer issue (as such, head coach Pablo Mastroeni was the choice). On March 20, 2016 – about four weeks too late for press – the Rapids made it official, announcing that Howard would be joining the club. His first press conference was held on June 28, and by season's end, Howard led the Rapids all the way to the MLS Semifinals. On the surface, it seems like waiting until the 2017 season to put Howard on the cover was a headscratcher…then again, there's always a reason.
Enjoying our trip down memory lane with Mile High Sports Magazine? For over 17 years, Mile High Sports has been the local, independent voice covering everything from the Preps to the Pros in Denver and across Colorado. One way you can help us continue our coverage is to click here to subscribe to Mile High Sports Magazine. Whether for yourself, your business, or friends and family, we appreciate the support. THANK YOU!