This Wide Wide Sports-less World is something else, eh? It only took about one week of sans-sports-living to realize just exactly how much we watch, consume, enjoy, discuss…need sports.
It's been rough.
If there's been a silver lining (outside of Tiger King), it's that plenty of sports outlets have become very creative in their efforts to deliver us sports. One of my favorite ways of doing this has been the repurposing of "retro" content – classic games, moments, performances.
And there's no reason Mile High Sports can't get in on the fun. In an attempt to take a trip down memory lane, we're proudly presenting "The Cover Story" – the tale of Mile High Sports Magazine as told through each and every cover.
Now, we're going to shake things up and present them in a somewhat random order, but at the end, we'll give you, the reader, a chance to vote for your favorites. So, for the next several weeks, while we're all cooped up inside, check in in often at milehighsports.com and check out our Cover Story.
We'll post every cover and perhaps some behind-the-scenes tales behind a few.
Click here for the entire series.
Enjoy.
Issue: December 2002, Johnnie Reece, Kiki Vandeweghe and Chauncey Billups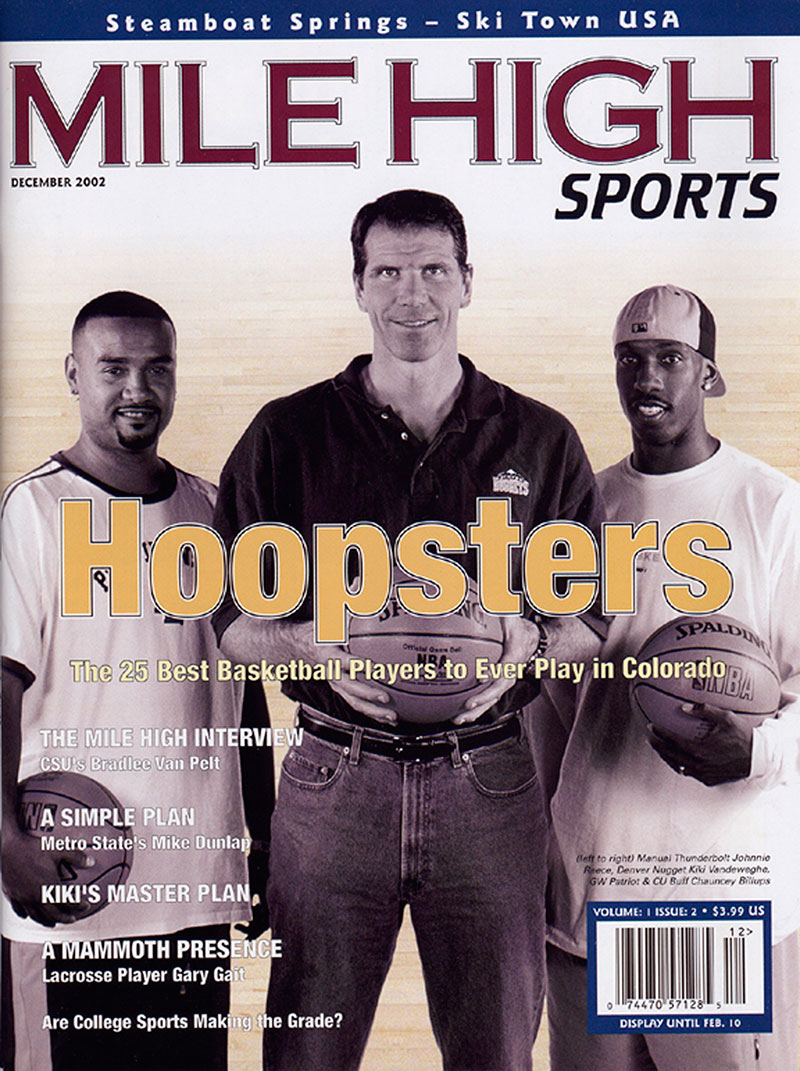 Before the arrival of Carmelo Anthony, the Nuggets were bad – like 17 wins bad. So, what's a magazine to do for its basketball cover?
Nuggets starting point guard Junior Harrington? Um, no thanks. Head coach – nice guy and possessing a small, very small, cult following at best – Jeff Bzdelik? Hmm. Not that either. Former first-rounder Nikoloz Tskitishvili? No, no, 1,000-times no.
How about a list? Colorado's best basketball players. Yes, that's it. Anyone who likes hoops can get into that. Plus, it allowed for some notable names on the cover. Our list was to include preps, college player and Nuggets. As such, we featured (then) Nuggets GM Kiki Vandeweghe, who was a scoring machine during his NBA days; Chauncey Billups, who literally checked every box at every level of hoops in Colorado; and Johnnie Reece, a perennial All-Stater who guided the Manual Thunderbolts to three-out-of-four state championships from '88 to '91.
The cover was actually taken in the summer heading into the 2002-03 season (Billups would be heading to Detroit that fall, where he would eventually become an NBA Finals MVP), and it was taken at Pepsi Center. It was also the first-ever "custom" cover – a hallmark concept of the publication from that point forward – as the magazine's first-ever cover was an action shot. This shot of Reece, Vandeweghe and Billups was also a learning experience –most notably here, always have a wardrobe plan for the subjects being photographed (you'll notice the sepia treatment to the photo, a result of many color clashes within the original photo).
---
Issue: September 2015, The Broncos O-Line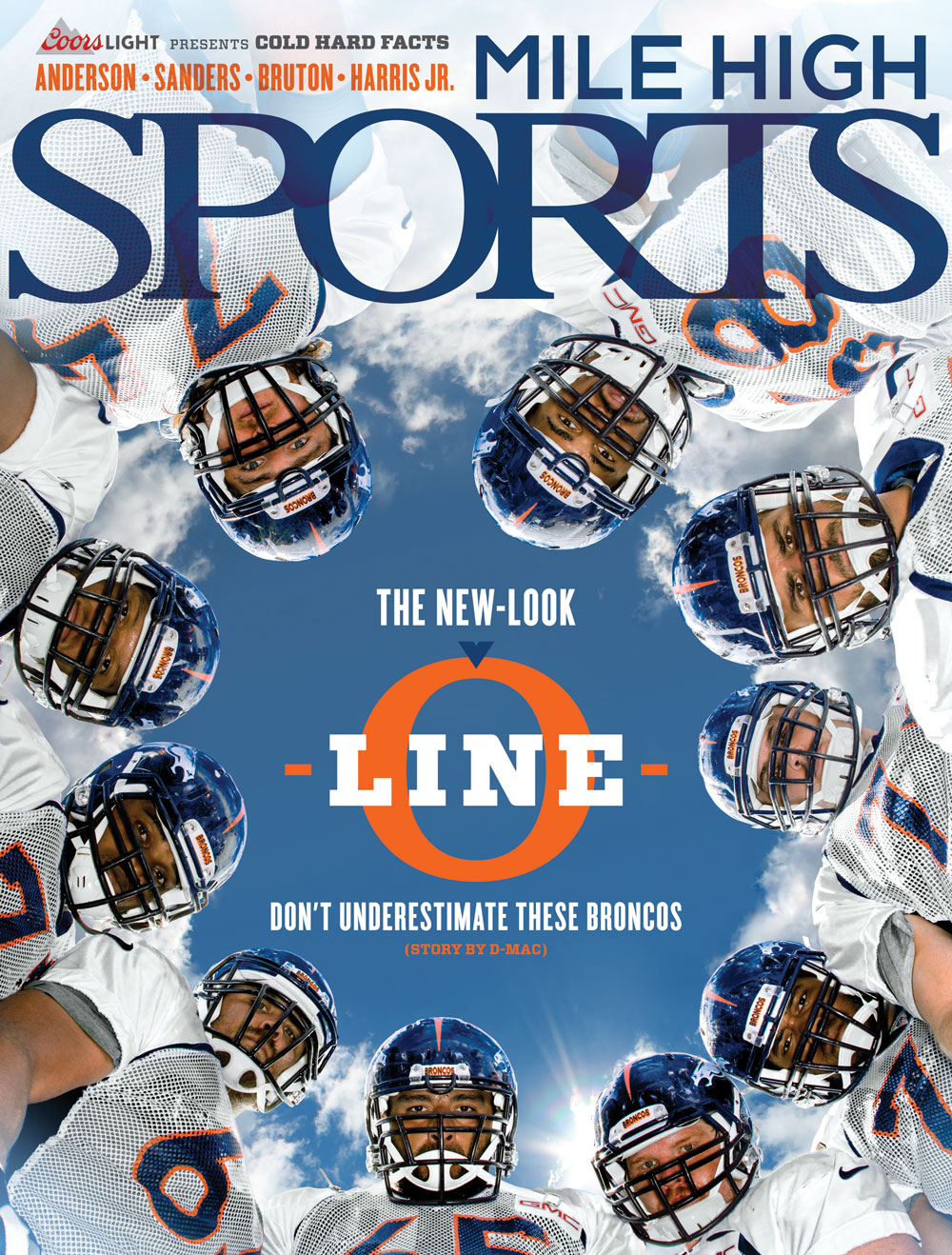 Visually, this one is as good as it gets. And it was earned, too.
Ever herded cats? Elephants? Well, think of this cover a little like that – almost a cross between the two. Think 10 gigantic, sweaty, grouchy, somewhat confused NFL offensive linemen all being asked to do something they're not used to doing – right after a gruelingly hot morning at training camp. The plan was simple (in theory). We'd ask Louis Vasquez, a great guy and the known leader of the Broncos offensive line, to pass the word along to his fellow linemen that we needed them for the cover of Mile High Sports Magazine. At least Vasquez could look them in the eye and didn't give up the 100 or so pounds any of us might. Vasquez did just that, but do you suppose all other nine linemen remembered the plan, which basically consisted of meeting over by the radio tents as soon as practice was over? Not a chance.
Randy Parietti had a brilliant plan for the visual. We'd position the camera as if we were in a huddle, looking up at the entire Broncos offensive line. He set this up during practice and was ready to roll as soon as Gary Kubiak signaled the session was over. But when practice adjourned, linemen scattered everywhere. To say that they were "excited" about shooting for us would probably be an overstatement. But, with the help of Vasquez and Broncos PR, we slowly but surely gathered all 10 of them.
When they arrived, they were instructed to stand over the camera, which pointed directly at the sky and mounted on a piece of wood that sat on the grass. There was a chord that ran from the camera to Parietti's computer, so he could see what was being captured.
In a game, getting an offensive line unit to move in perfect harmony is a regular ocurrance. But in this setting, getting them to position themselves in a perfect circle around a camera on the ground proved to be a bit more challenging. And it's not like Parietti could "physically" move them, either.
"Uh, you, No. 74, move a little to your left and behind a little lower. No. 65, you're angled a bit to the right, can you twist to the left?" he'd request from his monitor, which was about eight feet away.
As these behemoth men tried to make minuscule adjustments, the day got hotter and they became sweatier. Once in the circle, the whole process couldn't have taken seven minutes, but to them, understandably, it probably felt like hours. It wasn't long before the line sounded like the back of a station wagon full of kids on a summer road trip: "How long until we get there?"
And finally, much to the relief of all 10 guys, we got what we needed. The final image may or may not be the melding of two or three photos from the set, a head here, a shoulder pad there, but you'd have to have one very keen eye to even notice. This one was stressful, and it required the patience and cooperation of approximately 3,000 pounds worth of Denver Broncos, but many times, the ones that require the most effort turn out to be the best. And this one certainly did.
Furthermore, the line was the story throughout much of that season. By the time the Broncos reached the Super Bowl, that line was a respectable unit, largely responsible for Denver's third Lombardi Trophy. Interestingly enough, there was one key member of the line not included in the cover photo – starting guard Evan Mathis, who inked a one-year, $2.5 million deal with the Broncos on Aug. 25, just a few days after the photo was taken. Once the issue came out, Mathis commented on his omission. Inside the next issue, we joked that "if the Broncos win the Super Bowl, we'll put Mathis on his very own cover."
Well, the Broncos did in fact win the Super Bowl. However, Mathis' contract with the Broncos was up and he departed to play for the Cardinals not long after the Super Bowl. He never inquired about that cover shot, but, if he ever does, we might have to pay up.
---
Issue: May 2018, Charlie Blackmon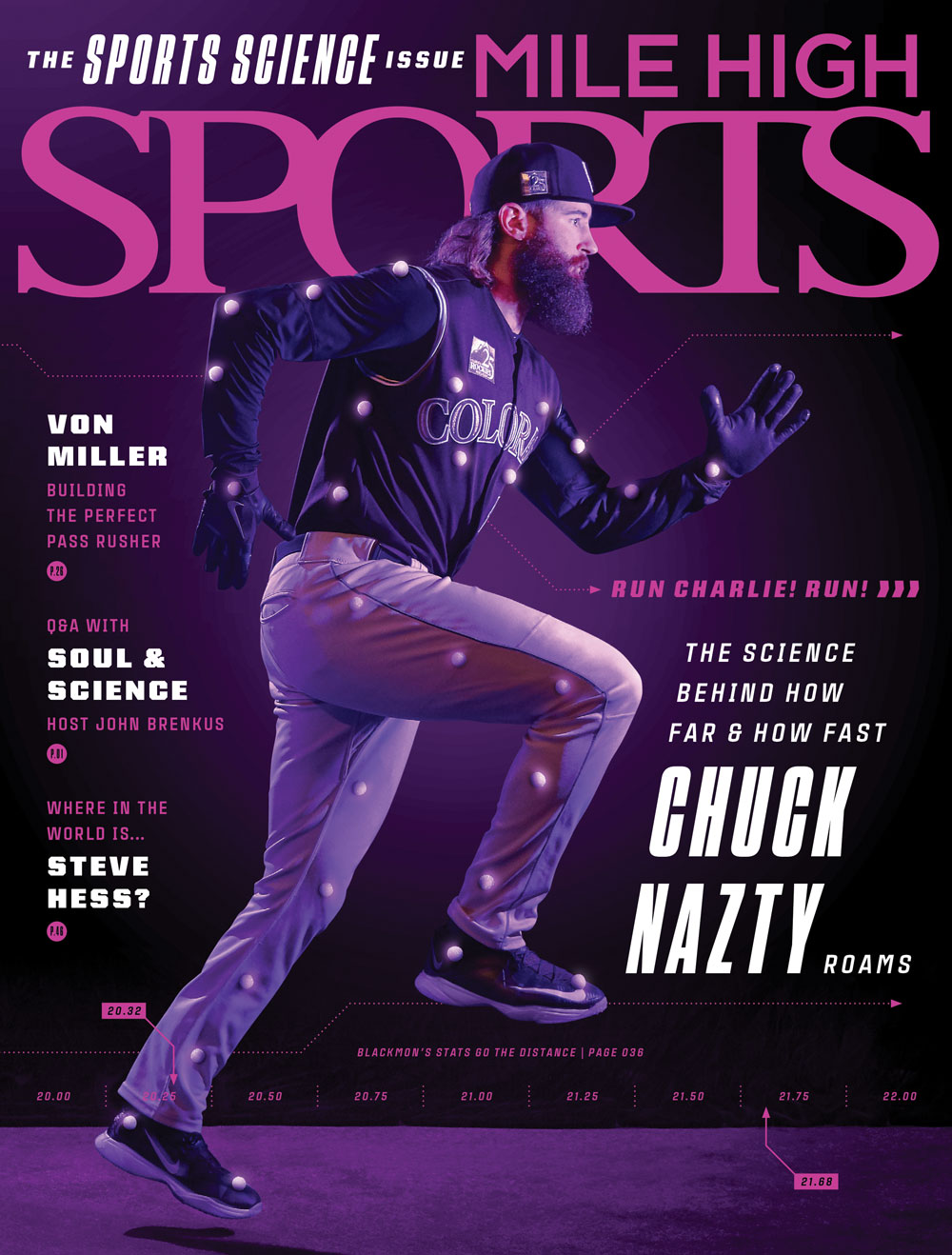 The Sports Science issue was one that was born of all the best intentions. Like so many shows we've all seen on TV, the staff at Mile High Sports will bring the physical, electrical, technical building blocks that ultimately make up sport. Better yet, we'd do it featuring local athletes and experts. Best yet, what sponsor wouldn't want to get behind this concept? The ideas and dollars they could generate were literally endless. Great idea. Ready… set… go!
Problem: We're not scientists.
Okay, maybe that was a "hurdle" rather than a problem. We are story tellers, so what we really needed to do was to dumb down what real scientists (see trainers, doctors, therapists, chemists and inventors) were telling us. So, that was the plan. Ready… set… go!
We did that, but the concept was – in many instances – somehow lost in translation. As editor, I think the "sports science" idea was great, we just didn't execute it very well.
But we did deliver on the first-ever Sports Science cover.
"How do they make those sports video games so lifelike?" we posed during a brainstorming session.
A quick perusal around the internet gave us the answer, or at least how to visualize the answer. Companies like EA SPORTS would fasten all these little electronic nodules to a real life athlete, ask the athlete to move around as they would in a game, and then record the data. Press a few buttons, write some code, and all of a sudden, the new version of Madden or NBA2K was selling like hotcakes.
Because the issue came out during baseball season, we thought Charlie Blackmon would be a great candidate to illustrate this. But when we took the actual photo, Chuck Nazty wasn't covered in these glowing sensors like it appears on the cover. No, we might have had one or two – that's it. We didn't want to waste his time, and all art director Nick Heckman needed as a "sample." As such, we asked Blackmon to do a series of movements with just a couple of Styrofoam balls fastened to him by a little double-sided, gummy tape circle. From there, Heckman replicated the look of the ball and placed them all over Blackmon in post-production, creating an incredibly memorable cover that nailed the essence of the issue.
And – boom! – science.
You can help Mile High Sports:
Enjoying our trip down memory lane with Mile High Sports Magazine? For over 17 years, Mile High Sports has been the local, independent voice covering everything from the Preps to the Pros in Denver and across Colorado. One way you can help us continue our coverage is to click here to subscribe to Mile High Sports Magazine. Whether for yourself, your business, or friends and family, we appreciate the support. THANK YOU!