This Wide Wide Sports-less World is something else, eh? It only took about one week of sans-sports-living to realize just exactly how much we watch, consume, enjoy, discuss…need sports.
It's been rough.
If there's been a silver lining (outside of Tiger King), it's that plenty of sports outlets have become very creative in their efforts to deliver us sports. One of my favorite ways of doing this has been the repurposing of "retro" content – classic games, moments, performances.
And there's no reason Mile High Sports can't get in on the fun. In an attempt to take a trip down memory lane, we're proudly presenting "The Cover Story" – the tale of Mile High Sports Magazine as told through each and every cover.
Now, we're going to shake things up and present them in a somewhat random order, but at the end, we'll give you, the reader, a chance to vote for your favorites. So, for the next several weeks, while we're all cooped up inside, check in in often at milehighsports.com and check out our Cover Story.
We'll post every cover and perhaps some behind-the-scenes tales behind a few.
Click here for the entire series.
Enjoy.
Issue: December 2005, Renee Herlocker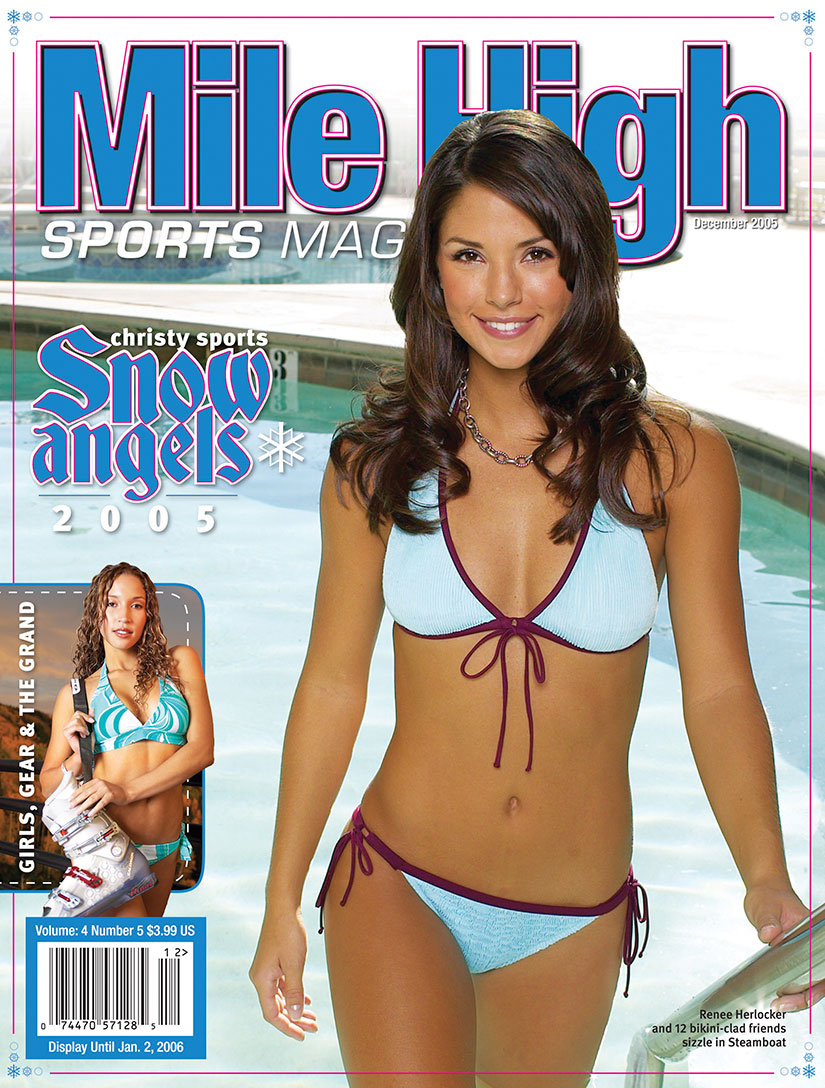 Okay, okay. We've heard your requests – many of them. Since we're doing a series on the history of Mile High Sports covers, plenty of you have already inquired about our famous – since discontinued – Snow Angels covers. As has been said many times, the staff at MHS would work tirelessly on great sports content for 11 months a year, and once a year feature your favorite local lovelies, and that's all anyone could talk about. Truly, "Snow Angels" took on a life and an identity of its own.
So, here you go. Since this is a series, note that there are 13 of them all together. Consider this the first, with 12 more to go. And no, we can't post them every day.
This particular cover has been selected first, though, because it's probably the issue we discovered we were truly onto something. It was put together entirely on location in Steamboat Springs over the course of a week, and it featured women from the Broncos Cheerleaders, the Denver Nuggets Dancers and the promo team from Miller Lite. And having already produced two of them, this one seemed to also attract sponsors – lots and lots of sponsors. Editor Doug Ottewill once said in an interview about the Snow Angels issue that "sex still sells." And while it might not have been the most eloquent or politically correct thing he ever said, he wasn't wrong – that sentiment certainly held true for most of the years of the Snow Angels issue. Putting this issue together seemingly opened the floodgates to advertising dollars that MHS hadn't seen before.
In 2005, Renee Herlocker was arguably one of the most recognizable women in Denver. She was a Denver Broncos Cheerleader who had already appeared in a few issues of the magazine and plenty of other publications, including Maxim; she later went on to be named Spike TVs "Ultimate Spike Girl", graced the cover of Denver's 5280 Magazine and had a cameo in Iron Man2. Needless to say, she was an excellent choice for our third-ever Snow Angels cover. What we always wondered, however, is why she ever spoke to us (much less worked for MHS) after this particular photo. During the week of shooting, Herlocker became very sick, and as luck would (or wouldn't) have it, she was scheduled to shoot on one of final days in Steamboat. So, instead of making alternative plans, we simply proceeded, torturing the poor girl by making her stand in a chilly indoor/outdoor pool at the Steamboat Grande (with a fever, probably), wearing a swimsuit and holding various props (including skis, which didn't make the final cut). Turns out, she was a great sport and remains a friend of MHS to this day. She's now happily married, living in California and chasing around two adorable children.
---
Issue: July 2014, DeMarcus Ware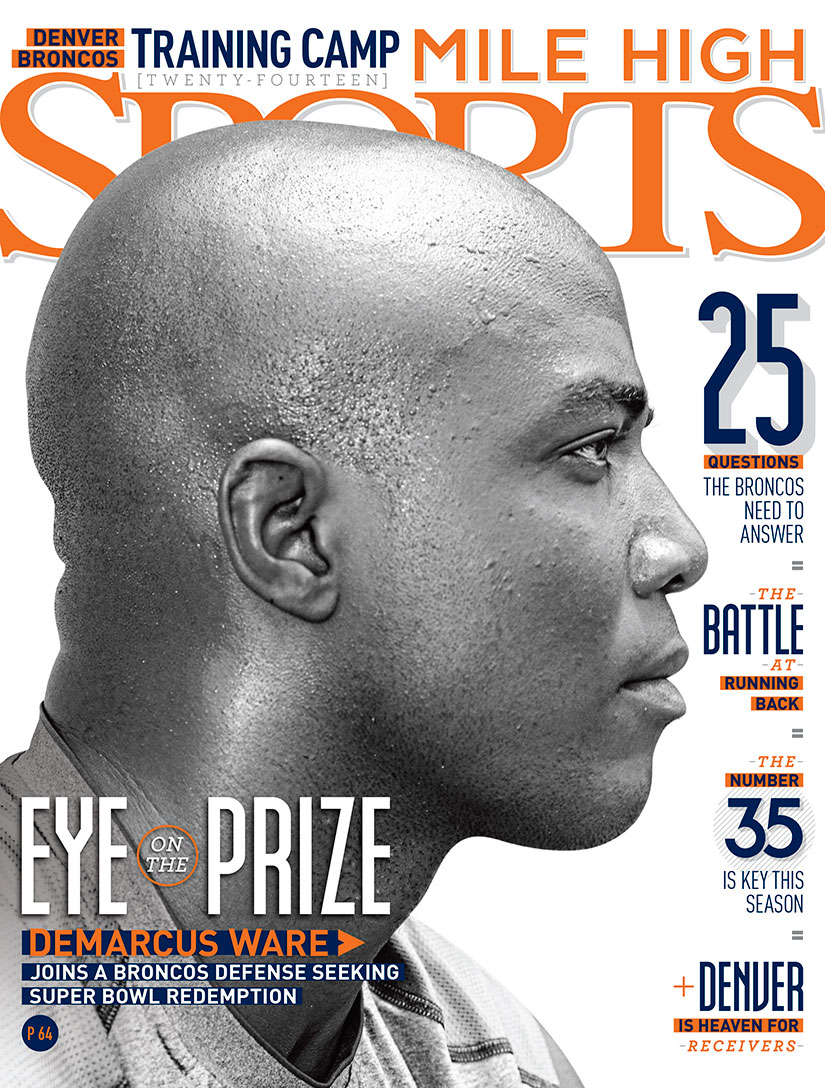 Arguably one of our more iconic cover images, the July 2014 edition featured one of the most highly anticipated Broncos free agents ever – DeMarcus Ware. The perennial Pro Bowler who'd spent his career in Dallas up to that point came to Denver, joining forces with an already formidable defense and the great Peyton Manning, in search of a Super Bowl ring. Ware would have to wait until the 2015 season to realize that "prize", but he did, in fact, play a major role in Denver's third Lombardi Trophy. What's most interesting about this cover, however, is that it was completely candid. In other words, Ware, who still dripped with training camp sweat, did not know he would be on the cover, much less that he was posing for it. And that's the brilliance of photographer Jathan Campbell, who snapped this photo of Ware during an interview with MHS writer Vanessa Hughes. Most of Mile High Sports Magazine's covers are extremely deliberate – planned lighting, styling and posing – but this one came together 100 percent organically, perhaps even accidentally. In this case, the process didn't matter, as Campbell snapped the shutter on a cover that received a great deal of praise.
---
Issue: April 2019, Nolan Arenado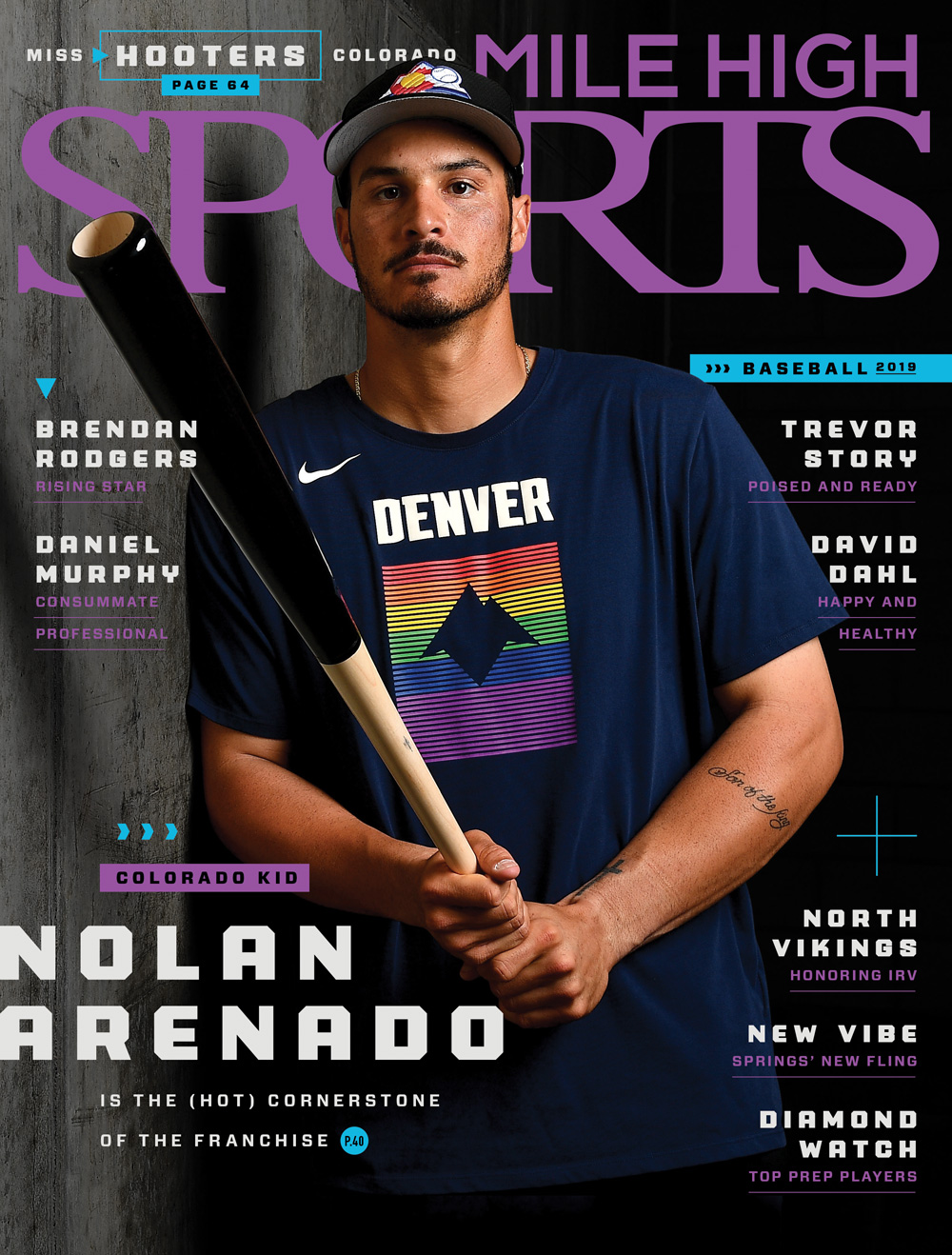 In less than a calendar year, this cover might have become our most ironic to date. After inking an eight-year, $260 million contract extension with the Rockies (and donning a retro "Denver" t-shirt for our cover photo), Nolan Arenado was the only choice for the 2019 baseball edition. At the time, anyone who was a fan of the Rockies was ecstatic. And why wouldn't they be? A team that historically shied away from major monetary commitments had just dumped a boatload of cash in Arenado's account, ensuring that the greatest third baseman to ever play would be a Rockie for the foreseeable future. Just 12 months later, on the forefront of a season without a start date, Arenado has become the subject of wildly controversial trade rumors. Here's hoping things between No. 28 and Rockies GM Jeff Bridich ultimately work out, and that this isn't the last time that Arenado appears on the cover of Mile High Sports.
Enjoying our trip down memory lane with Mile High Sports Magazine? For over 17 years, Mile High Sports has been the local, independent voice covering everything from the Preps to the Pros in Denver and across Colorado. One way you can help us continue our coverage is to click here to subscribe to Mile High Sports Magazine. Whether for yourself, your business, or friends and family, we appreciate the support. THANK YOU!