This Wide Wide Sports-less World is something else, eh? It only took about one week of sans-sports-living to realize just exactly how much we watch, consume, enjoy, discuss…need sports.
It's been rough.
If there's been a silver lining (outside of Tiger King), it's that plenty of sports outlets have become very creative in their efforts to deliver us sports. One of my favorite ways of doing this has been the repurposing of "retro" content – classic games, moments, performances.
And there's no reason Mile High Sports can't get in on the fun. In an attempt to take a trip down memory lane, we're proudly presenting "The Cover Story" – the tale of Mile High Sports Magazine as told through each and every cover.
Now, we're going to shake things up and present them in a somewhat random order, but at the end, we'll give you, the reader, a chance to vote for your favorites. So, for the next several weeks, while we're all cooped up inside, check in in often at milehighsports.com and check out our Cover Story.
We'll post every cover and perhaps some behind-the-scenes tales behind a few.
Click here for the entire series.
Enjoy.
Issue: August 2002, Shannon Sharpe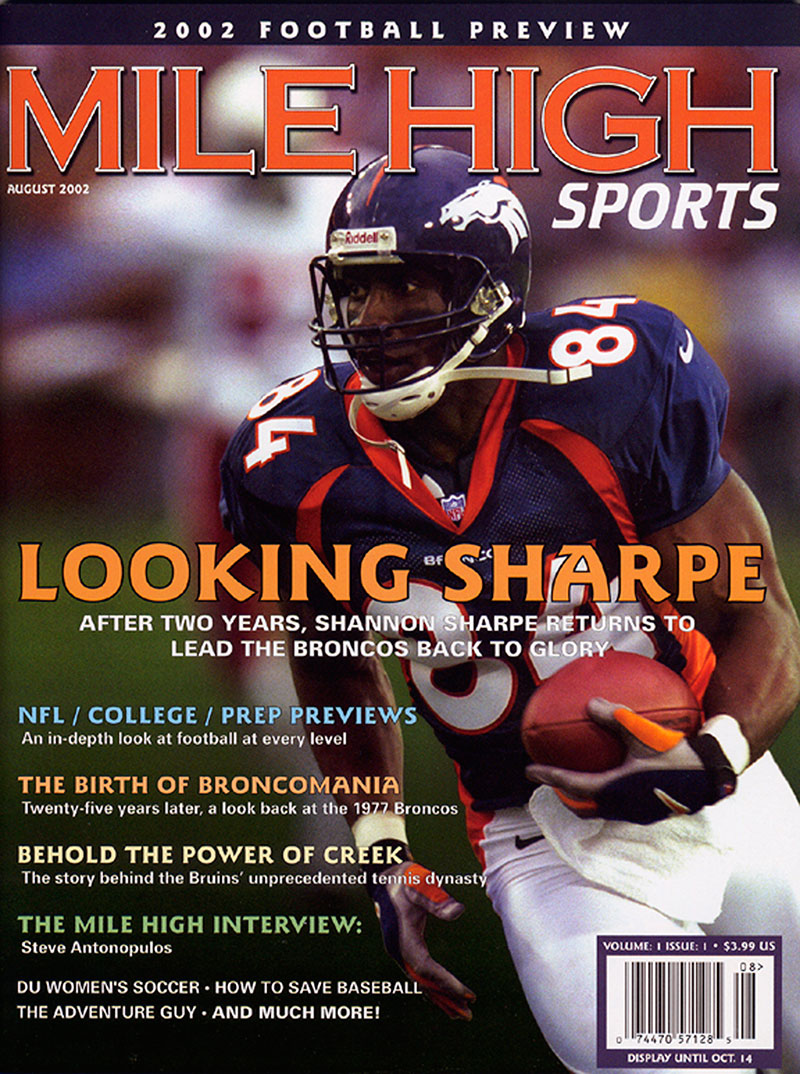 Why not kick off this Cover Story with the cover that actually kicked things off? Way back in August of 2002, it was Broncos tight end Shannon Sharpe who graced the first-ever issue of Mile High Sports Magazine, a creation that absolutely nobody knew about until it rolled off the presses for the first time. And why not Shannon Sharpe? If you read the cover copy, it was 2002 when Sharpe returned to the Broncos after a stint with the Baltimore Ravens. Ironically, there wasn't a major feature specifically devoted to Sharpe; he just happened to be the biggest name, biggest story and best photo (which we used to obtain from renowned photographer Rich Clarkson).
Other notables in that first issue? Well, Steve "Greek" Antonopulos became the first-ever "Mile High Interview" – perhaps the fact that the editor's mother went to the same high school in tiny Hugo, Colo. with "Greek" helped with access. We also had a story on the Cherry Creek High School tennis program and were surprised to see some of the quotes obtained by writer Jon Yunt appear in a similar story in the newspaper – lesson No. 1 in "exclusivity."
---
Issue: March 2009, Pablo Mastroeni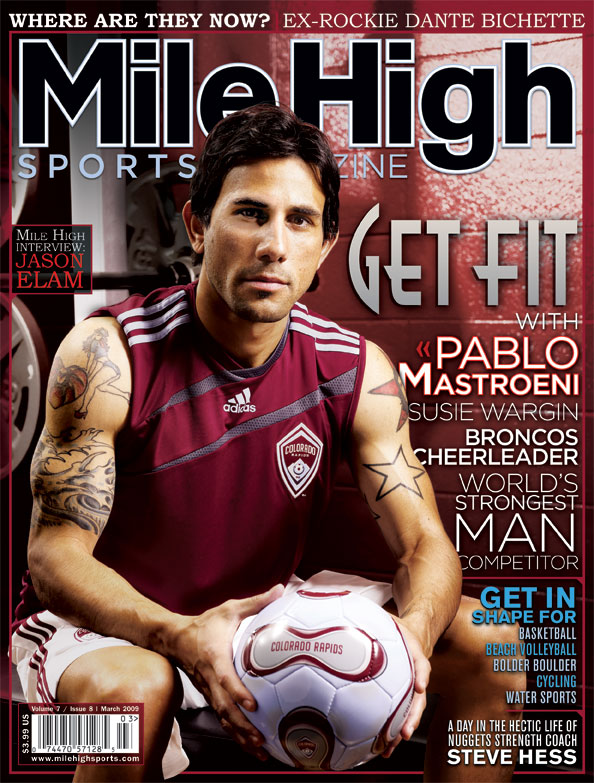 In 2008, the editorial staff at Mile High Sports began producing a "fitness" issue in March. The concept was fairly well received so March 2009 was dedicated to fitness as well. Few athletes are more fit than a soccer player, so photographing Rapids star (a player at the time) Pablo Mastroeni felt like a great idea. Over the years, Mastroeni was featured many times and became an MHS favorite – and that might have been because of a hilarious story he told us during this, his first, covershoot. As we assured him that we wanted the photo to be "tough" and "strong" and "intense", he shrugged and promised us that nothing could be worse than his "worst" photo. Mastroeni went on to describe a photo of him that appeared in New York Times Magazine as a part of a fashion-driven feature on the US Men's National Team called "The Boys of Soccer." While his own description was belly-laugh good, nothing beats sctually seeing the image he was referring to. In the end, he was right – we couldn't have possibly come up with anything worse.
---
Issue: January 2018, Martin Truex Jr.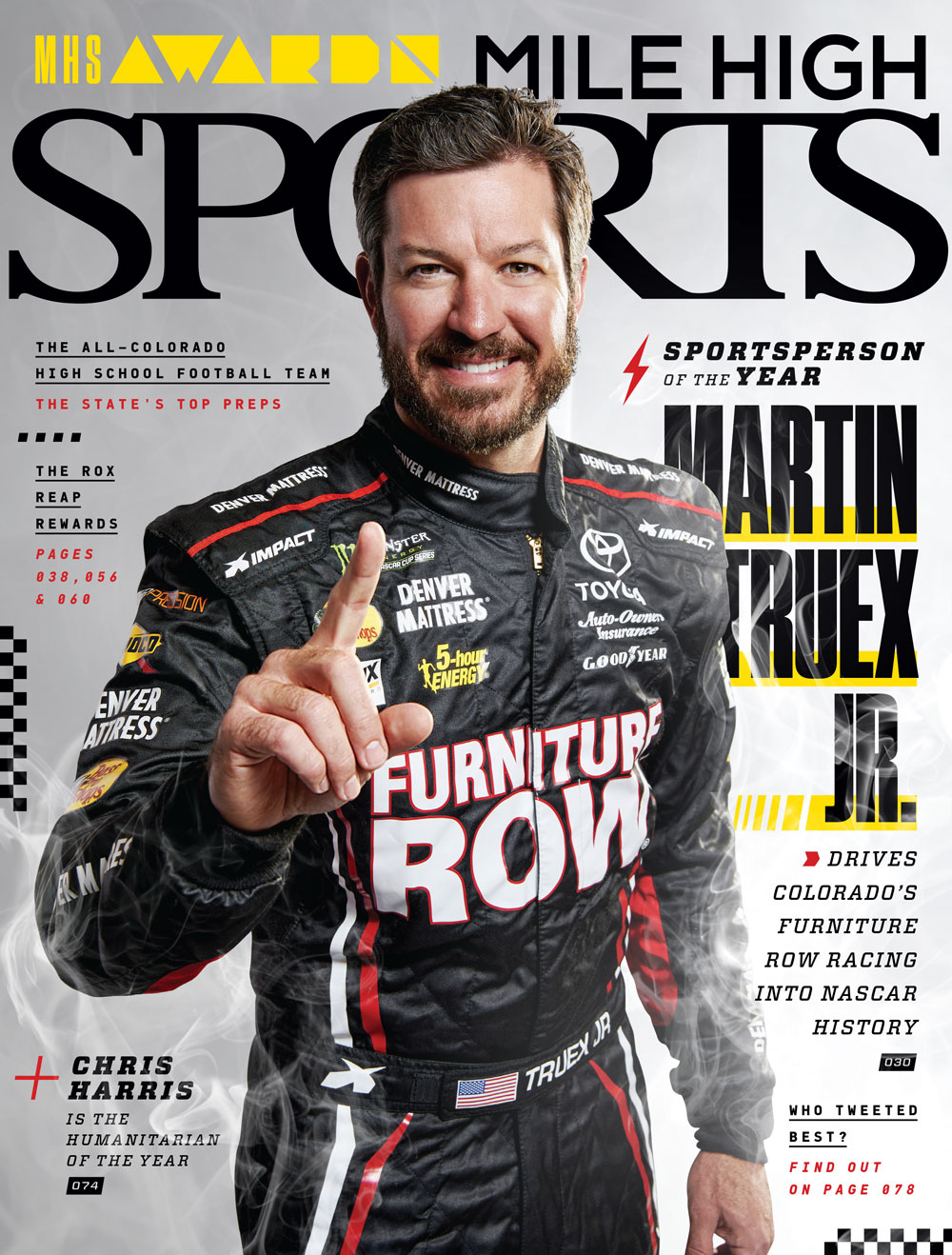 My, oh my, how quickly things change. One night we've got sports, the next coronavirus has essentially "cancelled" them all together. Today, we're pretty familiar with this concept, but perhaps no MHS cover illustrated this better than our 2018 Sportsperson of the Year issue featuring Martin Truex Jr. of Furniture Row Racing. In 2017, Truex Jr won the whole shebang, and accomplishment impressive in and of itself. But for us, the fact that he'd done this driving for a Colorado-based team was enough to earn him honors as our Sportsperson of the Year.  That was in January. By September of the same year, following another fairly successful campaign on the track, there was no such thing as Furniture Row Racing, as the team packed up and folded tent. Truex Jr. went on to Joe Gibbs Racing to begin the 2019 season and Colorado was left without a NASCAR team.
Maybe the funniest thing about this particular shoot was the event that surrounded it. What was supposed to be an exclusive "media only" event held at the showroom of Furniture Row to cover and celebrate the achievements of Truex Jr. and the racing team somehow turned into a very public affair. Uninvited and unexpected fans began gathering outside the showroom in hopes of a glimpse of – or even an autograph from – Truex Jr. How did it happen? Let's just say that an "unnamed" Mile High Sports motorsports radio host may or may not have missed the "media only" memo and blasted the team's event out on Facebook. Truex Jr. rolled with the punches and exchanged pleasantries with his admirers, but the event organizers were less than pleased.
Enjoying our trip down memory lane with Mile High Sports Magazine? For over 17 years, Mile High Sports has been the local, independent voice covering everything from the Preps to the Pros in Denver and across Colorado. One way you can help us continue our coverage is to click here to subscribe to Mile High Sports Magazine. Whether for yourself, your business, or friends and family, we appreciate the support. THANK YOU!