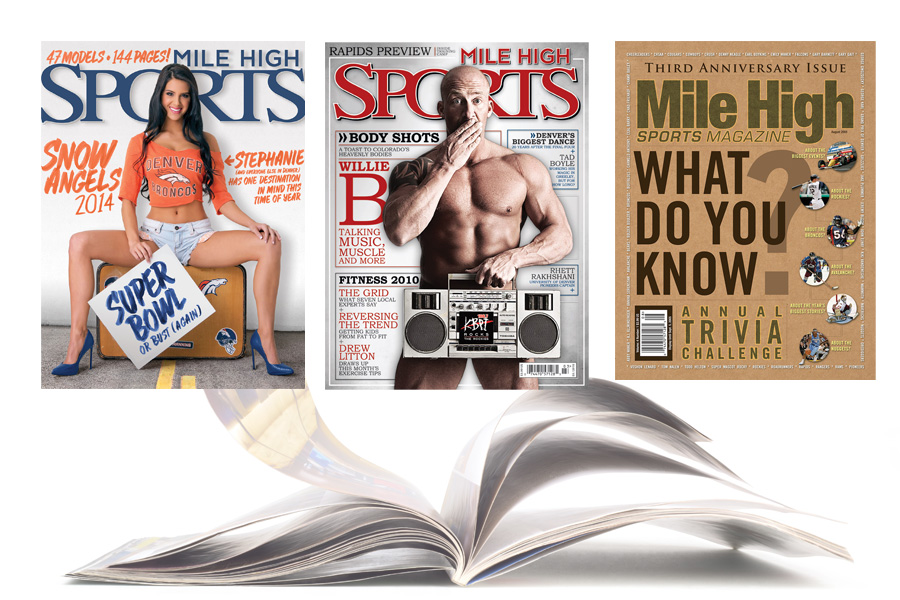 This Wide Wide Sports-less World is something else, eh? It only took about one week of sans-sports-living to realize just exactly how much we watch, consume, enjoy, discuss…need sports.
It's been rough.
If there's been a silver lining (outside of Tiger King), it's that plenty of sports outlets have become very creative in their efforts to deliver us sports. One of my favorite ways of doing this has been the repurposing of "retro" content – classic games, moments, performances.
And there's no reason Mile High Sports can't get in on the fun. In an attempt to take a trip down memory lane, we're proudly presenting "The Cover Story" – the tale of Mile High Sports Magazine as told through each and every cover.
Now, we're going to shake things up and present them in a somewhat random order, but at the end, we'll give you, the reader, a chance to vote for your favorites. So, for the next several weeks, while we're all cooped up inside, check in in often at milehighsports.com and check out our Cover Story.
We'll post every cover and perhaps some behind-the-scenes tales behind a few.
Click here for the entire series.
Enjoy.
Issue: December 2014, Stephanie Smeltz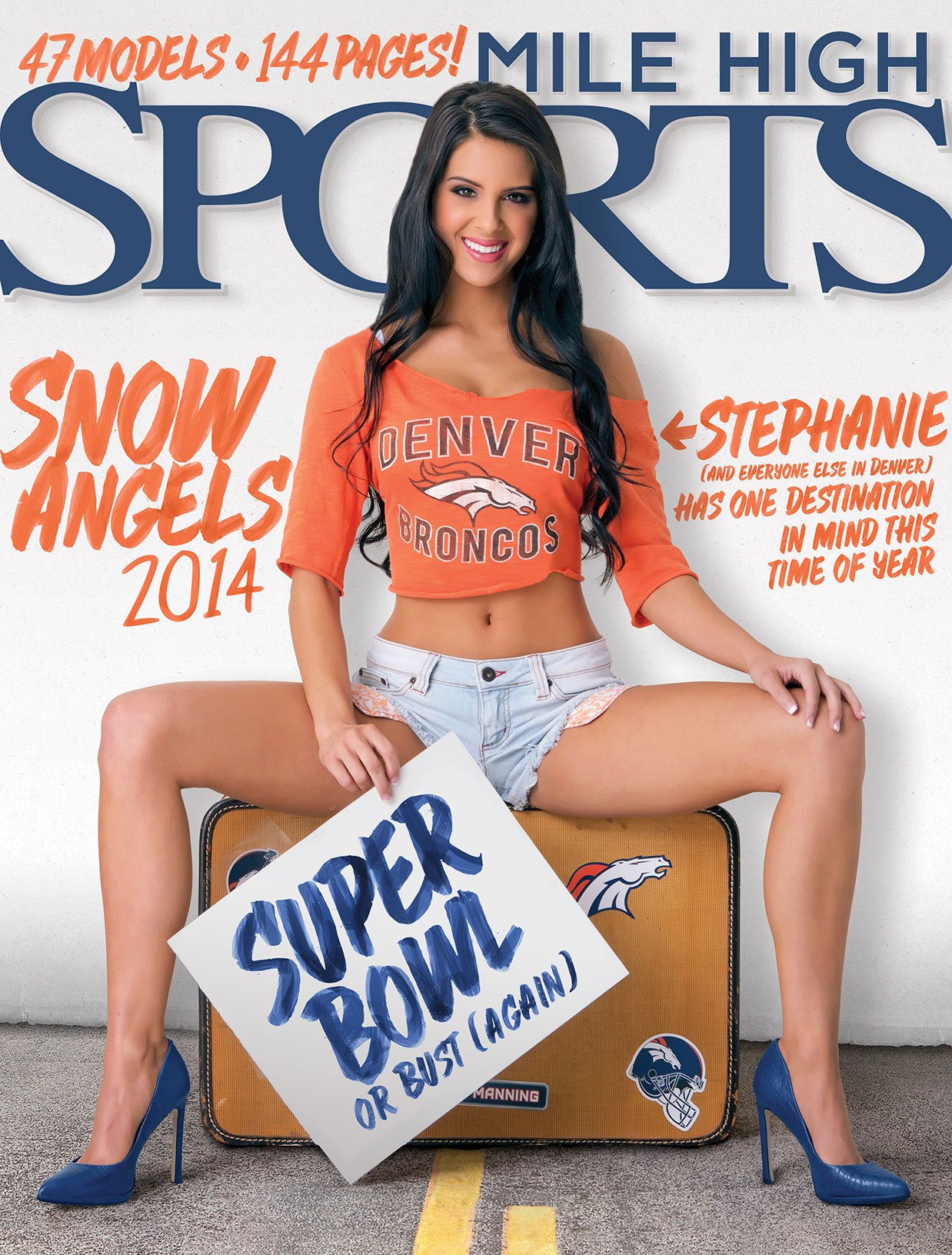 No, it's not that we're posting another Snow Angels cover simply to appease all of you asking. Seeing just one, you've said, isn't enough. Patience, people, patience. But here you go anyway.
This particular one (making it the second one featured out of 13 total) is more about the who – and why we'd feature herduring this particular week.
Meet the lovely Stephanie Smeltz (just in case you're not one of the 56,100 people already following her on Instagram). Stephanie appeared inside the Snow Angels issue several times, but in 2014 she went ahead and won our annual covergirl contest. You the people voted, and – bam! – Stephanie appeared on the cover, no doubt an excellent choice.
But why Stephanie today? Well, that's simple. Stephanie's path to Snow Angel stardom began at Hooters, one of the longtime sponsors of the issue. In fact, there were multiple Hooters girls that appeared in Mile High Sports' Snow Angels edition that went on to do more notable things (take UFC champion Michelle Waterson, or Brittney Schreiner who appeared on the Bachelor, as examples). In the same year that Stephanie found her way to the cover of Mile High Sports – posing with an unsuccessful plea for the Broncos to get back to the Super Bowl following a crushing loss to the Seahawks the year prior – she was also crowned "Miss Hooters Colorado."
And that's where we come full circle. Despite the fact that Snow Angels went by the wayside following the 2015 edition, Hooters stuck with us. In fact, everyone's favorite orange-shorts-wearin', hot-wing-makin' girls are still featured in the magazine (and are still there for takeout orders, too), as the Colorado restaurants run the most current iteration of the "Miss Hooters Colorado Contest" through Mile High Sports Magazine and milehighsports.com. So, if you want to see who might become the next Stephanie Smeltz, click here and cast your vote.
---
Issue: March 2010, Willie B.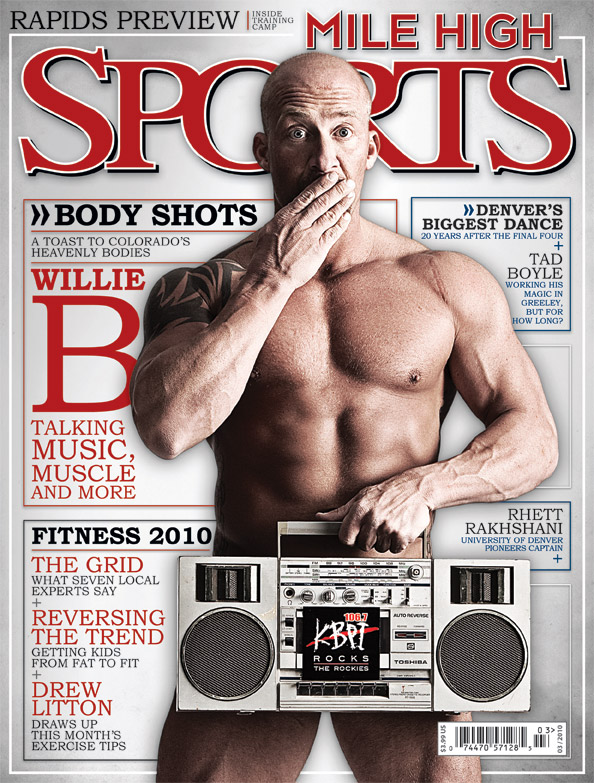 A picture says 1,000 words. And this one might say even more. So, I'll try to keep this brief (or is it briefs? Oh, wouldn't you like to know?) since this brilliant cover image of KBPI radio host Willie B. already says it all.
Over the years, Willie B. was a great friend to Mile High Sports. While most people remember him as a brash, funny morning show deejay who cued up the heavy metal played on KBPI, we'll always know him as a sports guy. Willie was big into auto racing and was even the host of "Pink's All Out", he was a fitness junkie, the in-game PA announcer for the Colorado Mammoth ("GET. IN. THE. BOX!") and often brought his Broncos takes into the morning show. In fact, Willie B., D-Mac (now with 104.3 The Fan) and Marc Stout (who's been covering the Rockies for AT&T Sportsnet) all had roles in a KBPI show called "The Locker Room" (Fun Fact: MHSM editor Doug Ottewill used to do the hourly sports updates – "Sports Shorts" – for that very show). So, when we were looking for someone who could talk sports and fitness for our annual fitness issue, Willie's name came up. But that was just the beginning.
We – nor he – wanted some boring, predictable cover. As such, the idea to have a lean and mean Willie pose naked (sort of) on the cover was born. Obviously, we weren't going to show anything we shouldn't, so the plan was to have a classic boom box covering what you might or might not imagine. And that was only step one of the controversy. Back at the office, there was an internal debate as to "how much thigh" should be shown. One camp believed that showing Willie's naked thigh was bordering on obscene. The other camp argued that without showing any thigh – essentially cutting the cover off at the bottom of the boom box – eliminated the "joke" if you will; in other words, if no thigh was shown, Willie might as well have been wearing jeans.
Well, you get the idea. And you can also see which camp prevailed. It's one of the more risqué covers in the history of the magazine, but also one of the best. For the record, behind the boom box, Willie was …
No. No. No, we're not going to tell you now.
---
Issue: August 2005, The Trivia Issue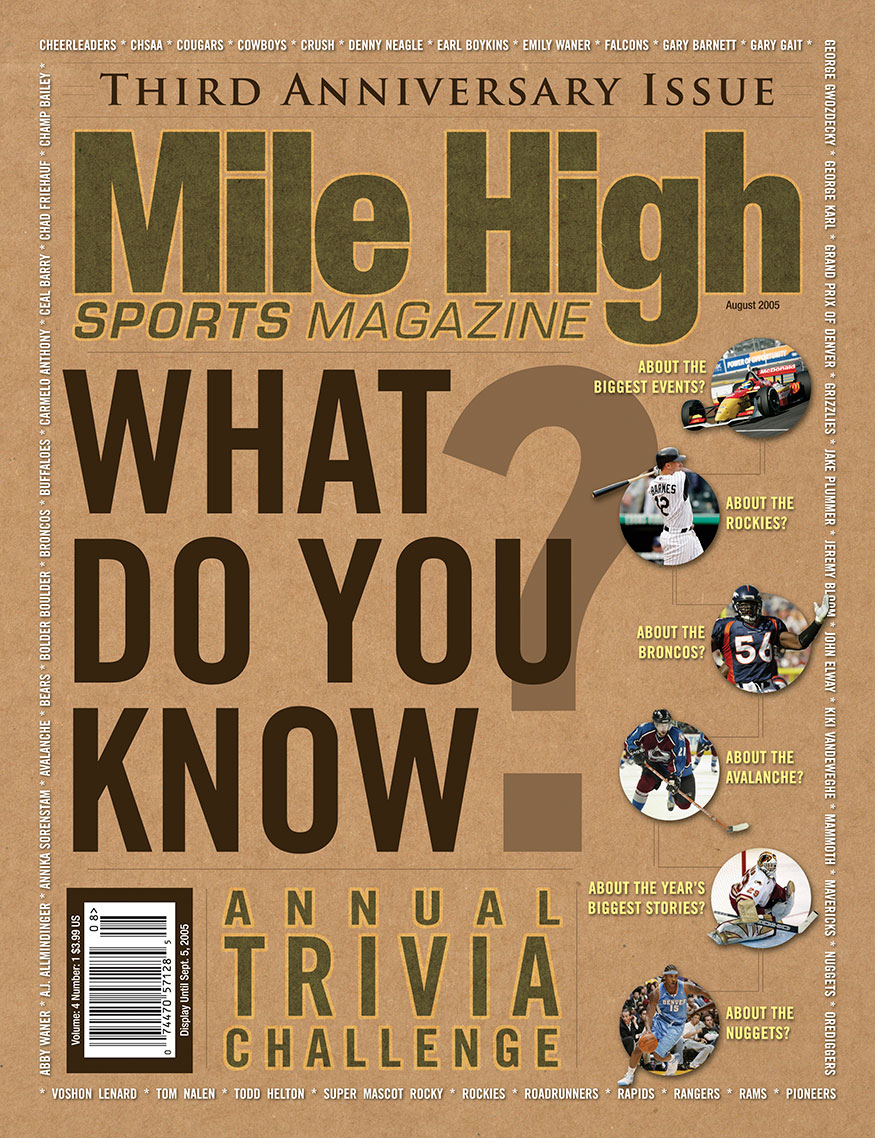 Here's a trivia question for you: Mile High Sports Magazine published a "trivia issue" from when to when?
Answer: 2005 to 2008.
Of the four "trivia" issues, this was the first. In concept, this was pretty clever. The staff at Mile High Sports would dream up a bunch of local sports trivia questions – some new, some old – and then publish them in the magazine (along with the answers stashed away somewhere). One year, we might have even turned it into an online contest (think "early internet" contest).
But after that fourth issue, we practically began to run out of trivia. Sure, we could ask the "current" and obscure – "How many rushing yards did Reuben Droughns compile in the 2004 season?" – but we started to run out of the classic stuff – "Which CU Buff was an Associate Justice of the Supreme Court of the United States?" (A: 1,240; Byron "Whizzer" White)
So, after a four-year run, we scrapped it.
This cover, which wasn't too shabby considering there was no true focal figure, has one major spelling error.
Trivia: Who was it?
Email [email protected] with your answer and win fabulous prizes.
You can help Mile High Sports:
Enjoying our trip down memory lane with Mile High Sports Magazine? For over 17 years, Mile High Sports has been the local, independent voice covering everything from the Preps to the Pros in Denver and across Colorado. One way you can help us continue our coverage is to click here to subscribe to Mile High Sports Magazine. Whether for yourself, your business, or friends and family, we appreciate the support. THANK YOU!