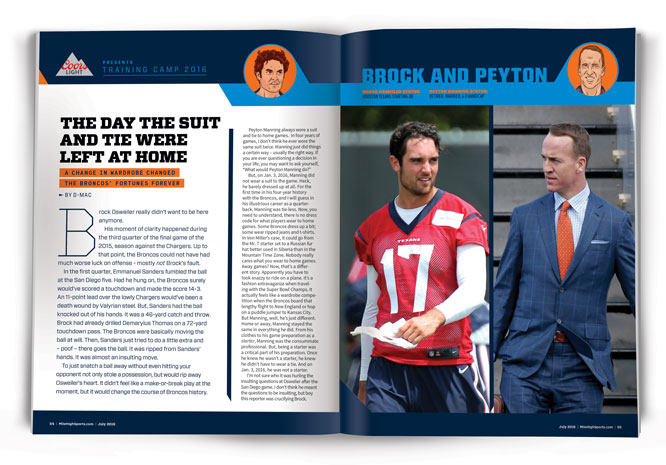 This story originally appeared in Mile High Sports Magazine. Click here to read the full digital issue.
Brock Osweiler really didn't want to be here anymore.
His moment of clarity happened during the third quarter of the final game of the 2015 season against the Chargers. Up to that point, things could have gone much worse for the Broncos offense – mostly not Brock's fault.
In the first quarter, Emmanuel Sanders fumbled the ball at the San Diego five. Had he hung on, the Broncos surely would've scored a touchdown and made the score 14-3. An 11-point lead over the lowly Chargers would've been a death wound by Valyrian steel. But, Sanders had the ball knocked out of his hands. It was a 46-yard catch and throw. Brock had already drilled Demaryius Thomas on a 72-yard touchdown pass. The Broncos were basically moving the ball at will. Then, Sanders just tried to do a little extra and – poof – there goes the ball. It was ripped from Sanders' hands. It was almost an insulting move.
To just snatch a ball away without even hitting your opponent, not only stole a possession, but would rip away Osweiler's heart. It didn't feel like a make-or-break play at the moment, but it would change the course of Broncos history.
***
Peyton Manning always wore a suit and tie to home games. In four years of games, I don't think he ever wore the same suit twice. Manning just did things a certain way – usually the right way. If you are ever questioning a decision in your life, you may want to ask yourself, "What would Peyton Manning do?"
But, on Jan. 3, 2016, Manning did not wear a suit to the game. Heck, he barely dressed up at all. For the first time in his four-year history with the Broncos, and I will guess in his illustrious career as a quarterback, Manning was tie-less. Now, you need to understand, there is no dress code for what players wear to home games. Some Broncos dress up a bit, some wear ripped jeans and t-shirts. In Von Miller's case, it could go from the Mr. T starter set to a Russian fur hat better used in Siberia than in the Mountain Time Zone. Nobody really cares what you wear to home games. Away games? Now, that's a different story. Apparently you have to look snazzy to ride on a plane. It's a fashion extravaganza when traveling with the Super Bowl Champs. It actually feels like a wardrobe competition when the Broncos board that lengthy flight to New England or hop on a puddle jumper to Kansas City. But Manning, well, he's just different. Home or away, Manning stayed the same in everything he did. From his clothes to his game preparation as a starter, Manning was the consummate professional. But, being a starter was a critical part of his preparation. Once he knew he wasn't a starter, he knew he didn't have to wear a tie. And on Jan. 3, 2016, he was not a starter.
I'm not sure who it was hurling the insulting questions at Osweiler after the San Diego game. I don't think he meant the questions to be insulting, but boy this reporter was crucifying Brock.
The Broncos had just defeated San Diego 27-20. In the game, the Broncos had turned the ball over a stunning five times (compared to just one for the Chargers). Most games in which a team is minus-four, the result would be a 30-point loss. The Broncos, however, escaped with a seven-point victory. The game was marked by the return of Peyton Manning, who was inserted into the lineup with 8 minutes to go in the third and the Broncos down by six. Brock Osweiler had led the Broncos to an overtime win in Cincinnati the previous week. He also led the Broncos to a come-from-behind, overtime win against the Patriots on Nov. 29. Never mind the fact that Brock was the starting QB in a close win over Chicago and he was the starter when the Broncos easily beat the Chargers in San Diego on Dec. 6, 17-3.
Granted there were a couple of clunkers. The horrible showing at home against the Raiders won't soon be forgotten, as the Broncos lost 15-12 despite the Raiders only putting up 126 total yards. In Pittsburgh the following week, the Broncos were dominating in the first half, leading 27-13, only to be shut out in the second half and lose 34-27. In both losses, Brock had thrown for 300 yards with three touchdowns and only one interception.
So, to think anything was all Brock's fault was ridiculous. To think that Brock couldn't lead a comeback was also ridiculous. He had done so multiple times against much better teams than the Chargers. Of the five turnovers in that final San Diego game, one was the fumble by Sanders, the second was an interception that literally bounced right off Jordan Norwood's hands, Brock then held onto the ball a bit too long, got blasted, and coughed up the ball (but it wasn't like he was getting great blocking on the left edge), there was a tipped ball at the line that also got picked, and finally, with the Broncos leading 7-6 at the start of the second half, C.J. Anderson gave up the cookies deep in Broncos territory. The sequence of events was unbelievable! Phillip Rivers threw a touchdown pass to Antonio Gates and the Chargers led 13-7.
Then, the moment happened.
With 8:18 remaining in the third quarter, Peyton Manning returned.
I think the reporter who was blasting Brock usually dealt with weighty issues surrounding politics or car fires. He lit into Brock, questioning Osweiler's manhood not once but twice. He suggested that Brock should be happy that Manning came in to save the day. Brock tried his best to be as polite as possible, but this was ridiculous. As Brock walked away from the media horde, he shook his head and whispered under his breath, "unbelievable."
At that moment, for one of the few times in my life, I was standing face to face with Brock. Okay, I was eye level with Brock because I was standing on a chair. Usually, the quarterback postgame interviews are done in a massive press room located next to the home locker room. There is a stage and a podium and even a one-way, see-through mirror connected to the most private dining facility at Sports Authority Field. I bet you didn't know there was a carving station and a bar that allowed its VIP patrons to watch the press conferences after games with a drink in hand. But, yes, that place exists. However, they had no view on this day.
Who should the Broncos actually bring to the podium? Should it be Brock? Technically, he got the win on that day. Incredibly, the NFL has a rule that if a quarterback starts the game and take at least one snap, whatever happens in that game goes on his personal record as a win. We only became aware of that rule as Manning was closing in on the all-time regular season wins record. Is it a stupid standard? Well, yes! But I didn't make up the rules; the NFL did. So, Manning did not get credit for that comeback win; it went to Brock. Brock was humiliated by being yanked, so did he get asked to go to the podium. Um…no.
Well then, does Manning get to go to the podium? He just helped secure the No. 1 seed. Not so fast. As heroic as his effort may look on paper, Manning's numbers in the second half were anything but superhuman. He was 5-for-9 for 69 yards and no touchdowns. Brock, upon being yanked, was 14-for-22 for 232 yards with a touchdown and a pick. What happened when Manning went in the game is that the Broncos stopped screwing up. They went from five turnovers to zero. They went from forcing zero turnovers to collecting a key interception. Ronnie Hillman caught fire and ran for 117 yards on 15 carries, including the game-winning touchdown. Was it all because of Manning? Perhaps it was. But to think that Brock couldn't hand the ball off, or that turnovers were his fault? That was absurd.
Don't forget, there was another key substitution when Manning replaced Osweiler; Tyler Polumbus came in for Michael Schofield at right tackle. Tyler jokes about the standing ovation he got when he went into the game. Hey, he's a local – Cherry Creek High and University of Colorado – kid. He deserved a standing ovation, right? It was an important moment because the Broncos went to safer passes and just ran the heck out of the ball. Manning was a game manager.
At the end of the season, Kubiak told what I think he meant to be a heart-warming story of Manning's recovery from injury. Essentially the story was that Manning was ready to play and gave the finger to Kubiak via video. There's no doubt that Manning could've been the backup in the Pittsburgh or Cincinnati games. I mean, it's just a backup role. Dudes have suffered through worse than a foot boo-boo to hold a clipboard. But pride got in the way. Manning's meticulous process of preparation had to do with starting or not being a backup. It was only at the very last minute that Manning was willing to really step out on the ledge of "Team First" and accept his role as a backup, but he certainly wasn't going to wear a tie to that game.
In the Broncos' vast home locker room the quarterback lockers are located close to a giant white board where a coach can diagram plays or write inspirational keys to the games. It's also close to the showers and the entrance into the media room. But, no quarterbacks were going to the media room after the game on Jan. 3. Brock took the bullets of questioning his manhood right by the whiteboard and shook his head.
I could feel what he was thinking. Did nobody appreciate what he had meant to this club over the past two months? The Broncos just wrapped up the No. 1 seed. They wouldn't have to go to New England, Pittsburgh or anywhere else. Does that happen without Brock going 5-2 as a starter (remember, he gets credit for that San Diego win)? The answer is clearly "no." Did the team play better when Manning went into the game? Well, sure, but c'mon, they were minus-five against the Chargers when Brock got yanked. How much worse could it get?
The Broncos told Brock to just speak to the press in front of the whiteboard a few feet from his locker. Then, Manning came up to speak in the same spot. Manning knew that he didn't play great, but it didn't matter because he didn't think he was going to play at all. He was humble and professional. He was deferential to Brock and acknowledged that most of the mistakes that were made had nothing to do with Brock. With all that being said, Manning certainly appeared poised to start in the playoffs – and he wasn't going to let go of that.
Manning didn't let Brock go into the Super Bowl in New York even in the waning minutes when the Broncos were being blown out by Seattle. Manning famously went in against the Raiders when Brock was looking for his helmet a couple of years ago. We all remember Brock waving his hands in the air saying, "C'mon… You gotta be kidding me."
Manning had to be forced to take off Wednesdays this past year so Brock could rep with the ones. That decision went over like a fart in church. The Peyton Manning Mentorship School's slogan is: "GO AWAY!"
All these traits are probably what makes Manning one of the greatest players of all time. These are the traits Manning shares with megalomaniacs like Michael Jordan and Lance Armstrong. If you want to be the best, you have to think you are the best at all times. However, there are unintended consequences for those actions. There is collateral damage in every hero's story.
The damage in early January was Brock Osweiler remaining a Bronco.
As I saw Brock shuffle away pissed off, I realized there was no way he was coming back. Not here. Not if he had any other choices.
In the postseason, Kubiak tried to make it sound like it was one happy family. Well, we now know that was a complete joke. Manning was mediocre at best in the playoffs and especially in the Super Bowl. The Broncos put up the most anemic numbers ever for an offense that won a Super Bowl, but at the end of the day they were holding the Lombardi Trophy and hosting a million-fan parade. Somewhere in that mix was a young man, who wanted to be anywhere but Denver.
Manning couldn't even give Brock any respect when it was time to retire. Manning took a vacation to Cabo and did speaking engagements in South Beach and Vegas before hanging up the cleats after what we can only presume was an exhaustive search to see if anybody still wanted him to be a starter. The answer was "no." Brock wasn't at Manning's retirement presser. Brock didn't even talk to the Broncos for two straight weeks during his exclusive negotiation period.
Brock got a better offer from the Texans and didn't for a second consider the Broncos' counter offer. Brock didn't skip a Texans practice to meet the President with the rest of his teammates and most pointedly, Brock couldn't find the time to jump on a quick flight from Houston to Denver on a Sunday night to pick up his Super Bowl ring.
"Hey, just send that $30K piece of crap to me UPS, would ya?"
Brock Osweiler clearly hates the Denver Broncos. Consequently, and deservedly so, Broncos fans will hate Brock Osweiler. It all seems like such a waste.
Brock was a good dude. He worked hard and came through in the clutch when the Broncos needed him.
It has been mind boggling this spring to watch a quarterback competition between Mark "Butt Fumble" Sanchez and Trevor "Who?" Siemian. I suppose it's exciting that the Broncos drafted a Brock lookalike with their first round pick in Paxton "The Pirate" Lynch, but let's be honest; it took more than three years for Brock to be ready to play. What do you think it's going to take the big fella from Memphis?
Once you win a Super Bowl, all sins are forgotten. Kubiak was asked about the turbulent time since the Super Bowl. You know, Manning and Brock gone, special teams captain David Bruton gone, Ryan Harris, Evan Mathis, Louis Vasquez Malik Jackosn and Danny Trevathan all gone, Shiloh Keo getting busted for a DUI, Cody Latimer getting arrested for not paying a parking ticket after calling the cops to his crib because his 4-foot-11 girlfriend was beating him up. And finally, Aqib Talib shooting himself at 3 a.m. in Dallas – preventing him from meeting the President, possibly facing criminal charges and most certainly facing some sort of league suspension.
Kubiak said, "Turbulent? It hasn't been turbulent. We just won the Super Bowl."
Indeed, the Broncos won the Super Bowl.
It was awesome.
It was a game where the best quarterback for the Broncos sat on the bench and watched a Hall of Famer walk away in glory. Somehow, it all worked. But, the future has a past and it's unclear when the Broncos will ever again have a top-tier quarterback. In 2003 the Broncos went 10-6 and used four different starting quarterbacks: Jake Plummer (11), Steve Beuerlein (2), Danny Kanell (2) and Jarious Jackson (1). They made the playoffs as a Wild Card team and then promptly got blown out 41-10 by the Colts – led by, you guessed it, Peyton Manning, who on that day won his first-ever playoff game going 22-of-26 for 377 yards and a stunning five touchdown passes.
If the Broncos defense can play as stoutly as it did last year, well, anything is possible.
However, if we watch the Broncos fall into a 17-year gap between winning Super Bowls, we can all remember the game when Peyton Manning didn't wear a suit and tie.