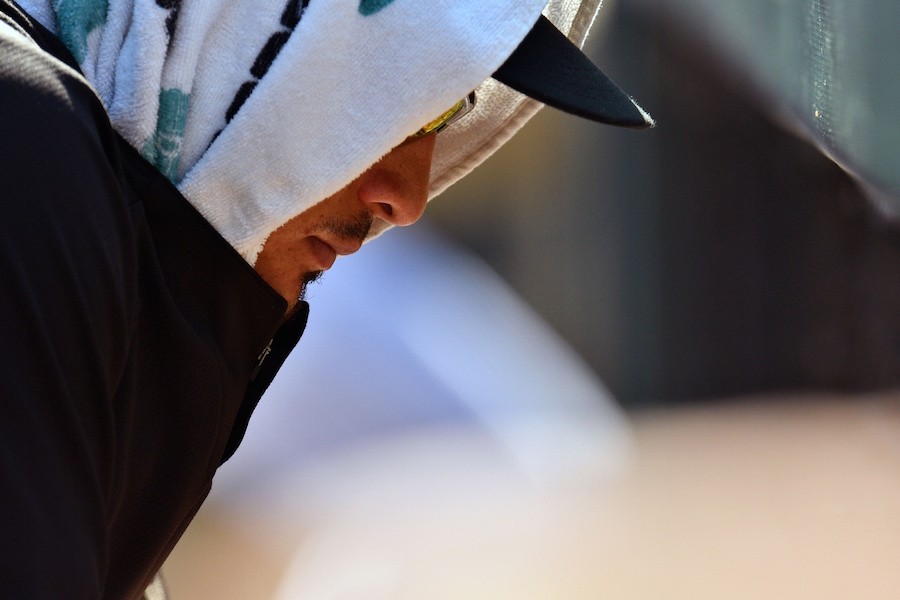 Bud Black is apparently willing to try just about anything to jumpstart his offense.
It's the only way to explain why Nolan Arenado, baseball's RBI leader each of the past two seasons (and currently tied with Giancarlo Stanton for that same title at present), was out of the lineup to start Sunday's crucial series finale against the Arizona Diamondbacks.
Having lost the first to games of the weekend series between the two NL Wild Card leaders, Black shuffled his lineup and sat his most productive run-producer on the bench.
If desperate times call for desperate measures, the 2017 Colorado Rockies may have hit that point on Sept. 3.
The Rockies entered the "playoff preview" weekend series trailing Arizona by 3.5 games for the top Wild Card spot and with a 2.5-game cushion on their main pursuer, Milwaukee.
This was not the typical September Sunday at Coors Field that in years past might not have raised eyebrows when Pat Valaika and Ryan McMahon were announced as starters. There was something to lose on the Sunday.
So when Arenado finally entered Sunday's finale with one out and two on in the eighth inning, it felt as though it was already too late. Sure, a home run from Arenado would have brought the Rockies to within one run, but his eventual strikeout seemed preordained.
Arenado's at-bat was the encapsulation of a weekend that ended with the Rockies, losers of four straight games, now 6.5 back of the Diamondbacks and clinging to a half-game lead over the Brewers.
Charlie Blackmon, who leads the NL in batting average, scratched out a tough base hit to open the eighth.
Gerardo Parra, whose numbers aren't eye-popping because he's been platooned most of the year but has been without a doubt the biggest spark plug in the lineup outside of Blackmon, followed by legging out a bunt for a base hit.
And much like they did all series long, the Rockies came up empty with runners in scoring position.
With two on and none out, Trevor Story. could not rekindle the (ultimately fruitless) magic from Friday night when he laced a two-run double to right field. Instead, Story struck out on (what else?) a breaking ball. It was his third strikeout of the day and fifth of the series. The double on Friday night was his only hit of the weekend.
So, with the outs running thin on Sunday, Black then called on Arenado to make just his third pinch-hitting appearance of the season. Against a pitcher – Jimmie Sherfy – who had just two MLB innings to his credit before striking out Story, Arenado fanned on a 94-mph fastball up and in. The reigning RBI king struck out with a swing that looked like he'd been on the bench all day.
Black's last chance to have his lineup shuffle proved right proved just as fruitless. Valaika, who started in place of Arenado, struck out swinging on four pitches to end the threat and all but bury Colorado's chances.
Their chances in the Wild Card remain very much alive despite getting buried in the crucial series with Arizona, but things are clearly becoming desperate inside the Colorado clubhouse.
The Rockies closed the book Thursday on their first losing month of the season, only to open the most important month of the season with three straight losses.
Colorado is now five games under .500 since the All-Star break, and their winning percentage has declined, month by month, every single month of the season.
Since Aug. 18, the start of a three-game series with Milwaukee, the Rockies are 5-10 and averaging just 3.9 runs per game. The team that on the season is hitting .293 with runners in scoring position and .289 with runners in scoring position and two outs, has stranded on average 7.7 runners per game in their last 15. Colorado was 2-for-30 with runners in scoring position over the three-game sweep at the hands of the Diamondbacks. They're striking out more often (8.8 times per game) than they're recording base hits (8.1 per game).
To be clear: It's a team problem, not just an Arenado problem.
Yes, Arenado is hitting just .222 over those last 15 games and has been battling a wrist injury suffered Aug. 13. But unless that wrist is severely hampering his swing, there's no reason to keep Colorado's most effective run producer over the past three years out of the lineup.
If the dreams of a playoff berth are to come true, Rockies need to reverse their fortunes of late and buck the ongoing trend of declining performance with each passing month. Putting Nolan Arenado on the bench in September Sunday game isn't the way to make either of those things happen.