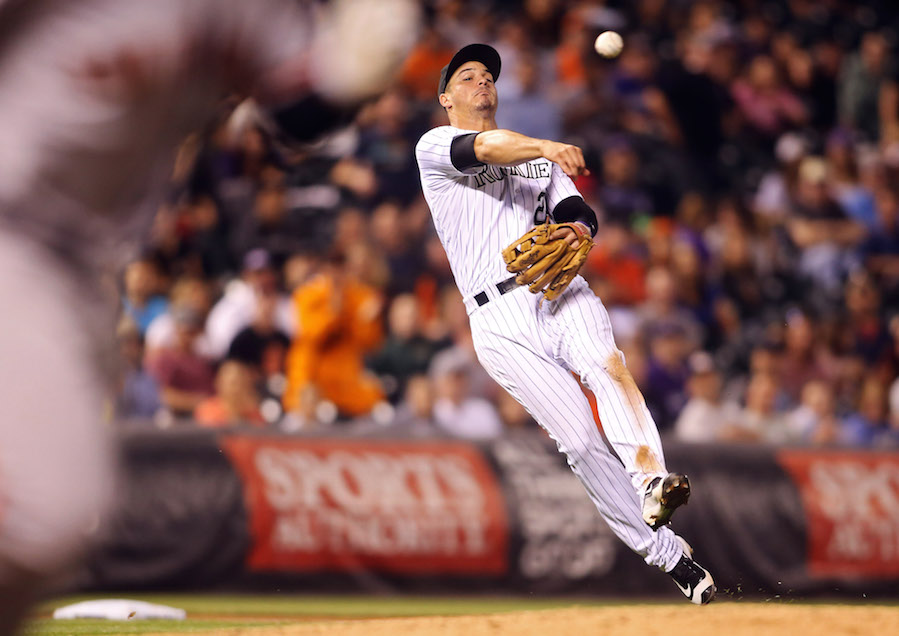 Defense wins championships, they say. Only it doesn't win many postseason awards.
When the World Series ends and Major League Baseball begins announcing its 2015 individual award winners, there will be some obvious names announced. The Cubs' Joe Maddon will win National League Manager of the Year. His third basemen, Kris Bryant, will win NL Rookie of the Year and his ace pitcher, Jake Arrieta, will be the NL Cy Young Award winner. The Cubs deserve some good stuff, right?
Oh, and Washington Nationals right fielder Bryce Harper will be the NL's Most Valuable Player. That's because Harper hit .330, with 42 home runs and 99 runs batted in – outstanding offensive statistics by any measure.
Are Harper's stats better than a guy who hit .287 with 42 home runs and 130 runs batted in? Yes, slightly, considering the batting average stat. But driving in 31 more runs should count for something, too.
It doesn't.
When they're done counting votes, Nolan Arenado's offensive statistics will have been dismissed by voters because he plays his home games at Coors Field. Just as egregiously, his otherworldly defense will be cast aside as well. Yes, they'll give him another Gold Glove for his collection, then pat him on the head and send him back to baseball oblivion.
No matter how spectacular Arenado was this past season, the stigma of high altitude, the struggles of a bad team playing in the forgotten time zone and the voters' complete disregard for defensive prowess will doom him in the voting. All things considered – and the term "Most Valuable" should consider all aspects of the game – Arenado is as deserving – if not more so – of the MVP award than Harper or anyone else. In reality, he probably won't finish in the top 10.
We already know that nothing a Colorado Rockies player does offensively will ever be recognized by national media types (who have no problem honoring guys who play home games in bandboxes like Cincinnati, Philadelphia or Houston.) Denver has that high altitude stigma that will never go away. Combined with the very real east coast bias, and Colorado players will never get any credit. Yet if these voters actually did their homework, they'd see that all players hit better at home. This season, Harper hit 23 HRs at home and 19 on the road. He drove in 53 runs at home and 46 on the road. He batted 30 points higher in DC (.345) hat he did on the road. These kinds of home vs. road splits are normal.
Arenado hit 58 points higher and drove in 18 more runs at home, but hit more home runs on the road (22) than at Coors Field. Clearly, Arenado's home vs. road splits are not that abnormal. Ask Bruce Bochy and the San Francisco Giants what kind of offensive force Arenado was at sea level this season.
So offensively, the two men had comparable seasons. Defensively, there is no comparison. Harper is average. Arenado is the new standard-bearer for infield defense. Shouldn't defense be half the equation?
Glove work is supposed to be relevant to the guys who invented the Wins Above Replacement sabermetric statistic, but it's tough to tell how much it really matters. Defense (runs saved) is part of that mathematical formula, yet according to this stat, Harper was tops there, too, with a WAR above 9.0 (meaning his team, the underachieving Washington Nationals, won at least nine more games this season than they would have with someone else playing right field.) Arenado's WAR was a puzzlingly low 5.7. They're telling us that the Rockies would have won only six fewer games this past season if Rafael Ynoa had been the everyday third basemen. I watched the games. That's a load of nonsense.
So I have to ask the Stat Pack: How many more games would the Rockies and their dreadful pitching staff have won with Harper playing right field for them? Unless he could step on the mound and deliver a gem every fifth day, the answer is not +9, I promise. Clearly, this new stat needs some tweaking. (For example, Kevin Kiermaier, and nice young centerfield with the Tampa Bay Rays had a WAR of better than 7.3 while hitting .263 with 10 homers this past season. Confusing, huh?)
Then there's the old, tired argument that "defense has its own award," the aforementioned Gold Glove. Awarding that for defensive play somehow makes it okay to push defensive stats to the side when it comes time to award the biggest prize. And it's not just the MVP award that works this way. In 2007, Ryan Braun and Troy Tulowitzki were neck-and-neck in the Rookie of the Year race. When the season ended, Braun hit .324 with 34 homers and 97 RBI, while Tulo hit .291 with 24 round trippers and 99 RBI. Tulo led his team to the World Series, and was the key piece of a Rockies defense that set an all-time record for team fielding percentage. Tulo had an outstanding fielding percentage of .987 (and was also snubbed for the Gold Glove award that season, by the way. Maybe the altitude made it easier to field ground balls). Meanwhile, Braun had historically bad defensive stats playing third base. His awful fielding percentage of .895 included 26 errors. The sabermetric folks tell us that Tulo had a WAR of 6.75 (9th best in MLB) that season while Braun's 3.9 was not in the top 70.
It didn't matter. Braun won the Rookie of the Year. Because, you know, only the offensive half of the ledger counts. And that won't change this season.
Sadly, the defense rests.
Listen to Mark Knudson and Michael Klahr Saturday mornings 8a-10a on Sports Stampede Radio on Mile High Sports AM 1340.