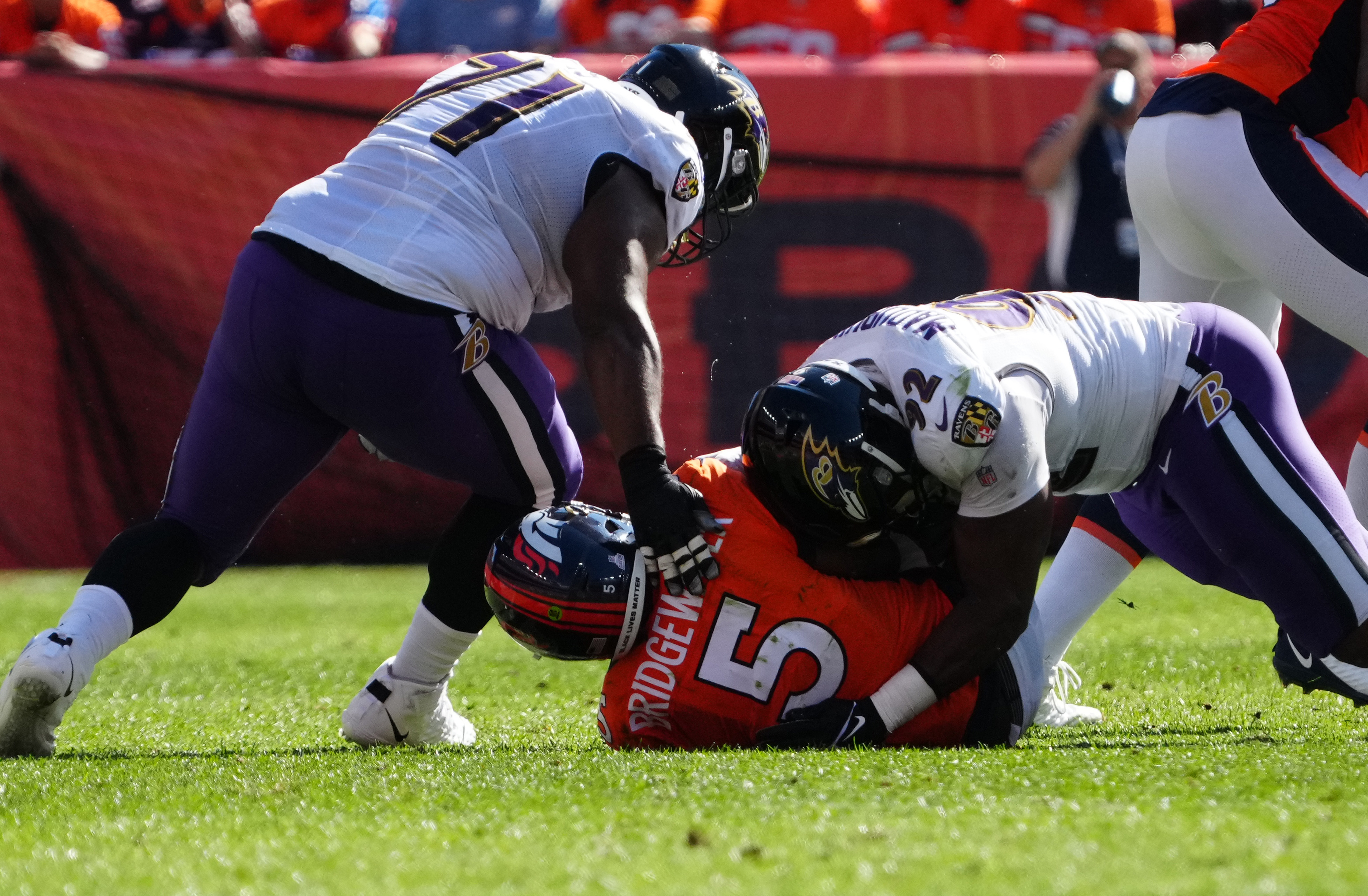 Remember when the Denver Broncos were 3-0? Teddy was tossin'. Uncle Vic's D was pitchin' shutouts. All was right with the world. Happy days were here again.
On Thursday, four days after the Jets flew back to New York battered and bruised, and just three days before the Broncos were finally going to prove that they weren't a product of their easy schedule, I ran a poll. Pretty simple: At 3-0, are the Broncos a playoff team?
Seventy-eight percent of you believed they were.
What say you now, Broncos Country?
Just as it was irresponsible to crown a 3-0 football team – one that had beaten opponents whose collective record was 0-9 – it's incorrect to assume that a single loss defines a team or its season. But after getting beat up by the Baltimore Ravens on Sunday, at home, in front of a crowd that wanted nothing worse than to believe, the Broncos perfect start looks eerily like Fool's Gold.
The 23-7 final score wasn't as close as one might think; the Broncos had more punts than points (three more, to be exact). Simply put, it looked like the Broncos and Ravens didn't belong on the same field. Taking a loss isn't really the issue – it's how they lost that suddenly casts a dark shadow over a 3-1 record. It was said that the Ravens presented the Broncos' first real test of the season – and the men in orange failed miserably.
Yes, the Broncos have, to some degree, fallen victim to the injury bug. But if any team doesn't want to hear about injuries, it's the Ravens, who've been hit harder than anyone in the NFL.
Any team can be forgiven for a loss – and the Broncos should be, too – but perhaps this particular loss might have validated a fear that oozed throughout summer, training camp and preseason. In the famous words of (then) Cardinals coach Dennis Green, "(The Broncos) are who we thought they were."
Even though it's quite possible that the Broncos could still wake up on Tuesday morning tied for first place in the AFC West, make no mistake, losing to Baltimore in uninspiring fashion was a big step back. Rather than looking anything remotely like their record, they instead appeared to be the team they've been in recent years – certainly not the confident, determined 3-0 squad that was just beginning to pique the interest in disenchanted Broncos fans everywhere. A fanbase that was almost sucked in, just took a brand-new punch to the gut.
"Oh no! The Broncos are, well, the Broncos…"
Vic Fangio coached like the 5-11 version of himself, not the undefeated coach that strolled into the locker room on Sunday morning. Fangio once again looked like a coach who didn't understand time management just before halftime. Though widely considered a defensive genius, Fangio's gameplan designed to contain Ravens quarterback Lamar Jackson's legs allowed his arm to kill the Broncos. Sure, Jackson only rushed for 28 yards, but he slung the pigskin around like he was on a playground – to the tune of 316 passing yards.
Teddy Bridgewater, prior to being knocked out of the game at half with a concussion, looked more like checkdown Teddy, like the one who was replaced by Sam Darnold in Carolina.
Drew Lock, looked like Drew Lock, except, without any reps in practice all week, a little worse.
Pat Shurmur's offensive gameplan resembled the ones that got him fired in New York, rather than the ones that thumped the Giants, Jags and Jets.
Even George Paton, who seemed to have the Midas Touch early on, looked like an executive from Minnesota. Before the game in Denver, Justin Fields picked up his first win as a starting quarterback in Chicago. After the game, Mac Jones went toe-to-toe with Tom Brady in New England. And during the game, John Harbaugh picked on Broncos rookie corner Patrick Surtain II with regularity. Surtain II was taken two spots above Fields and seven in front of Jones. In Denver, it all added up to a little unwanted salt in the wound.
Again, defining a team or a player or a pick by a single loss (or win), isn't wise, but it felt as if the Broncos identity took more than a few blows on Sunday.
Are these Broncos who we thought they were back in July? Then, Vegas had the Broncos season win total at 8.5. They're already one-third of the way there. After Sunday, how are you betting on the Broncos finding six more wins?
It's far too early to write them off, but on Sunday, it sure looked like the Broncos are who we thought they were – until they can prove otherwise.