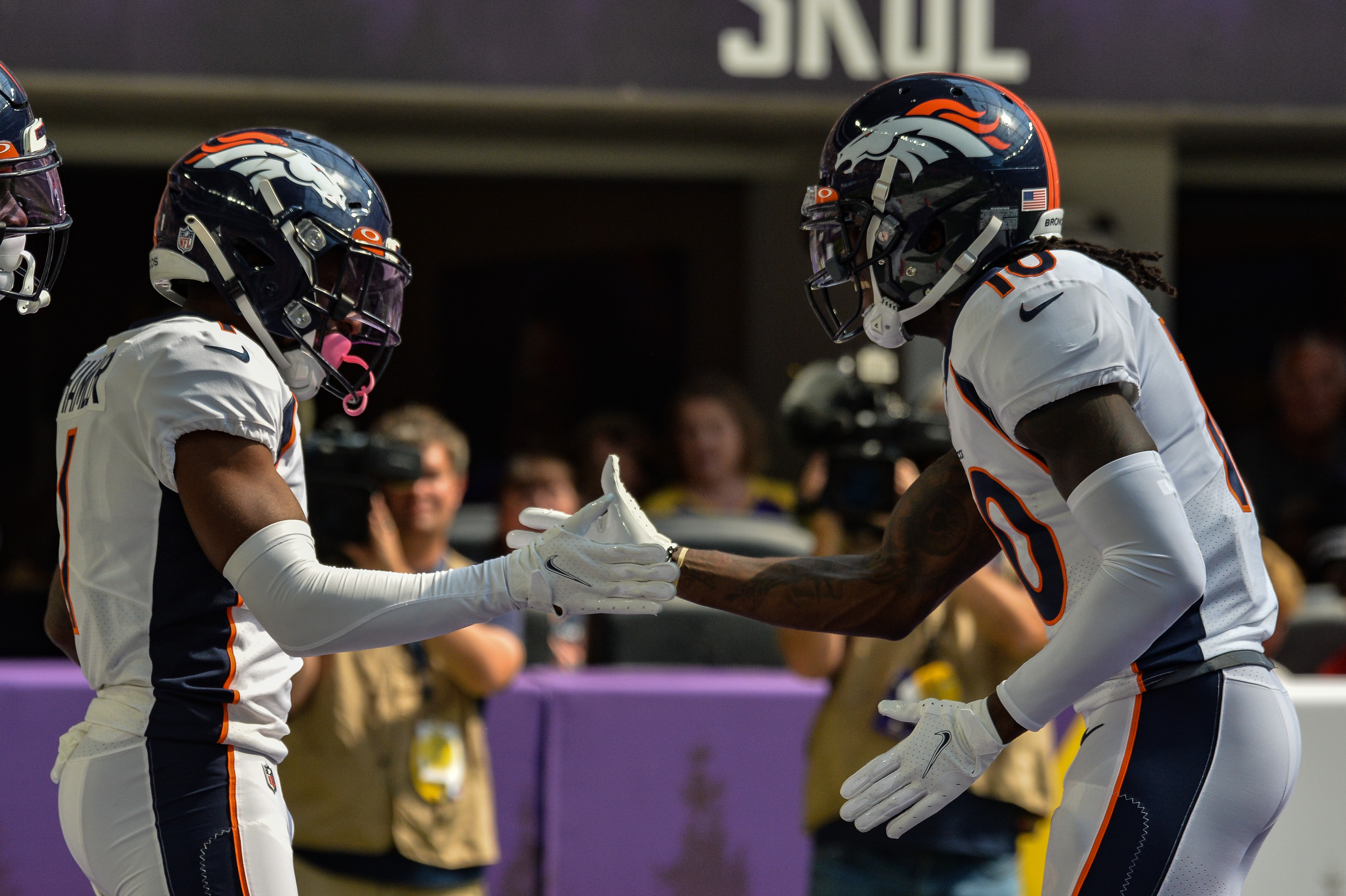 Many in Broncos Country view their wide receiving group as one of the best in the entire NFL, but the analytic minds at Pro Football Focus disagree.
In PFF's continued offseason series ranking which teams have the best players at every position, they've arrived at wide receiver, and have come to the conclusion that the Denver Broncos barely field a top-ten unit, ranking them tenth.
"Broncos receivers have escaped quarterback purgatory following the blockbuster trade to bring Russell Wilson to Denver this offseason," PFF's Ben Linsey wrote. "Courtland Sutton and Tim Patrick profile as the type of big, sure-handed targets who can thrive on the end of Wilson's deep throws. Sutton and Patrick combined for 27 receptions targeted 20-plus yards downfield in 2021 without a drop. Wilson's downfield accuracy will also be a welcome addition for K.J. Hamler as he returns from injury."
The thought of Hamler catching a beautiful rainbow-arching bomb from Wilson is enough to make any Broncos fan excited.
However, some might notice one of Denver's more prominent receivers missing from Linsey's write-up. That's because PFF has lingering questions about Jerry Jeudy, the Broncos' 2020 first-round pick, who has failed to live up to expectations through two seasons.
"The X-factor in this group is Jerry Jeudy, who has endured an underwhelming first two NFL seasons," Linsey wrote. "It's too early to give up on the talent, but it hasn't translated to on-field success for Jeudy. Broncos quarterbacks have combined for just a 69.7 passer rating when targeting him since 2020, and that can't be pinned solely on the signal-callers."
Linsey raises an excellent point — that you can't blame Jeudy's struggles purely on his surroundings — but it should be noted that receivers rely on the success of other members of the roster and coaching staff more than just about any other position, and the Broncos were lacking in those areas Jeudy was reliant on.
Nonetheless, according to PFF, the Broncos have the third-best receiving corps in the division, and it'll require Jeudy taking a sizable year-three leap to improve their standing.