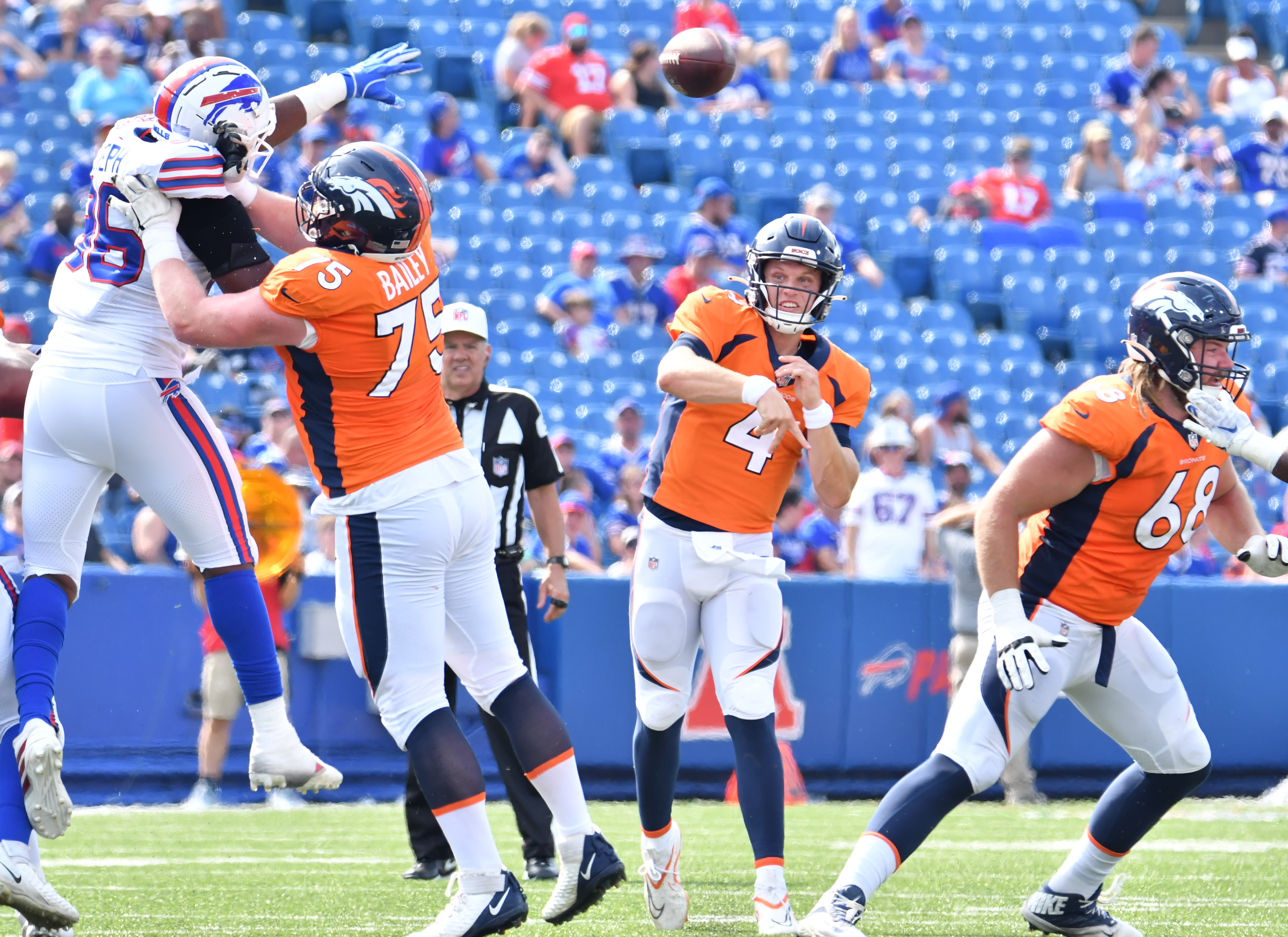 The Denver Broncos quarterback competition behind Russell Wilson is heating up.
Despite a disappointing loss to the Buffalo Bills, one QB showcased poise in the pocket and displayed efficiency.
Should Brett Rypien start against the Vikings this week?
The Broncos will wrap up the preseason this upcoming Saturday when the Minnesota Vikings come to town.
When the offense takes the field, will Brett Rypien be the quarterback under center?
After a strong showing in Denver's 42-15 loss to the Bills, Rypien's performance and command of the offense were on display.
He'd finish the game 21 of 26 passing for 191 yards and one touchdown pass to tight end Eric Saubert in the back of the endzone.
Prior to Rypien entering the game, the Broncos' offense minus their first drive of the game struggled to move the ball downfield.
Granted, the Bills started several of their defenders on the first two series of the game, but the offense couldn't do much in the first half.
Brandon McManus' field goal capped off Josh Johnson's 12-play, 64-yard drive on the team's first drive.
Broncos head coach Nathaniel Hackett reflected on the good and bad during his post-game press conference.
"Yeah, I thought it was great," Hackett said of Johnson's first drive. "Obviously, I'm upset we didn't score a touchdown. I thought we had some opportunity to be able to get those—missed one. It was great to see on the first one—he missed an opportunity, but he bounced right back and was able to get the ball down the field. It was good, that was good to see. Then after that, like we said it, wasn't very good after that. I think that one was 13 plays so that's always nice to see, being efficient."
After the first drive, the Bills defense buckled down, holding the Johnson-led offense to 92 total yards in the first half.
Johnson finished the game 8 of 16 passing for only 70 yards through the air.
Resolution in sight for Denver Broncos backup QB job?
The NFL's roster cutdown deadline from 85 to 80 will go into effect on Tuesday by 4:00 PM ET.
It's unlikely that Denver cuts any quarterback during this week's roster cuts, but a resolution at the position is fast approaching.
Since Johnson received the first two starts of the preseason, it will be interesting to see if Nathaniel Hackett allows Brett Rypien to work with the second team offense that consists of receivers like Kendall Hinton, Brandon Johnson, and Seth Williams.
Can Johnson repeat some of his success by throwing to undrafted gems Jalen Virgil, Trey Quinn, and Eric Saubert, who Rypien connected with frequently on Saturday?
Regardless of how the competition plays out, both Rypien and Johnson have been supportive of each other all throughout OTAs and training camp.
"I would say both of those guys have done a really good job," Hackett said about both QBs in his post-game press conference. "Again, we're looking for that consistency. There were some good things that [QB] Josh [Johnson] did today, and then there's some opportunities that he missed. Same thing—'Ryp' (QB Brett Rypien), I believe he had a pretty good day—what he did. Both those guys are battling out. They support each other, there for each other, they make each other better. We just want to keep that competition rolling."
The Broncos will be back on the practice field this week as they prepare for their final week of the preseason.