Tonight, the NBA Finals continue in Miami.
As I look out the window of my hotel at Kaseya Center (formerly American Airlines Arena and FTX Center though has gone through several name changes), I'm reminded of the journey that brought me to this point. I first arrived at Mile High Sports on June 1st, 2022, so it's been a full year of my coverage here. Before then, I spent my previous six years at Denver Stiffs, fulfilling a range of roles for the sports blog. One of the reasons I moved to MHS was the idea of covering road games in person and having the opportunity to travel. I wasn't really thinking about NBA Finals travel at that point, but here we are.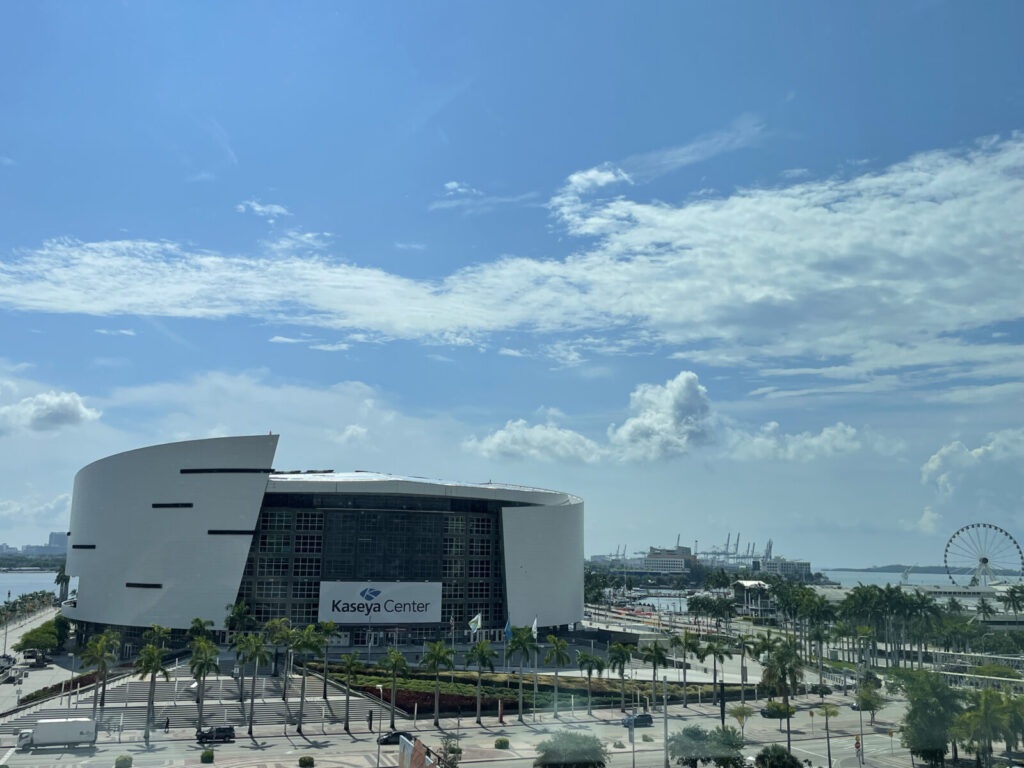 In my trip down memory lane, I'm reminded of the journey that the Nuggets have been on parallel to my own. When I first began at Stiffs was when Jamal Murray was drafted seventh overall. That was definitely a "we got lucky" moment looking back on it. Kris Dunn and Buddy Hield were drafted immediately before Murray, and there's no telling where the Nuggets would be right now if the Minnesota Timberwolves and New Orleans Pelicans didn't make clear mistakes.
That 2016-17 season was a magical one. The Nuggets ultimately remembered that Nikola Jokić was better than Jusuf Nurkic and decided to start Jokić again on December 15th, 2016. They haven't looked back ever since. Playoff wins were slow to come by due to two straight ninth place finishes in 2017 and 2018, but it was clear that the Nuggets were (slowly) building something special. In 2019, the Nuggets won 54 games and their first playoff series of the Jokić and Michael Malone era.
In 2020, Covid struck, and things got weird. For Nuggets fans, that's a time to look back upon fondly, which of course directly conflicts with how most of the world looks back at that time. Still, the Nuggets won a couple playoff series by coming back from 3-1 deficits, building behind the Jokić-Murray duo and knowing that the Nuggets had a chance any time those two were on the court together.
Naturally, for the next two years, those two wouldn't be on the court together. Murray tore his ACL in April of 2021, and the Nuggets title chances were put on hiatus while their second star recovered. Embarrassing defeats to the Phoenix Suns and Golden State Warriors were contextualized by Murray's absence, but it still didn't feel good.
Then, Murray came back this season, when I arrived at MHS. I've written a lot about Murray in that time, including this profile from a shootaround in Portland last December hours before he nailed the game winning three-pointer to turn around Denver's season. The Nuggets needed to see Murray make that shot, and it propelled the entire team to a place of confidence that their stars could always do what needed to be done.
The rest of the 2022-23 regular season was workmanlike, but the Nuggets did enough work to set themselves up well. They claimed the top seed in the West with room to spare and were able to manage minutes and energy down the stretch as a result. Jokić and Murray were ready for the playoffs, and the rest of the Nuggets, including Michael Porter Jr., were in a similar boat.
In the first round, the Nuggets put together a classic gentleman's sweep of the Minnesota Timberwolves.
In the second round, the Nuggets watched Devin Booker put together a masterclass of scoring and shot creation before ultimately stamping out the Phoenix Suns in six games.
In the Conference Finals, the Nuggets didn't have time for a gentleman's sweep and instead did the real thing against LeBron James, Anthony Davis, and the Los Angeles Lakers.
And now, in the NBA Finals against the Miami Heat, the Nuggets have lost their first home game of the playoffs.
Wait, what?
---
Game 2 caught a lot of people by surprise, including the Nuggets. The team was angry, annoyed, and a bit shaken by losing their first home game since March. Even if Game 2 hadn't been their best effort, the Nuggets always thought they were going to win against the Heat. Sure, Denver was down double digits with about four minutes left to go in the game, but they've made a habit of making clutch shots when needed. Naturally, the same would occur here.
Denver made some shots, but not enough of them to complete the comeback. When Murray saw his shot over Jimmy Butler miss (in the same vicinity as the one he hit against Jerami Grant back in December) the loss became a reality, and one that the Nuggets looked back upon and were kicking themselves for. The Nuggets allowed themselves to be out into that position by poor defense, communication, and awareness in the fourth quarter. The Heat made them pay for every mistake, and when it's the NBA Finals, those mistakes are magnified.
The Nuggets have had to stew over those mistakes for close to the last 72 hours. I didn't make it in time for the media session yesterday, but it sounds like there was an open and honest dialogue when reviewing the film from Game 2. In order to become better, the Nuggets first had to admit that what they did wasn't good enough. Perhaps that will give them an opportunity to be better now.
Jokić scored 41 points but only racked up four assists. Murray racked up 10 assists but only scored 18 points. That ratio likely needs to skew back toward Murray a bit more, which means that Murray can't be as bothered by Jimmy Butler's size and physicality as he was. The Nuggets, like in previous series, can help Murray out here to set up more consistent shot attempts. They need those contributions, because putting all of the scoring on Jokić's shoulders is a losing strategy.
For Michael Porter Jr., who had perhaps the worst playoff game of his career, it's simply about bouncing back on both ends of the floor. The Nuggets of course need his three-point shooting, but more than anything, they need him to be consistent defensively. Denver can survive without a 20+ point performance from Porter. They can't survive the defensive miscues and rebounding confusion that plagued him last Sunday.
For Kentavious Caldwell-Pope, it's about simplifying things and just doing what he's done all season. Hit open shots, defend without fouling, and be the veteran presence the Nuggets need on the court. In Game 2, KCP made mistakes unbecoming of a veteran. That can't happen again tonight.
For the Nuggets bench, keep doing what you did in Game 2. The bench really wasn't the issue. Though the beginning of the fourth quarter wasn't good, that was mostly on Murray not staying locked in defensively. He will improve on that front, or else the Nuggets can kiss their championship hopes goodbye.
The Heat have caused an identity crisis for several teams in this postseason. The Milwaukee Bucks fired their head coach. The New York Knicks are pining away for a better, more consistent star than Julius Randle. The Boston Celtics are thinking about trading Jaylen Brown, and rightfully so. It's not a surprise that the Nuggets appeared a bit rattled after Miami simply did the same thing to Denver what it did to other teams.
How the Nuggets respond to a little adversity will be the difference. Game 3 against the Miami Heat will be the Denver Nuggets' first time being tied in the series heading on the road this postseason. Are they ready for what promises to be a crazy environment here in South Beach? Are they prepared to face more adversity if the Heat continue to shoot well?
Time will tell, but I believe the Nuggets will find a way. They always have before, and their entire identity has been built upon overcoming adversity and being pushed mentally and physically. That's just who they are.
I would know.