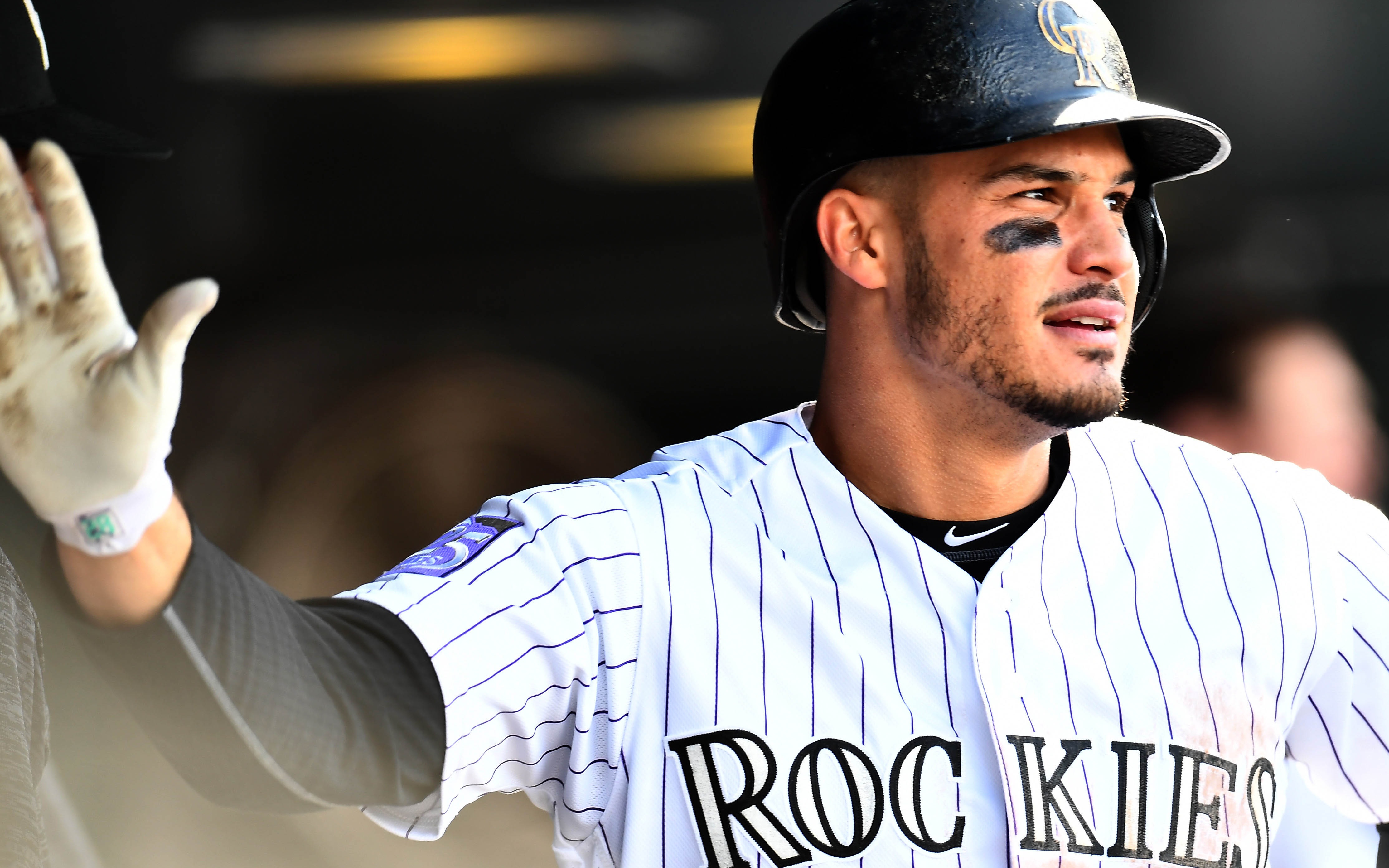 Inextricably connected for much of their careers due to position and a combination of fielding and hitting prowess, Manny Machado and Nolan Arenado are going to affect each other more than ever this offseason.
Machado, a career .282/.335/.487 hitter, became a free agent after the World Series, available to the masses. Formerly a cornerstone of the Baltimore Orioles franchise, Machado was dealt to the Los Angeles Dodgers for a quintet of prospects for a postseason run.
Now a part of the free-agent pool after leading the Dodgers to the World Series, Machado is on the verge of signing a long-term pact for mind-boggling money. According to MLBTradeRumors, preseason projections pegged Machado for the second-largest deal in league history – behind Bryce Harper's projected deal – at a whopping 13 years and $390 million.
At an average of $30 million per year, Machado is set to once again reset the market for a young star infielder. The most recent example along the same financial lines was that of Robinson Cano who signed a 10-year, $240 million contract prior to the 2014 season.
Once the deal is signed, regardless of team, the clock will begin to count down on Arenado's future with the Colorado Rockies.
Both taken a year apart in the MLB Draft, with Machado entering the league one year after Arenado in 2010, the two have been on similar career paths. The pair has even accrued a similar career Wins Above Replacement, falling with 0.7 of each other in yearly average, the difference coming by way of Arenado's superior glove.
The two infielders have even accumulated the same amount of top-10 Most Valuable Player finishes (three) without winning one. Both have multiple Gold Gloves, both have a Platinum Glove, the list goes on.
Now, due to Machado being called up a year prior to Arenado, the third baseman/shortstop hybrid is set to hit the market one year before, as well, a coincidence that will have ramifications.
Without a salary cap, the pressure to act quickly – like in the NFL, for example –  is lessened dramatically. Last offseason, players like Mike Moustakas and Carlos Gonzalez were not signed until the waning hours prior to Spring Training. MLB GM's tend to wait for others to make a move – but once a big move is made, the floodgate opens.
In an interview with the Star Tribune, Minnesota Twins' general manager Thad Levine said as much. "We recognize we have holes, and our intent is not to play chicken [in negotiations] until the last [moment]."
That trend was followed by several other GM's after seeing the market take shape. Now, a year before his first induction into the free-agent market, Arenado is going to become a product of Machado's market.
If Machado signs for the projected amount, $30 million per year, Arenado will sign for a similar amount, and likely higher given another a year of inflation. If he fails to garner a big deal, much the way free agents suffered last year, Arenado will face the same struggles next offseason.
Harper, though more highly coveted than Machado, will not impact Arenado's market much. The former Washington National is not only slated to start in the outfield rather than the infield but also has the advantage of only being 26 years old, almost two years younger than Arenado will be once he hits the market.
The Rockies' history isn't littered with mammoth contracts. Their largest to date was that of former shortstop Troy Tulowitzki, in which the star signed a 10-year, $157.75 million contract in 2010. Arenado's deal will likely double that in annual value.
Tulowitzki's contract plays a role as well, as the Rockies will be forced to consider the result of that deal. Not only did Tulowitzki fall apart physically, failing to play 150 games in a season after that deal was signed, but he was traded for scraps at the end of it.
The Rockies have the money. Their team salary is projected to fall under $100 million for the 2020 season, signaling they will have roughly $50-60 million to reach their payroll of the 2018 season.
Pay attention to Machado's market. Next year, it will be Arenado's.