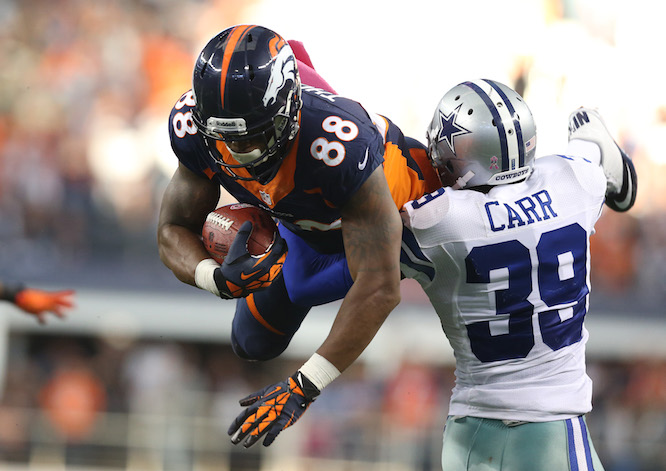 Peyton Manning is the one dominating national airwaves, but within Denver, I don't think anyone has received more criticism than Demaryius Thomas, and rightfully so.
Whether it's because of the new offense, the lingering effects of his holdout or a product of his off-the-field life — Barack Obama commuted his mother's prison sentence back in July; she's been in prison for over 15 years and will be released this November — Thomas just hasn't been himself.
That said, through six games, Thomas is still on pace for 128 receptions and 1,405 yards, which just shows how vital he is to this Broncos offense.
And in order for Manning and the offense to go toe to toe with Aaron Rodgers and the Packers, they're going to need Thomas to play at his best — to stop dropping balls. He needs to dominate Green Bay's cornerbacks, to post them up down the field like he did at Arrowhead earlier this season, and help lead the Broncos to touchdowns, not field goals.
DT isn't perfect, but that doesn't mean he can't be great; he needs to prove it this weekend.