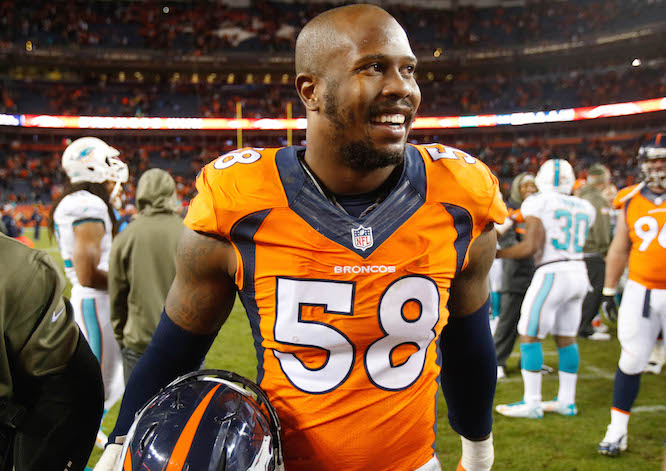 Von Miller is a freak of nature. He's easily the most important defender on the Denver Broncos, and he's just about the only thing that can slow down Aaron Rodgers.
As I wrote earlier this week. If there's anything that can put a chink in Rodgers' armor, it's a pass rush. For as great as Chris Harris Jr. and Aqib Talib are, when Rodgers throws the ball, it's as if there's no defender there. It doesn't matter how great of coverage you have, the perfect throw — and Rodgers has a lot of those — almost always beats the perfect coverage.
But when Rodgers faces pressure, he can look human. According to Pro Football Focus, when under pressure, Rodgers is only the 11th most effective quarterback in the NFL. And luckily for the Broncos, their front four brings A LOT of pressure.
Unfortunately, though, it'll take a lot more than that to get into Rodgers' head. While getting pressure is critical, the most important thing will be to keep No. 12 contained within the pocket, limiting his scrambling ability as much as possible.
Again, that's where Von Miller comes in.
I think back to a play against the Kansas City Chiefs where Alex Smith scrambled around the edge, only to see Miller regain contain within a second. After the play Smith just shook his head because linebackers should not be able to do that; Von Miller can.