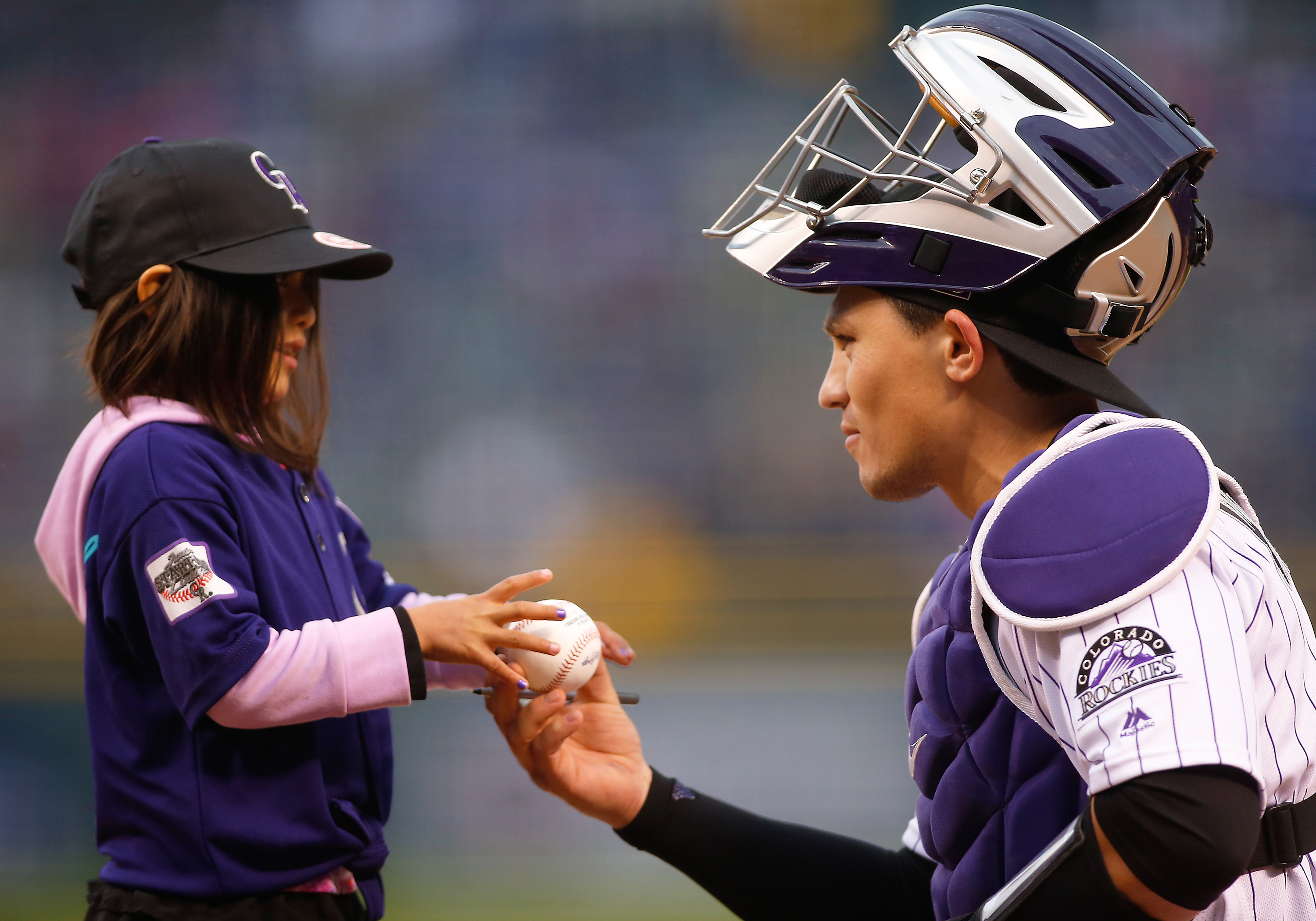 Collecting baseball cards is still a special hobby and passion shared by millions of individuals whether it be high-valued cards, unique one-of-a-kind cards or simply cards from your favorite team.
Discussing a special new lineup released from Topps as apart of the '30 Teams, 30 weeks' is Blake Street Irregulars host Ronnie Kohrt. Kohrt is joined by special guest Mike Payne of Beckett as the card giants team up to deliver one of the best lineups in Colorado Rockies history, by position, in card form.
The Colorado Rockies legendary trading card line-up includes:
              Player                         Card
SP         Ubaldo Jimenez      2007 Topps Heritage #459 Ubaldo Jimenez (RC)
RP         Brian Fuentes          2003 Topps Total #241 Brian Fuentes
C           Chris Iannetta          2006 Topps 52 #204 Chris Iannetta RC
1B         Todd Helton             1996 Bowman #378 Todd Helton
2B         DJ LeMahieu            2013 Topps Update #US15 DJ LeMahieu
3B         Nolan Arenado       2013 Bowman Chrome #24 Nolan Arenado RC
SS         Troy Tulowitzki        2005 Bowman Chrome Draft #105 Troy Tulowitzki FY RC
LF          Matt Holliday           1999 Bowman #400 Matt Holliday RC
CF         Charlie Blackmon   2011 Topps Update #US231 Charlie Blackmon RC
RF         Larry Walker             1995 Bowman #290 Larry Walker
UTIL     Vinny Castilla           1993 Topps Traded #33T Vinny Castilla
"Topps baseball cards are an integral part of baseball history with Topps producing cards since 1952," said Dan Kinton, Topps Vice President of Marketing & Sales. "For generations Topps cards have been collected and traded by kids and adults with a passion for baseball. Teaming up with Beckett Media to reveal these legendary trading card line-ups is a unique opportunity for fans to debate the 'best of the best' players and cards from across decades of baseball."
Fans will be able to explore the online home for this initiative, learn facts about their favorite players' Topps cards and track where their favorite team ranks as a legendary line-up. Each week a new team will be revealed on www.30Teams30Weeks.com with a player's card highlighted by position.
"Our experts looked at a variety of elements in selecting the legendary line-ups. This is not just a list of valuable trading cards," said Brian Fleischer, Beckett Baseball Senior Market Analyst. "Some of the cards were selected for their impact on the hobby because of design elements or rarity, while others were selected because of a player's on-field performance or impact on the game. There is no perfect legendary line-up but we definitely think this will get people excited about trading cards and talking collecting throughout the season."
The guys discuss everything about the '30 teams — 30 weeks' release, cards from the Rockies and more in the latest edition of the Blake Street Irregulars.