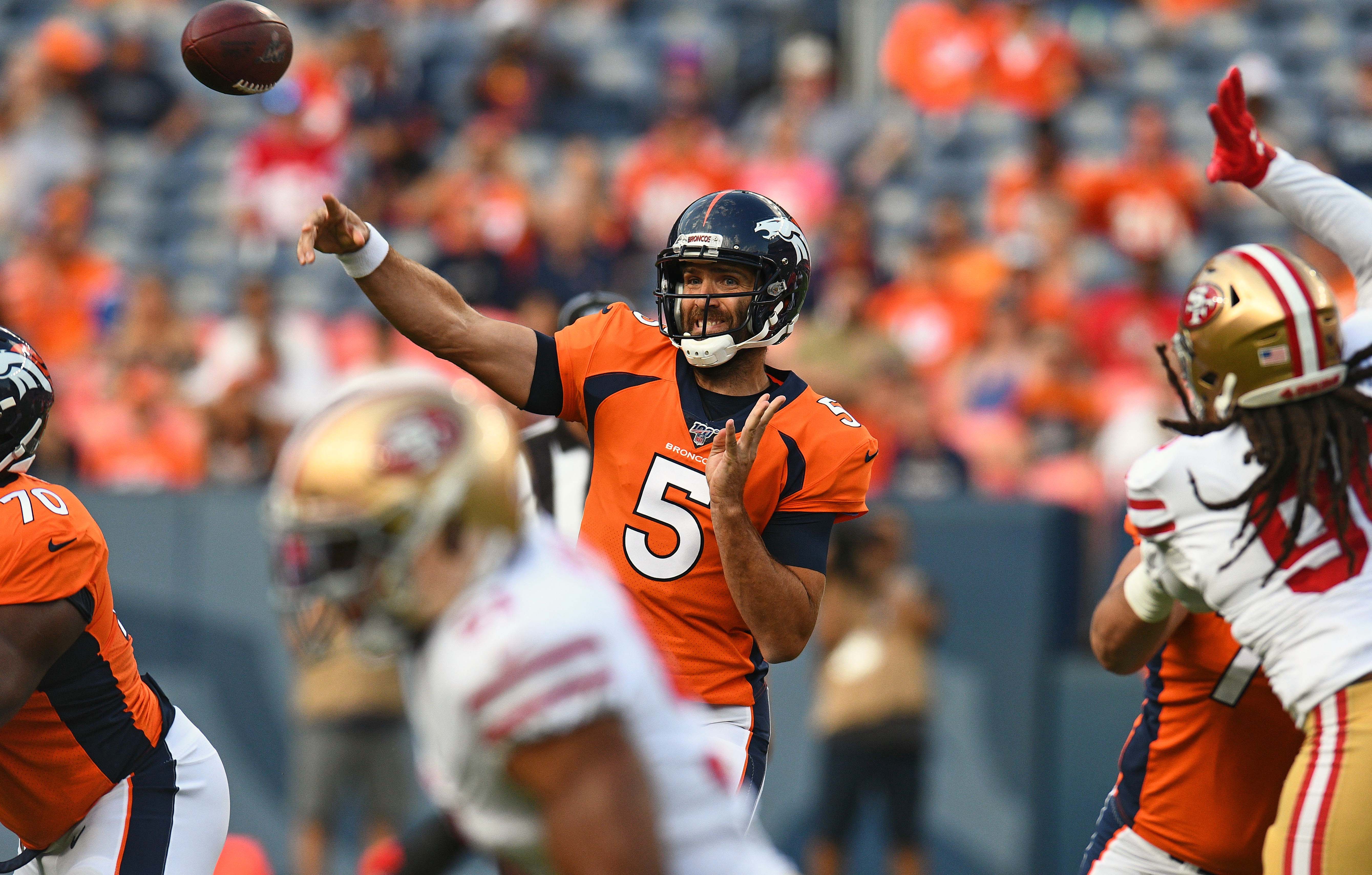 The Denver Broncos lost preseason game No. 3 on Monday night 24-15 in their 2019 home debut against the San Francisco 49ers.
After running out of the tunnel to loud cheers, the Broncos offense went right to work. The starters overall played several drives and not only did the starting offense look great, but so did the starting defense.
Several Broncos made impact plays that stood out — while others may find themselves off the roster come Wednesday morning.
Thumbs up
Bradley Chubb
The best player on the field Monday night was Bradley Chubb.
Bradley Chubb is a MONSTER on the edge 😤💪#SFvsDEN

(via @NFL)

— PFF (@PFF) August 20, 2019
Chubb's ability to get to the quarterback was on full-display, swimming and bullying the 49ers offensive line right into starter Jimmy Garoppolo and back-up C.J. Beathard on a routine basis.
Chubb's progression paired with Von Miller's talents gives Denver one of the deadliest 1-2 pass-rush combos in the NFL.
Joe Flacco
Flacco immediately came out of the gate firing, completing rifles to Emmanuel Sanders, Courtland Sutton and a nifty on-the-run throw to DaeSean Hamilton on third down.
The timing and chemistry between Flacco and his wide receivers continue to improve as the Broncos offense moved down the field multiple times, scoring three points in their initial drive. Flacco looked calm, collected and in control for his short time, finishing 7-for-11 for 59 yards.
Emmanuel Sanders
In his return back to Denver from the torn Achilles injury, Sanders was active early and often for Denver, catching a quick out on his first drive of action and taking an end-around 19 yards to inject energy into Broncos Stadium at Mile High. Sanders also made a beautiful adjustment on an in-air deep ball that was caught but called back on a Garett Bolles holding penalty.
The active play from Sanders surely excited fans and gives Denver a legitimate weapon come week one.
Back like he never left @ESanders_10.#SFvsDEN pic.twitter.com/z6GimT2WM0

— NFL (@NFL) August 20, 2019
Shelby Harris
Accounting for two passes defended Harris continues his stellar training camp and preseason with another strong performance. Harris is quietly becoming one of the more productive defensive linemen on the team showing versatility disrupting the passer and swatting passes down.
Dekoda Watson
The veteran put together a strong game in the second half for Denver sacking quarterback Nick Mullens and registering two total tackles, each for a sack.
Thumbs down
Depth on defense
If there is a cause for concern on defense it's the depth.
Denver's second and third unit took to the field Monday night and once again fell apart in the face of Beathard, who led back-to-back touchdown drives of six plays for 67 yards and seven plays for 70 yards.
David Williams
After dropping a swing pass in the limited reps in the hall of fame game and being fairly limited in preseason game No. 2, Williams once again made another miscue in the fourth quarter when a pass intended for the young running back went through his hands, bounced off his chest and into the arms of the 49ers for an interception.
Williams was already a long-shot to make the roster and more misfires only bury his chance at making the practice squad.
Injuries
After leaving the game early in the third-quarter, X-rays came up negative for Drew Lock on his right passing hand. The Broncos also sustained another injury to their linebacking unit as Joe Dineen went down with a hand injury.
Furthermore, Broncos tight-end Noah Fant sustained a foot injury early in the first half after catching his second pass of the game on his three targets.