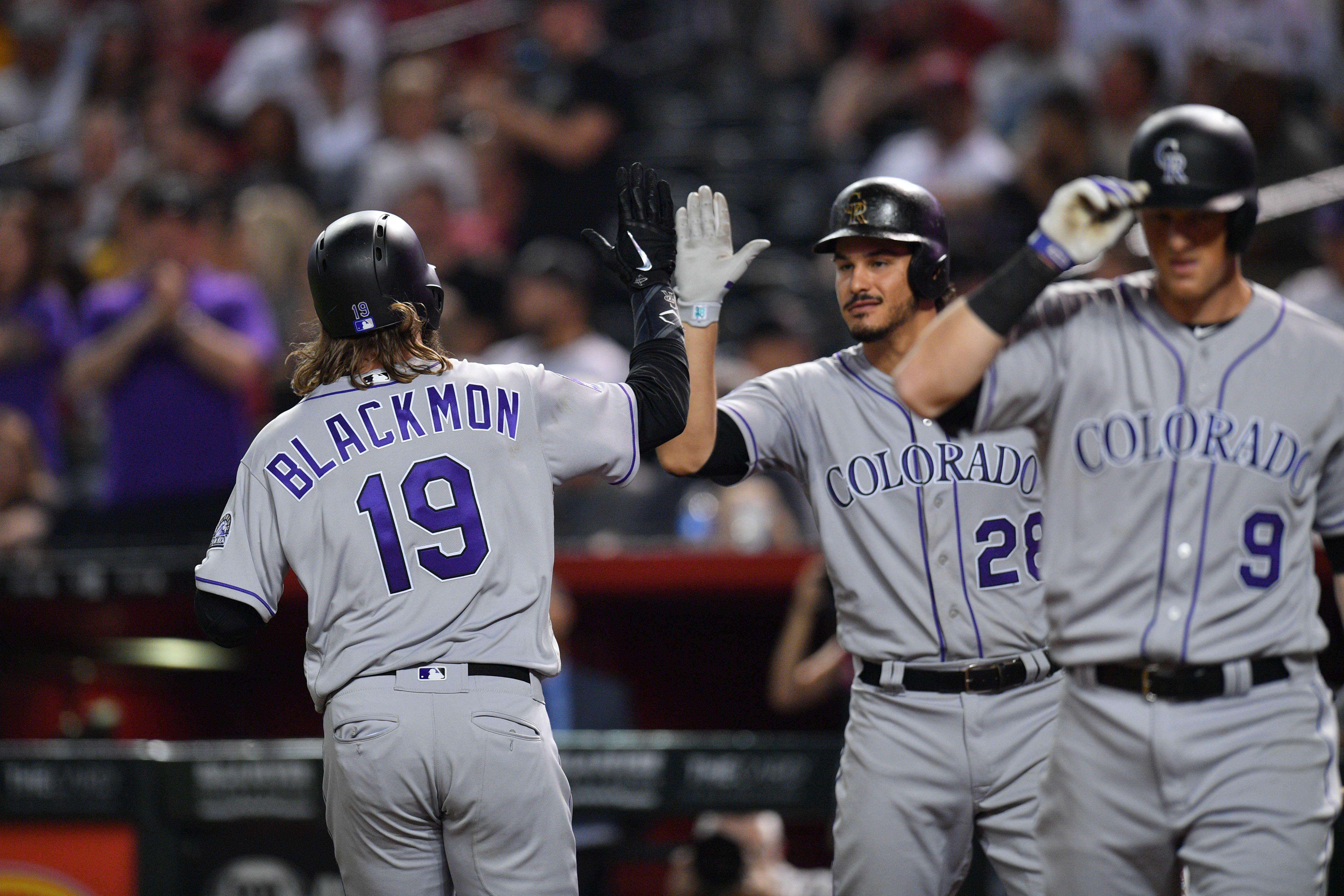 The Colorado Rockies wrap up their first series of the year on a high note in Arizona, capturing their first win of the year and avoid the sweep.
After losing the first two of the series, Colorado won a tight 2-1 series finale as Rockies fans got a glimpse at Colorado's newly revamped bullpen, as well as power from predictable places. Here's some of the good and the bad from Colorado's series against the Arizona Diamondbacks.
The bullpen is as good as advertised…so far
The Rockies pricey bullpen was lights-out, including a perfectly aligned Bryan Shaw, Jake McGee, Wade Davis 7th-8th-9th inning finish in the series finale. But don't let that hide Chris Rusin's series performance, where he picked up right where he left off from 2017.
When @C_RusIn stepped onto the mound, the bases were loaded with no outs.

When @C_RusIn stepped off the mound, the bases were loaded with three outs. ? pic.twitter.com/MtZHsNqZtq

— Colorado Rockies (@Rockies) March 30, 2018
Rusin threw 2.1 innings in the series, striking out two. While his box score won't read well from game two of the series (3 earned runs) Rusin shut the door on a bases loaded, no outs situation in the fifth inning of that same game. Rusin came out for the sixth inning and faltered, as runs he left on-base scored from hits off Scott Oberg.
Davis, Shaw and McGee will steal the spotlight, but an underrated arm in the Colorado bullpen remains Rusin. Rusin led the National League in innings by a relief pitcher (85) in 2017 with a 2.65 ERA. If the Rockies get anything like 2017 Rusin in 2018, the bullpen will be that much stronger as they have a dependable arm that can bridge the gap from a shorter-then-expected starting performance, to the late inning relievers.
Charlie Blackmon remains the best lead-off hitter in baseball.
Among lead-off hitters in baseball in 2017, Charlie Blackmon led the MLB in hits, RBI, batting average, doubles, triples, home runs, on base percentage and slugging percentage.
Time for an encore?
Get yourself a leadoff hitter… pic.twitter.com/OR3xx13JZv

— Colorado Rockies (@Rockies) April 1, 2018
Blackmon hit the game-winning home run Saturday night, giving him two for the game, three hits for the series (all home runs) as Blackmon looks to put together another stellar year to back up his historic 2017.
Adam Ottavino's slider is back…for now
Two innings, six strike outs and no hits. That was the opening series for Adam Ottavino, who looks to bounce back from a down year in 2017.
Ottavino quickly found himself back on the mound on Opening Day, responding with a 14-pitch sixth inning, striking out the side in order, mainly utilizing that deadly slider that remains his signature pitch.
Whether it be the sweeping or the tighter version of his signature pitch. Ottavino's slider returning to form is extremely encouraging for the 32-year old righty. While early, initial signs are very promising for Ottavino.
Jon Gray is still a question mark
With a chance to wipe the bad taste out of his mouth, Gray returned to the Chase Field mound, the last mound he pitched on competitively in the 2017 N.L. Wild Card game, where he gave up four runs on seven hits, only lasting an 1.1 innings.
In his return, Gray went four innings, allowing four runs, seven hits and ultimately would pick up the loss on Opening Day. An underwhelming bounce-back that certainly wasn't the plan for Gray.
If Gray is to take the next step this year, starts like Opening Day for Gray, need to be few and far between in his 2018 campaign.
Chris Iannetta's bat
Iannetta reached base six of his eight times in the Arizona series. This is surprisingly refreshing for Colorado, who signed Iannetta to a two-year deal in the off season mainly to bring a veteran presence behind the plate. But his offense at the plate, is a major bonus to the Rockies lineup.
Welp… same building, different jersey! Who's ready for #OpeningDay2018 @Rockies The journey begins! pic.twitter.com/JK2S4ub46u

— Chris Iannetta (@Chris_Iannetta) March 28, 2018
What's next for Colorado
The Rockies will get Easter Sunday off, before heading to San Diego for a four-game set with the Padres starting Monday, April 2nd.
Chad Bettis, Kyle Freeland, Jon Gray and Tyler Anderson are the expected starters in the series as the Rockies start their 2018 season with seven games on the road, before coming home to their home opener on Friday, April 6th against the Atlanta Braves.