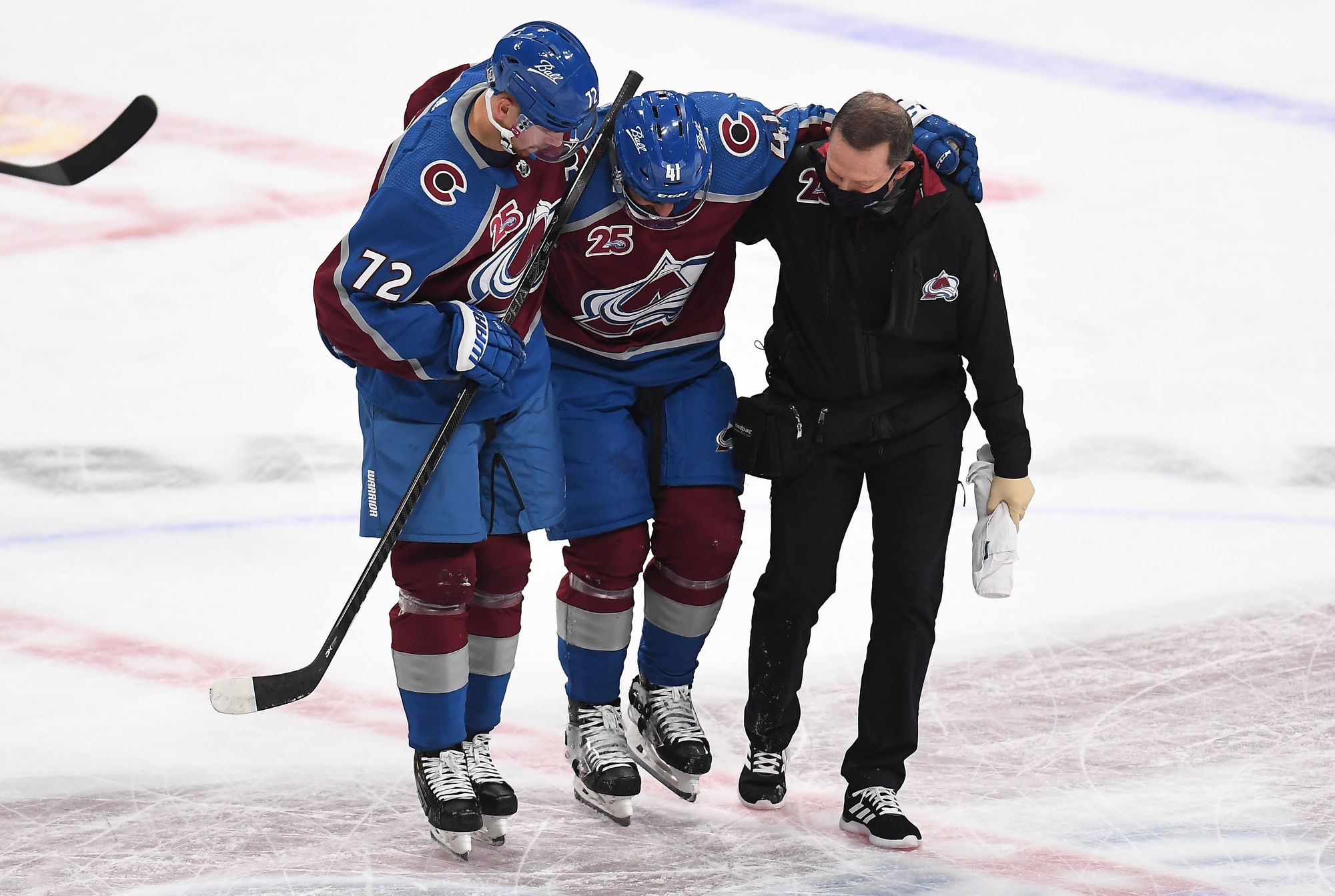 Young Avalanche defensemen have stepped up.
Their depth forwards struggled to find the scoresheet.
COVID has made its way through the locker room, postponing five games and shutting down team facilities for more than a week.
And Injuries? Lot's of them. It's hard not to utter the words here we go again when looking at Colorado's injury report every day.
All in all, it's been quite an eventful month for the Avalanche.
Sunday's 1-0 loss to the Vegas Golden Knights was the beginning of the second month of the 2020-21 season. Colorado's first month consisted of 11 games (7-3-1), five postponed contests, a trade, and so much more. There was plenty of good, some bad, and a deep sense of here we go again.
The Good
Young blueliners have taken over: Calder Trophy winner Cale Makar entered the season with hopes of being in the Norris Trophy conversation. Through 11 games, Makar has accomplished exactly that. The 22-year-old has one goal and 12 points while playing a team-leading 24:01 per game — exactly three minutes more than his 21:01 per game a season ago.
Makar has seen his role expanded on the penalty kill while spending a majority of his time at even-strength alongside Devon Toews, Colorado's offseason acquisition. Toews, 26, is the oldest of the Avalanche's top-four defensemen.
Defenseman Samuel Girard is in his first year of a seven-year, $35 million contract. He has elevated his game just as much as his annual salary through his first 11 games. Girard, who is currently on the COVID-19 protocol list, has recorded nine points (one goal) while playing 21:09 per game. Girard has spent time playing with a revolving door of defensemen at even strength, including Conor Timmins and Bowen Byram.
Girard, 22, has also seen his role expanded on the penalty kill.
Rounding out the top four, Byram, 19, has burned through the first year of his entry-level contract after appearing in a seventh game. The 2019 fourth overall draft pick joined the Avalanche after a strong silver medal showing at the 2021 World Junior Championship.
Grubauer an early Vezina candidate: Goaltender Philipp Grubauer has been one of the Avalanche's best players since opening night. He has a 7-3 record, a .937 save percentage, 1.61 goals-against average and two shutouts.
Grubauer, 29, has started all but two games this season because his usual backup Pavel Francouz has been out for the entire season with an injury — and doesn't appear to be close to returning.
The Bad
Depth forwards struggle out of the gate: The Avalanche were having issues with depth scoring in the early going. Newcomer Brandon Saad, second-line center Nazem Kadri, third liners J.T. Compher and Valeri Nichushkin and fourth-liners Matt Calvert, Tyson Jost and Pierre-Edouard Bellemare struggled in Colorado's first six games (3-3).
The seven forwards combined for just two goals and three assists in those games.
"I think we started off as a team a little bit slow," Avs captain and top-line winger Gabriel Landeskog said Monday. "We win one we lose one. We couldn't really get our footing. At some point towards the end of that California road trip, we come home, and then that Minnesota series, I thought we really started playing a lot better."
And that they did.
The Avs were 4-1-1 in the six games since returning home from the California road trip. Calvert has not played since because of an injury, Bellemare has missed three games to injury — and is still pointless on the season. But the other five: Saad, Kadri, Compher, Nichushkin and Jost have combined for nine goals and eight assists.
COVID strikes the Avs: Colorado's season was struck with COVID-related issues from the first day of training camp. After opening camp, the Avs announced that defenseman Erik Johnson, Grubauer, Saad and Landeskog were all added to the COVID-19 protocol list.
All four missed a majority of training camp before reentering the lineup. Grubauer, Landeskog and Saad were ready to play opening night but Johnson's absence kept him out for five of the first six games.
Johnson eventually returned for three games before injury later forced him back out of the lineup.
Colorado then made it through 11 games before a COVID outbreak struck division rival Minnesota Wild in the midst of a four-game series against the Avs. The outbreak likely spread to the Avs locker room, shutting down team facilities and leading to postponements.
Girard, Landeskog and Jost have all remained on the COVID-19 protocol list coming out of the shutdowns. None of them played Sunday nor will they play Tuesday.
"COVID hit our team pretty good," Landeskog said. "We're going to have to battle through this year."
Here we go again
Injuries:  Of All the absences, Francouz's has been the most prominent. Going into the compacted schedule, the Avs were hoping to rely on both of its top goaltenders to help lighten the load.
Francouz participated in training camp but was injured in practice two days before opening night and has been absent since. Without Francouz, Colorado has struggled to rest Grubauer, only giving him a night off on the second of a back-to-back on two occasions.
Hunter Miska, a journeyman 25-year-old minor league goalie, has started two games and was winless (0-1-1).
Francouz may be the most notable injury, but he's certainly not the only one. Colorado has had to use 28 skaters (forwards and defensemen) — the most in the West Division. The Golden Knights, in comparison, have used just 21.
Only six Avalanche skaters have appeared in all 12 games (Joonas Donskoi, Mikko Rantanen, Saad, Kadri, Nichushkin and Compher).
Second-line winger Andre Burakovsky missed three games early. Upon returning, Colorado lost Bellemare, Calvert and Toews in the matter of two games. Calvert remains out.
Johnson's eight-game absence helped Byram emerge into a top-four defenseman. But the leadership of the 13-year veteran and alternate captain has not gone unnoticed.
Superstar Nathan MacKinnon also missed the last game before the shutdown before returning to the lineup Sunday. But missing from that game was Makar. After nine days away from the rink and three practices, Avs coach Jared Bednar announced hours before puck drop that Makar was out.
His injury status remains a question mark, as no clear answer was given to how or when he was hurt. But the defenseman is likely reentering the lineup Tuesday.
And then there's Jost, Girard and Landeskog, who will all miss a second straight game against the best team in the NHL because of COVID-19 protocol.
This story is all too familiar.
Colorado was ousted in a high-scoring seven-game series against the Dallas Stars in the 2020 Western Conference semi-final because injuries were mounting at an unfathomable pace — just as they have been this season.
It's hard to predict an unlikely amount of injuries this quickly, but still, this is same ol' story for the Avs, and if there's one thing to take away from the first month of the season, it's exactly this:
Here we go again will be uttered once more this summer, after another early playoff exit, if Colorado cannot find a way to stay healthy — especially when it matters most. In the playoffs.
"I'm sure every team is going to go through their injuries at some point during the year but for us, it's better that it's happening now rather than in May and June," Landeskog said.
____
Hockey Mountain High: Your go-to Avalanche Podcast
Listen to "Band-Aids" on Spreaker.