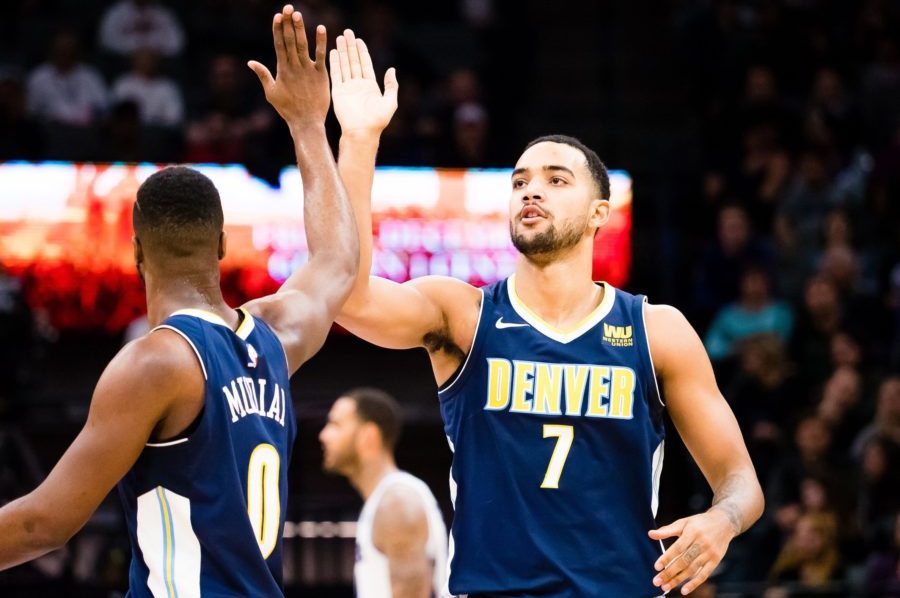 The Denver Nuggets are currently riding a three-game winning streak with road victories over the Golden State Warriors and the Portland Trail Blazers as well as a home beatdown of the Utah Jazz. There have been changes made by Nuggets' head coach Michael Malone and it seems as if the team has fully bought in, which has kickstarted their current winning streak. With 2018 looming, here is the good, the bad, and the ugly.
The Good – Nikola Jokic is back
Just short of a month ago, the Nuggets were in a bad spot. They were on a losing streak that could have easily be attributed to how bad their defense looked, their turnovers, and the fact that there was no clear-cut leader that had stepped up to calm things when the going got tough. To make matters worse, their defensive anchor Paul Millsap was sidelined due to a wrist injury that required surgery, and their star Serbian center in Nikola Jokic had suffered an ankle sprain that caused him to miss several games.
Fast forward to the present and the Nuggets are coming off of three straight defensive wins against their division-rival Trail Blazers, the defending NBA champion Golden State Warriors, and Utah Jazz — who Denver failed to defeat in their two previous meetings. It is amazing what getting Jokic can do for Denver. Since Jokic has been returned from his injury, he's been averaging 17.6 points, 8.5 rebounds and 4.6 assists per game. The team has gone 3-2 in that same timeframe — including the three-game winning streak they're on now — and the Nuggets have made improvements in nearly every major statistical category. It is definitely good to have Jokic back.
The Bad – Referees
With 9:43 remaining in the fourth quarter against the Jazz — with the Nuggets up 79-65 — Nikola Jokic and Joe Ingles had to be separated after Jokic knocked down Jerebko on a swim move to try and free himself and was called for the foul. He then pleaded his case to the refs which led to a review of the play.
After further review, they upgraded the call to a flagrant 2 and ejected Jokic from the game.
"Mark Davis said that as Nikola was coming down, he initiated contact with Jerebko and his elbow hit him in the head," said Coach Malone. While some say it was a flagrant foul, others say it was a flop. You be the judge.
The NBA has no respect for Nikola Jokic. Ridiculous to call this a flagrant 2.pic.twitter.com/zqe91GszBp

— Lucas Navarrete (@LucasNavarreteM) December 27, 2017
The Ugly—Kenneth Faried and Emmanuel Mudiay out of the rotation?
I know it is strange. How can each of these players appear in the good, the bad, and the ugly when neither has played meaningful minutes in multiple games? Mudiay has missed the last four games due to an ankle sprain but followed up being injured with what was essentially a benching against the Jazz. He did play a minute and 42 seconds versus the Jazz, but the game was far out of reach at that point. Ironic as it is, Kenneth Faried has been a healthy scratch recently and has also missed the last five games.
Before both players fell out of the rotation, the Nuggets had a 107.5 defensive rating, good for 24th in the league. After the Nuggets had defeated the Jazz on Tuesday night, they now have a 97.9 defensive rating in the last five games without either of Faried or Mudiay in the rotation — good for second-best in the league — and that is the reason that Denver has been able to beat the likes of the Trail Blazers, Warriors, and Jazz. Denver has turned it around immensely on the defensive end of the floor and it seems to be an 'addition by subtraction' solution. Newly acquired Trey Lyles has jumped Faried as a backup power forward and Mudiay has seemingly fallen out of Malone's rotation due to him being nearly unplayable at times. Mudiay very last in the entire league league in ESPN's Real Plus-Minus at a whopping -5.52.
Mudiay and Faried have not been the only reasons for Denver's early failures, but it's not a coincidence that since Malone has made drastic changes to the rotations — such as playing defensive minded two-way player Torrey Craig and Lyles more minutes — by benching Faried, Mudiay and Juancho Hernangomez and now the Nuggets have suddenly performed at an elevated level.